| | |
| --- | --- |
| Swinney addresses Priester dismissal, fans that want Deshaun Watson to start | |
---
| | | |
| --- | --- | --- |
| Wednesday, September 3, 2014, 8:51 PM | | |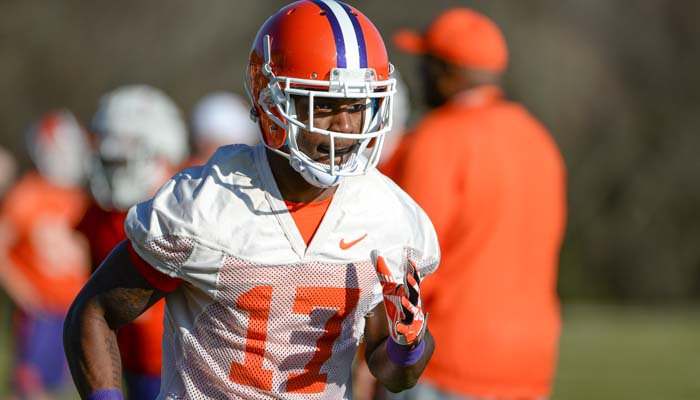 CLEMSON - Wednesday's post practice interview session was attended by just three members of the media, and head coach Dabo Swinney

Dabo Swinney
Head Coach
View Full Profile said the small group was "All In."
Swinney then broke the news that freshman wide receiver Kyrin Priester

Kyrin Priester
Fr. Wide Receiver
#17 6-1, 186
Lilburn, GA
View Full Profile had been dismissed from the football team, showing once again that Swinney doesn't play around when it comes to players who don't embrace that same All In attitude.
"Kyrin Priester is no longer with us. He's been dismissed from the team because of a bad attitude, basically – conduct that isn't acceptable to our team's standards," Swinney said. "I hate that. He's a good player and I wish him well."
Priester committed to Clemson in 2013, but enrolled at Fork Union and played there for a season before enrolling in Clemson in January. He played sparingly in Saturday's season opener at Georgia.
Swinney also announced that senior corner Martin Jenkins

Martin Jenkins
RS Sr. Cornerback
#14 5-9, 185
Roswell, GA
View Full Profile rolled his ankle and is doubtful for Saturday, but said his team has had a good week of practice.
"It's good to get on a normal week and get on a routine," Swinney said. "The week just flies by. Tuesday and Wednesday have to be huge workdays for us. I love the attitude that our guys have had as far as coming to work. We've had their attention all week. It's been good. We're focused and ready to go play again. Excited to go play again. Sam Cooper

Sam Cooper
RS Sr. Tight End
#86 6-6, 250
Brentwood, TN
View Full Profile is out. Martin Jenkins probably isn't going to be able to go. He rolled his ankle and has been limited. Health wise we're in pretty good shape right now."
Swinney then addressed the notion shared by many Clemson fans that freshman signal caller Deshaun Watson

Deshaun Watson
Fr. Quarterback
#4 6-3, 204
Gainesville, GA
View Full Profile needs to start.
"It's not that he [Watson] needs to be brought along slowly. It's that the guy in front of him is the starter and has earned it and he [Stoudt] played great," Swinney said. "What's so funny about that is that you can't win and that's what I told everyone up front. If you just put him in there, everybody assumes that the starter played bad. I told everybody up front that he was going to play, so we didn't want to shock anybody. If he goes out there and plays bad, then everybody says, 'Why are you playing that guy? Your starter is playing good?" If he goes in and plays good – we expect him to – it's why isn't he playing more. You just can't win in that situation. We don't have a quarterback controversy. We have a clear starter.
"I'm here everyday and he's [Stoudt] earned it. Cole played really well for us. There are probably two or three plays that he'd like to have back. Deshaun played well. This is a guy that is taking his first snaps. All he's going to do is get better. Deshaun Watson is special – it's no secret. But, ol' 18 is pretty good, too. He has won this job clearly. Where we go from here, that's why you go play the games. Hopefully Cole will continue to play like he did the other night and we can continue to bring Deshaun along. That's something you evaluate every week. Nobody has lifetime contracts around here. There are a couple of positions that we may have different starters this week. As you go through practice and grade film, it's what you do. Cole Stoudt

Cole Stoudt
Sr. Quarterback
#18 6-4, 231
Dublin, OH
View Full Profile – all he did was solidify himself as the starter. He didn't take any steps back. He played well and he has practiced well this week. Deshaun Watson – the same thing. "
Other notes
Swinney on his team's confidence, or lack thereof?
"We don't have a lack of confidence around here. We don't have a reason to. Because we lost to Georgia at Georgia, why would we not be confident? We've got to finish. We've just got to finish the dang game. We had 248 yards going into the fourth quarter and finished with 310. We don't have anything to not be confident about. We have a lot to be mad and ticked off about, but there isn't anybody not confident about after one ball game. Come on. We played a great team at their place and got beat. We deserved to get beat. Let's do the things that we have to do to deserve to win. What we know is that we're good enough. We don't have a talent problem.
"We have to be dependable, responsible, and accountable for four quarters. It's a four quarter game. You can't call it after two or three. We need to finish the doggone game. There ain't nobody walking around here with their heads down. We could've played East Community College and made the same mistakes and we're walking around here like we've done something. We got our butts handed to us and we deserved it. If we handle it the right way, it will be a positive."
On Corey Crawford

Corey Crawford
Sr. Defensive End
#93 6-5, 276
Columbus, GA
View Full Profile , David Beasley

David Beasley
RS Sr. Offensive Guard
#68 6-4, 323
Columbus, GA
View Full Profile and Garry Peters

Garry Peters
RS Sr. Cornerback
#26 6-0, 194
Conyers, GA
View Full Profile
"They've served their time. They've been in jail since the spring. They're glad to be out and we're really glad to have them back playing. Those guys' attitudes have been great all summer, all fall camp and all spring. It is what it is. That's three good guys that we need to play well so we can have the type of season we want to have."
On Jay Guillermo

Jay Guillermo
RS So. Center
#57 6-3, 314
Maryville, TN
View Full Profile
"Jay is one of those guys that could possibly start Saturday. He's going to play a lot more this year. Whether he starts or not, he's going to play a lot more. He's earned it and he deserves it. We've got a great future with Jay. He cares. He's another one of those guys that is committed and cares about Clemson and cares about the team. You can't have enough of those guys."