| | |
| --- | --- |
| Sunday update: Tigers not satisfied with rankings | |
---
| | |
| --- | --- |
| Sunday, November 8, 2015, 8:02 PM | |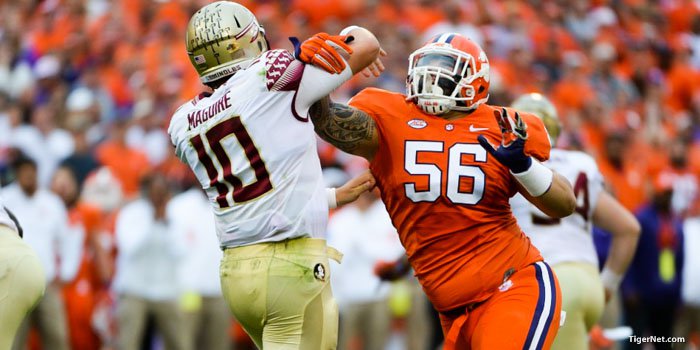 CLEMSON – The Clemson football team is 9-0, ranked number one nationally and has already clinched the ACC Atlantic Division title, but head coach Dabo Swinney isn't satisfied. He wants more, something he has to pass on to his players.
Clemson defeated Florida St. 23-13 Saturday in Death Valley and currently sits at atop the College Football Playoff rankings and in the Associated Press poll. The Tigers moved up several spots to No. 2 in the USA Today Coaches Poll following the victory.
Swinney isn't satisfied.
"No satisfaction other than again I'm glad we're having a great season. I'm happy about that," Swinney said during his Sunday afternoon teleconference with the media. "It's fun to see Clemson so highly thought of. We certainly prefer that over being undefeated and 20th in the country. Our guys have earned their way. To be in the conversation, that's all this means. We embrace it. We want to win them all. If you're going to win them all, you can't win 12 until you win 10. We have to put everything we have into this game. You have to fight each week with all that you have."
He then said that the win over the Seminoles was made sweeter because it clinched the division.
"It's right up there. There is no question. An Atlantic Division title is the first step to bigger and better things," he said. "We've clinched the division at other times but never playing Florida State. That was a good way to punch our ticket to Charlotte. You want to win them all. That's one that we knew would be tough and hard-fought. We had to have it to keep the momentum of our season going."
Clemson had to rally from a halftime deficit to beat the 'Noles.
"That's what you have to do in order to have a special season. It won't be the same every week," he said. "You're dealing with young people and a lot of different styles of play. To have a special year, you've got to make adjustments and figure out a way to win that particular game from week to week. Is it a tough one in the rain? A shootout in Raleigh? You have to stay focused from week to week. It's good. Again, it's a necessity if you're going to have a great year."
Swinney said he won't change the way his team prepares just because of heightened expectations.
"No. No. Heck no. We have a formula for preparation that we believe in. We'll have a normal week and put everything we've got into winning this game," he said. "There aren't many undefeated teams left and there is a reason for that. No. 1, it's hard to win and No. 2, everyone has good players. No. 3, crazy things happen in college football. Michigan State is a very, very good team and they go and lose to a 3-win team at Nebraska. You better put everything you've got into every game. We won't prepare any differently this week than we did versus Florida State. This is the biggest game of the year for us, I promise you. It's a chance for a 10th win. That would be a pretty special accomplishment. We would be just the 15th program in college football history to have five straight seasons of 10 or more wins."
Other notes
The win over FSU
"Just want to thank our fans one more time. What a fun night in the valley. It's probably as loud as I've ever heard it. I appreciated the great energy that they gave us. It's a game our team will remember for a long time. It's great to win the division and it's a goal we set out to achieve at the beginning of the year. That's a credit to our team and our staff.
"A hard-fought tough game on both sides. I liked how our guys finished. We didn't have a great start, but man we finished well defensively. That's 59 minutes without them getting another touchdown. They had a hard time running the ball in the second half. We did a much better job in the red zone, holding them to field goals and creating the interception. Just a lot of great effort plays.
"Offensively we had 29 first downs to their 14. We ended up with 512 yards to their 361. I love the fact that we were able to get the running game going and the fact that we had zero turnovers. I'm proud of Greg Huegel, who made some big kicks for us. Just a great team win. We've been 9-0 three times ever. So it's a special time. It's good to be in the driver's seat. We just have to continue to stay focused and get ready each and every week. We look forward to getting ready for Syracuse."
Injuries
"We came out of yesterday game pretty good injury-wise. Tyrone Crowder is just a turf toe. Not certain but we'll evaluate him again tomorrow. No surgery. Same thing with Ray-Ray McCloud. He has a sprained knee, an MCL, but no surgery. We'll just rehab both of those guys and get them back going as soon as possible. Trevion Thompson should be back ready to go as well as Jabril Robinson."
Players of the game
"Players of the game were Jordan Leggett, special teams was Greg Huegel who is 13-for-13 in ACC games and B.J. Goodson again on the defensive side."
Strength and conditioning
"Oh man, it has been huge the past seven years. That's how we're built. Everything you do in your program is geared toward game day and winning the fourth quarter. We've been a dominant fourth quarter team. We really have for several years now and you have to give the credit to what happens in our off-season around here. That's one thing I would say about yesterday. I told our guys it would come down to the trenches in the fourth quarter. We got stronger as the game went and that was just awesome to see, especially to finish it on both sides when we had to have it in the fourth quarter."
The impact of Greg Huegel
"In camp because this is a young man we told we'd bring in over the spring. Obviously the situation with Ammon Lakip had something to do with it. We just told him to be ready. He just came in and just flat won the job. You have to understand, this is a guy who hasn't been around our players and did not know them well. We created a lot of competitive situations for him and here he is a freshman who's got to go out there and kick it between the pipes. I'm really proud of him. It takes a lot of mental toughness to know that all eyes are on you especially when they don't know you and don't expect you to be successful and you still perform well and be consistent with it. He's really got a confidence and a poise and a mental toughness about him that is hard to find. I'm proud of him. He's a neat story. Hopefully he can continue to have a good freshman year. Hopefully, he can continue to have consistency throughout his career because that's what it's all about"
"Maverick did a great job. He had to settle in and once he did, he played well. Proud of Big Mav. A really good player. I'd have no problem with Justin Falcinelli going in there or Taylor Hearn. We think all of them are ready to play. But yes, that's the way we're practicing now (with Morris at first-team RG). Hopefully Crowder won't be out for too long. We'll just have to evaluate him daily."
Pizza party
"Yes, we'd have to go to work on that. We have to take care of business first. We have a lot of work to do between now and then. I hope that can come to fruition whether it's in Death Valley or indoors depending on how many people show up at noon on a Sunday. That's for later."

Tags:
B.J. Goodson
,
Ammon Lakip
,
Jordan Leggett
,
Tyrone Crowder
,
Maverick Morris
,
Trevion Thompson
,
Taylor Hearn
,
Justin Falcinelli
,
Jabril Robinson
,
Ray-Ray McCloud
,
Greg Huegel