| | |
| --- | --- |
| Sunday night news and notes | |
---
| | | |
| --- | --- | --- |
| Sunday, September 16, 2012, 7:04 PM | | |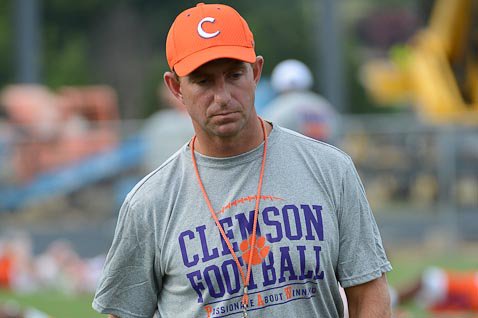 Three offensive line starters missed the majority of the snaps during Saturday's 41-7 win over Furman, but head coach Dabo Swinney said that the Tigers will be relatively healthy into this weekend's contest at No. 4 Florida St.
Right tackle Gifford Timothy (knee), left guard David Beasley (knee) and Tyler Shatley (ankle) all missed significant portions of the win, but Swinney those three should be back, along with linebacker Tig Willard, defensive tackle DeShawn Williams (ankle) and running back D.J. Howard.
"Injury-wise, we should have all hands on deck. David Beasley, Tyler and Giff should be back," Swinney said. "DeShawn, same thing. Hopefully we can put it all together. It'll certainly take a complete effort to have a chance to win."
Swinney said he was proud of the win over Furman, a game the Tigers should have won, but have to get better defensively.
"I'm proud of our guys for a solid win yesterday. I felt we improved in a lot of areas," Swinney said. "One of our goals was to put together a complete game and we did. We certainly made some mistakes but executed our plan to win. Overall a very solid day. Defensively we were better against the rush, but not as good against the pass. We've not played a complete game yet. In three plays we gave up 100-plus yards. Those things are frustrating and we were not smart at times.
"Offensively, we had 498 yards but we missed some opportunities. We ended up having three, three-and-outs. But we threw the ball very effectively. The line protected well and we continued to do a good job on fourth down. We've had a couple of guys banged up over the first few weeks but we've gotten some guys a lot of work that they may have not gotten otherwise. I thought yesterday was the worst day. We missed some opportunities and that's hard to say when you've gotten 498 yards. Special teams, I continue to be impressed with our punting. I'm proud of Catanzaro and the job he's done."
He said there was still a lot of room for improvement, and the team will have to improve with the challenge they face this week.
"We're getting ready to play by far the best team we've seen. It's a big, big challenge for us," he said. "We have to have a great week of preparation. We'll have to play very well to give ourselves a chance to win. We've played three games and I'm really excited to see our guys go play in this environment and against a team a lot of people are picking to win it all. I look forward to getting back to work at 6:30 a.m."
Other notes
On if the OL is still a question mark
"They are a question mark. They're still a question mark. I don't think that's changed. We just played average there yesterday. Not terrible, but just OK. I'm proud of the fact that we've been able to develop guys more. Kalon [Davis] has gotten a lot of work. Shaq [Anthony] has gotten a ton of work. Ryan Norton is a guy who played a lot of guard for us and center. From that standpoint, we're on track. We're a long way away from being great up front."
On if defense is ready for FSU
"We really played good for the most part yesterday. But three plays were just over 100 yards. We busted on a pass play on a crack-and-go. Guys will make plays. Sometimes a guy will get beat physically or he'll get out-techniqued. That's football. But when you completely bust and don't give yourself a chance, that's unfair to the other 10 guys who are playing hard. Those things will cost you games against good teams. And that's a concern. And we've not been smart at times. We had a 2nd-and-33 and they get a first down. It's not playing smart and not understanding the situation. We have to improve in those areas. But again, I think we've made progress. We just have to put it all together and play a complete game. I know we'll get there."
On getting the ball to different players
"We moved the ball around a lot. It was good to see Jaron Brown have a big day. Sammy [Watkins] was electric. I think everybody had at least one catch. Nuk [Hopkins] had another big day. When we play a fourth quarter game against a team similar to ourselves, we'll find out a little bit more about our team."
On Chandler Catanzaro
"It's big when a guy is pretty much three points. He'll miss one somewhere along the way. He'll make a lot more than he misses. Three years ago he was dead last in the ACC and this game we lost on a 55-yarder. He had a tough year but he came back and made all-conference. He just set a school record yesterday. I'm proud of him, his resolve and confidence. He's a great teammate. It's great to have a guy like that going into conference play. I'm glad he's on our team."
On what concerns him the most about the FSU defense
"Their front. They're very deep, talented and fast. They're very good in the secondary. There are really no weaknesses. There's a reason why nobody has scored a touchdown on them. They're very talented. They lost one of the top two or three players there in the conference and they don't seem to be missing a beat."
On matching up with FSU defensive front
"We're studying them today and tonight. It's going to be a tough challenge. We'll find out Saturday night one way or another."
On if he knew Tigers were opening as double-digit underdog
"No, I have no idea what we are. I guess my reaction would be not surprised. We're just a team going on the road in a tough environment. I don't know how all that stuff works. We're going to show up."
On if Clemson and FSU are the elite of the ACC
"It's too early. We had 42 freshmen and we're coming off a championship year. We have only 11 seniors. We have nine difficult games in a row coming up. FSU has a challenging schedule as well. I'm pleased with where we are. This is where both teams wanted to be. This is a marquee matchup. It's the programs who have won the conference the most. Whoever wins this game is in the driver's seat. It doesn't mean it's over. No matter what happens, you still have eight more games to go play. If you don't win, you still have more games to play. It's a long season. But it is a huge game from a conference standpoint. I think they're a great team and hopefully we'll prove to be a great team."