| | |
| --- | --- |
| Sunday night film review: Swinney recaps "complete" effort and talks injuries | |
---
| | | |
| --- | --- | --- |
| Sunday, October 5, 2014, 6:53 PM | | |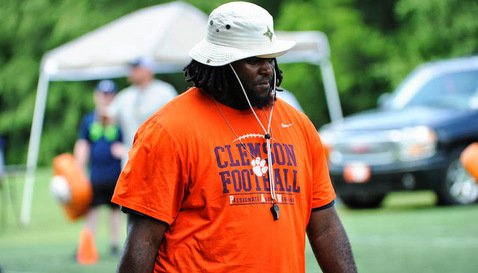 CLEMSON – Injury news dominated Sunday evening's media teleconference with Clemson head coach Dabo Swinney

Dabo Swinney
Head Coach
View Full Profile , who called Saturday's 41-0 demolition of ACC Atlantic Division rival North Carolina St. the Tigers' most complete effort of the season.
The Tigers are again at home for a 3:30 p.m. kickoff next weekend to face Louisville, and opened up as a 10-point favorite over the Cardinals but Swinney opened with his thoughts on the win over the Wolfpack.
"Film was just what I hoped it would be. By far our most complete performance of the year for sure," Swinney said. "Just so many good things. It will be fun to watch the tape with the guys tomorrow and make corrections. Guys were ready to go from the opening snap. Offensively we wanted to run the ball better and we were able to do that. It really kept us on schedule and allowed us to create some big plays in the passing game. 12-of-19 on third down was huge for us. Deshaun Watson

Deshaun Watson
Fr. Quarterback
#4 6-3, 204
Gainesville, GA
View Full Profile , it sure is fun to watch him develop and grow his confidence. He played much better yesterday than he did last week. The most disappointing thing was the penalties. We had two sacks, one on the QB and one on the offensive line.
"Defensively, tremendous. The shutout is a hard thing to do. 16 years since that has happened against a conference team. That team was playing with a ton of confidence offensively. That's a credit to our staff and our players' preparation. They did a great job with their fits and eyes. Coverage was great. We were strong in the red zone. We wanted to create turnovers and get stops, so it was good to see our guys stand up and make some plays. Special teams, that's two weeks in a row that I think we have performed at a high level. Pinion was tremendous. Ammon Lakip

Ammon Lakip
RS Jr. Kicker
#36 5-10, 200
Alpharetta, GA
View Full Profile has hit four of his last five. Hopefully he can continue. Pleased with our punt return game. Adam had four for 40. We had another one with Germone Hopper

Germone Hopper
RS So. Wide Receiver
#5 6-0, 175
Charlotte, NC
View Full Profile , but that was negated with a penalty. And again, that was disappointing, the penalties. We've got to get that corrected."
Swinney said it was a great day and the Tigers will now turn their attention to Louisville, a team ranked number one nationally in total defense.
"All in all a great day. Turning the tape on with Louisville, we've got another huge task this week," he said. "This is a defense that is as good as any in the country. In fact they're leading the country. We've got to see if we can put another good plan together. Lot of movement. Big, strong. Multiple fronts. Got some veteran players over there. They bring pressure. We've got a lot of work to do. They're playing at a high level defensively. We'll be dialed in on them in the next couple of days."
Injuries
"Injury-wise, Jay Guillermo

Jay Guillermo
RS So. Center
#57 6-3, 314
Maryville, TN
View Full Profile will be out three to five weeks. Same surgery that Garry Peters

Garry Peters
RS Sr. Cornerback
#26 6-0, 194
Conyers, GA
View Full Profile had last year. We'll see. Hopefully we'll get him back sooner than later. Tony Steward

Tony Steward
Sr. Linebacker
#7 6-1, 236
Hastings, FL
View Full Profile strained his hamstring. He is probably day-to-day right now. Ben Boulware

Ben Boulware
So. Outside Linebacker
#10 5-11, 235
Anderson, SC
View Full Profile had a concussion, so he has to go through the protocol with our staff there. Kellen Jones

Kellen Jones
RS Jr. Linebacker
#52 6-1, 233
Houston, TX
View Full Profile bruised an elbow, so he should be OK. I think we may get Martin Jenkins

Martin Jenkins
RS Sr. Cornerback
#14 5-9, 185
Roswell, GA
View Full Profile back this week. We'll see where he is. Joe Gore

Joe Gore
RS Jr. Offensive Tackle
#73 6-5, 283
Lake Waccamaw, NC
View Full Profile is still continuing to recover. Only one right now is Charone Peake

Charone Peake
RS Jr. Wide Receiver
#19 6-3, 204
Moore, SC
View Full Profile . Not sure where he is. We'll see tomorrow where he is. We won't know where he is until we push him."
Cole Stoudt

Cole Stoudt
Sr. Quarterback
#18 6-4, 231
Dublin, OH
View Full Profile
"He looked good. We feel pretty good about him. He's got a left AC joint. It's not his throwing arm. He'll be sore for a couple of days, but we think he will be fine by game time."
The success of the running game
"We were much more attentive to the details of the running game. We've just not been clicking, little things here and there. It's a missed assignment or poor technique. It's everything. Everybody has a hand in that. It's something we felt like we could emphasize and open up some things in the passing game and we did that. The O-line did a nice job up front. Wayne Gallman

Wayne Gallman
RS Fr. Running Back
#9 6-1, 209
Loganville, GA
View Full Profile got his first start and really played well. He did a nice job. It was everyone taking pride in finishing their blocks.
"Our wideouts made some key blocks. Deshaun Watson obviously creates some trouble in the running game. Our tight ends made blocks. And it's also the continued emergence of our passing game. We've been able to throw the ball at a high level. They tried to get in and out of some two-safety type of things and Deshaun did a great job of making sure that we were in the right play with a lot of run/pass options based on what they were doing. Really pleased though with 4.5 yards a carry. That's winning football. It all starts with the balance that we have to have. That made it difficult for us to defend."
Players of the Game
" Grady Jarrett

Grady Jarrett
Sr. Defensive Tackle
#50 6-1, 290
Conyers, GA
View Full Profile on defense, Mike Williams

Mike Williams
So. Wide Receiver
#7 6-5, 208
Vance, SC
View Full Profile on offense and on special teams Pinion and Cordrea Tankersley

Cordrea Tankersley
So. Defensive Back
#25 6-1, 195
Beech Island, SC
View Full Profile . Special teams has been something that we feel can be a difference for us. The last couple of weeks, I've been pleased with what has happened. Cordrea has really done a great job for us. Pinion was 8-for-8 on touchbacks. Just tremendous by him."
Will Tyrone Crowder

Tyrone Crowder
RS Fr. Offensive Guard
#55 6-2, 322
Marston, NC
View Full Profile get more playing time with Reid Webster

Reid Webster
RS Sr. Offensive Tackle
#77 6-3, 300
Woodstock, GA
View Full Profile having to serve as backup center?
"Crowder has to play a little better. He just did OK yesterday. He got significant snaps. He needs to play a little better for us. The more experience he gets, he will. The game is still fast for him right now. We'll keep bringing him along. From a practice standpoint, we will be a little challenged. Reid can't get all the snaps at guard and center and be ready to go on game day. Crowder will get some more work, but we'll also bring Zach Riggs

Zach Riggs
RS Fr. Offensive Line
#54 6-4, 240
Greer, SC
View Full Profile up and he will get some work. He can snap the ball for us. He is a guy in time who has a chance to be a solid center for us. He's just a freshman right now. We may also look at Crowder and see if we can't start teaching him to snap some. We've got several things we can look at. Reid will definitely be our second guy there (at center)."
The play of Isaiah Battle

Isaiah Battle
Jr. Offensive Tackle
#79 6-7, 285
Brooklyn, NY
View Full Profile
"Solid. Solid. He's not playing at the level of Vic Beasley

Vic Beasley
RS Sr. Defensive End
#3 6-2, 236
Adairsville, GA
View Full Profile as far as putting it all together from an effort and technique standpoint, but he's not a fifth-year senior either. He's still a raw guy who has come a long way. He's playing winning football, but sometimes he's not as disciplined technically as I'd like for him to be. He has improved, he's grown mentally and I think he has a tremendous future. If he will stay with it, he will be a high NFL draft pick one day. He's certainly making progress."

Tags: Clemson Football
,
Vic Beasley
,
Martin Jenkins
,
Garry Peters
,
Reid Webster
,
Joe Gore
,
Grady Jarrett
,
Charone Peake
,
Tony Steward
,
Cole Stoudt
,
Ammon Lakip
,
Isaiah Battle
,
Jay Guillermo
,
Germone Hopper
,
Cordrea Tankersley
,
Kellen Jones
,
Mike Williams
,
Wayne Gallman
,
Ben Boulware
,
Tyrone Crowder
,
Zach Riggs
,
Deshaun Watson