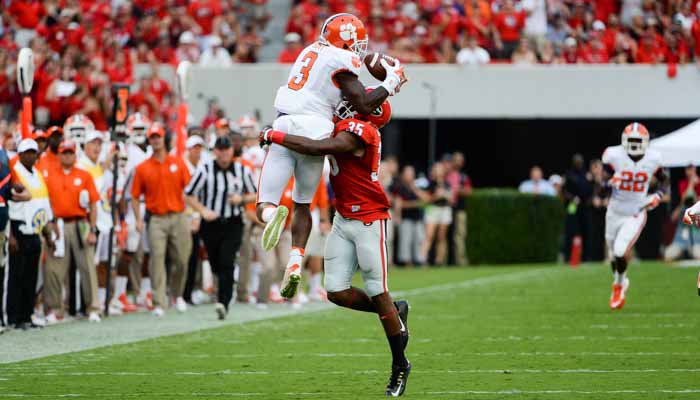 ---
| | | |
| --- | --- | --- |
| Sunday, August 31, 2014, 7:38 PM | | |

Listen to full Swinney Sunday teleconference here
Clemson head coach Dabo Swinney

Dabo Swinney
Head Coach
View Full Profile said he learned a lot about his team in Sanford Stadium Saturday night.
The Tigers lost 45-21 to No. 12 Georgia in a game that saw the Bulldogs pull away late, but Swinney said the coaching staff has been able to look at the film and learn about the players they have to work with.
"We've now had an opportunity to really study the tape. We've learned a lot about our guys," Swinney told the media on his weekly Sunday teleconference. "First games are tough, but first games against good teams are even tougher. It's a risk you take when you schedule these types of games. I like how our guys competed. I wish the outcome had been different but I think for three quarters it was a heck of a game. It was a three-point game going into the fourth quarter. We just couldn't come up with a couple of plays to get the momentum back, but again Georgia is a great football team."
Swinney said the Tigers didn't make the plays needed to beat a good Georgia team, but that he has already seen a positive response from the team leaders.
"The margin for error is small in a game like that. Georgia deserved to win and we didn't," he said. "Just a poor seven or eight minutes in that fourth quarter. For us here, it's a learning opportunity. Stay confident, listen, focus on little things and do a great job of leading, teaching and motivating as coaches. All we know about our team is that we're not going to win them all. We learned a lot we'll be able to teach from. It may be three or four games before some teams get that opportunity. The leadership of our team has already responded."
Clemson managed 21 points and ran 54 plays in a good first half, but the offense went off track in the second half.
"Offensively it was as good a first half as we've had, just a great first half. We missed some opportunities," Swinney said. "We were 7-of-13 on third down in the first half and then all of a sudden things changed. Field position was just awful. Our third down was poor. We just had some mistakes that we hadn't made. I don't think the score was indicative of the game. Our defense played very well in the first half. We go into the fourth quarter a three-point game and we could not get field position. We finally flip the field and then they go 82 yards to go up 10 with 10 minutes left. We go three-and-out and then they have two scores."
Swinney said that the success that Georgia had running the football occurred when Clemson couldn't contain the outside run.
"We didn't contain the ball well and had some critical missed tackles on the edge. Just got away from us," he said. "I thought our guys played hard. Time of possession and field position played a critical outcome in the game. The missed field goal and the return, that's 10 points. We're up in the fourth quarter if nothing else changes if we correct that. "
Georgia running back Todd Gurley had a school-record 293 all-purpose yards and carried the ball 15 times for 198 yards, and Swinney said it was easy to see that Gurley was the best player in the stadium.
"Todd Gurley was just the best guy on the field," Swinney said. "He was definitely the difference in the game for Georgia."
Defense and special team
"Defensively I thought we did some good things. Very solid third quarter. But we'll learn from it. Special teams, Pinion did a nice job. T.J. Green

T.J. Green
So. Safety
#15 6-3, 205
Sylacauga, AL
View Full Profile looks like he'll be a guy who can be effective for us in the return game."
Injuries
"We came out of it relatively healthy, but we lost Sam Cooper

Sam Cooper
RS Sr. Tight End
#86 6-6, 250
Brentwood, TN
View Full Profile before the game. He broke his fibula in pre-game warmups running a route. The good news is they think he can be back in about three weeks. He's a senior and a great leader for us. I am happy that his season is not over. It was a big loss for us for sure, especially in the running game."
Film review
"The biggest thing is offensively just staying consistent. For whatever reason we played 50 plays of just really good football and then it's like a switch flipped. We had some mental errors that we hadn't had. We had some poor fundamental things in pass protection that we can correct. Defensively, I thought it was a really good three quarters of football. Give Georgia some credit because they started to go outside and around us because we held up well inside. They did a good job of cracking us and cutting us. When you're playing against a guy like Gurley, you don't have a lot of room for error. They were forcing our corners to come up to make tackles. They had 117 yards rushing going into the fourth quarter. It just got away from us in the fourth quarter. We kept our defense on the field way too much."
Who played well?
"There were a lot of bright spots. I know everybody just looks at the scoreboard and there's nothing to be happy about, but Artavis (Scott) and Demarre Kitt

Demarre Kitt
Fr. Wide Receiver
#8 6-1, 183
Tyrone, GA
View Full Profile , both of them had the right look in their eyes. Kalon Davis

Kalon Davis
RS Sr. Offensive Guard
#67 6-5, 340
Chester, SC
View Full Profile played tremendous, I mean just great. He was our offensive player of the game. Reid Webster

Reid Webster
RS Sr. Offensive Tackle
#77 6-3, 300
Woodstock, GA
View Full Profile played well. Tony Steward

Tony Steward
Sr. Linebacker
#7 6-1, 236
Hastings, FL
View Full Profile played really well defensively. He was our special teams player of the game. He had four special teams tackles. Robert Smith

Robert Smith
Sr. Safety
#27 5-11, 211
St. George, SC
View Full Profile was our defensive player of the game. Jay Jay McCullough

Jay Jay McCullough
RS So. Tight End
#89 6-3, 248
Fort Mill, SC
View Full Profile , it was good to see him in there. Cole (Stoudt) played very well. He had about three plays he'd like to have back and it was good to get Deshaun Watson

Deshaun Watson
Fr. Quarterback
#4 6-3, 204
Gainesville, GA
View Full Profile going. He got us into the right check for that touchdown pass. Again, a lot of positives. Just not a lot of room for error. Too many mistakes in critical situations. We'll keep moving forward. (Isaiah) Battle was solid the first half and wasn't as fundamentally solid as he needed to be in the second half. Joe Gore

Joe Gore
RS Jr. Offensive Tackle
#73 6-5, 283
Lake Waccamaw, NC
View Full Profile , same thing. He can play better and be fundamentally better than he was in that second half. It was really his first time on the big stage being the guy. We have a long way to go; 11 more opportunities. We have to make the most of them."
Tight ends not being involved
"We only had two catches. (Stanton) Seckinger had one and McCullough had one late. We didn't get much done in the second half. In the first half we were trying to run the ball. In the second half, we were three-and-out. We just couldn't quite do it. It was always one guy here and one guy there. We played so well in the first half. It's our job as coaches to keep them executing at a high level and we didn't do a good job of that."

Listen to full Swinney Sunday teleconference here

Upgrade Your Account
Unlock premium boards and exclusive features (e.g. ad-free) by upgrading your account today.
Upgrade Now

Tags: Clemson Football
,
Sam Cooper
,
Kalon Davis
,
Reid Webster
,
Joe Gore
,
Robert Smith
,
Tony Steward
,
Jay Jay McCullough
,
T.J. Green
,
Deshaun Watson
,
Demarre Kitt