| | |
| --- | --- |
| Some final thoughts from Maryland | |
---
| | | |
| --- | --- | --- |
| Sunday, October 16, 2011, 2:35 PM | | |
Musings and thoughts from the waiting area in Reagan International Airport, following Clemson's thrilling 56-45 victory over Maryland Saturday night in College Park, Maryland.
*First off, I went to the sidelines early in the first half of the game, and was standing near the Clemson bench when I saw running back Andre Ellington
Andre Ellington
RS Jr. Running Back
#23 5-10, 190
Moncks Corner, SC
View Full Profile approach freshman back Mike Bellamy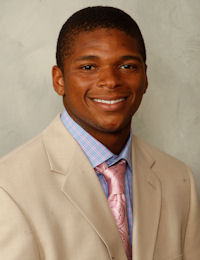 Mike Bellamy
Fr. Running Back
#5 5-10, 175
Nocatee, FL
View Full Profile , who had been just sitting on the bench.
Ellington leaned into Bellamy and offered what appeared to be words of encouragement and a good-natured pat on the head, but I have to believe this was the Moncks Corner native being a leader.
Bellamy missed a practice a little over 10 days ago – told to sit out by Clemson head coach Dabo Swinney – as a result of what Swinney felt was a sulky attitude on the part of the freshman, who obviously wants more playing time.
Word this past week was that Bellamy was a model practice player, and it showed with his early touches. But it was evident early on that Ellington was feeling it – he was actually asking for the ball on the sideline –and felt like it could be his night.
In fact, center Dalton Freeman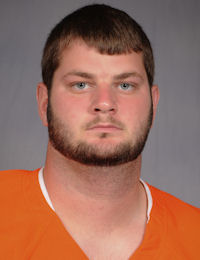 Dalton Freeman
RS Jr. Offensive Line
#55 6-5, 285
Pelion, SC
View Full Profile went over to offensive coordinator Chad Morris early in the first half and implored Morris to just run the football, which the Tigers did to a tune of over 300 yards.
I have to feel that Ellington, a talented back who has had to bide his time while waiting for James Davis
James Davis
Running Back
# 6-0, 205
Atlanta, GA
View Full Profile and C.J. Spiller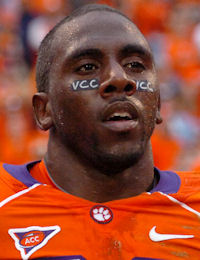 C.J. Spiller
Pro Running Back
#28 5-11, 195
Lake Butler, FL
View Full Profile to graduate, and then splitting time with Jamie Harper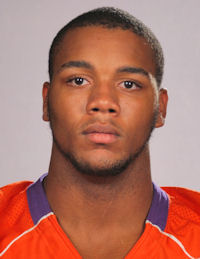 Jamie Harper
Running Back
#8 6-0, 235
Jacksonville, FL
View Full Profile a year ago, was simply telling the talented youngster to just have patience. As in, 'Be patient, young grasshopper, your time will come.'
Bellamy flashed Ellington his trademark megawatt smile, and joined the rest of his teammates in cheering as hard as he could when he wasn't in the game, which is good to see.
And truly, that is the major difference I see in this year's team – leaders who have no problem stepping up and being leaders. Whether it is Freeman imploring Morris to run the ball, Dwayne Allen
Dwayne Allen
RS Jr. Tight End
#83 6-3, 255
Fayetteville, NC
View Full Profile telling Morris what he sees on the field, or Ellington taking time during his career-night to offer encouragement to a freshman, this team has leadership.
*While watching Spiller during his tenure at Clemson, I told anybody and everybody to watch him and enjoy him on every single play, because a talent like his only comes along once a generation. His name is etched in the Clemson and NCAA record books, and I had the feeling then that I might never cover another player as dynamic as Dos Ocho.
Turns out, I was wrong, which isn't shocking in and of itself [my family tells me I am wrong about 600 times a day], but shocking that we have another talent who is already putting his stamp on the Clemson program in Sammy Watkins
Sammy Watkins
Fr. Wide Receiver
#7 6-1, 200
Fort Myers, FL
View Full Profile .
When Maryland went up 35-17 on the Tigers, my seatmate in the press box [who obviously worked for a Maryland fan site], called someone on the phone and made the grand pronouncement that Maryland was going to beat Clemson, and their headline the next day needed to say "Terps knock off ACC's last unbeaten team."
Our photographer, who left the press box at halftime to head back down to the field, was asked several times if she was leaving early for the long ride back to Clemson because of the 'blowout.' So at this point, I was getting a little irritated, and I said to the guy, "You might wanna hold off on that headline, because I don't think Maryland has seen the last of Sammy."
I don't usually say things like that, but the Maryland writers – who were already writing headlines and leads and columns about Maryland's "convincing win" and "trouncing of the nation's No. 8 team – were really getting to me.
And then Sammy was turned loose, and 39 points and 345 all-purpose yards later, the Tigers had escaped with the victory. We all know that Watkins is a special talent, and I asked Swinney in his postgame press conference if there were enough superlatives to describe the freshman, and he just shook his head no and reminded everyone that he still made several freshman mistakes.
There was the fumbled punt that led to a Maryland touchdown, and then there was a called screen pass in the first half that Morris later said would have gone for a touchdown. However, Watkins didn't make the right read, and instead took off down the field. The crazy thing about the play is that quarterback Tajh Boyd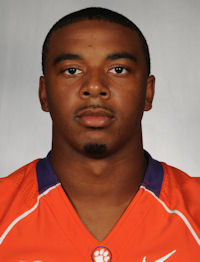 Tajh Boyd
RS So. Quarterback
#10 6-1, 225
Hampton, VA
View Full Profile actually completed a pass on the play when he threw the ball out to the receiver who was supposed to be blocking for Watkins on the play.
But those kinds of mistakes you can live with, because Watkins is a threat every time he touches the ball.
And, it was nice to see C.J. sending out Twitter messages to Watkins following the game. Classy guy that C.J.
*If you've never taken a road trip with the Clemson team, especially a longer one, you need to save up and make at least one. It's always fun to be see other Clemson fans in other parts of the country, and Clemson fans wear their orange proudly.
Over the past couple of years, I've seen the cadence count –started spontaneously by someone whenever Clemson fans see each other – on a subway platform in Boston, on an airplane in New York following last year's loss at Boston College, outside the Smithsonian in Washington, D.C. on Thursday, and too many restaurants to even mention.
And, if it is a big win, I can't describe the feeling of what it's like to stand with a few thousand other fans and watch as the players and coaches gather near the stands and the assembled crowd starts to sing the Clemson alma mater. I get chill bumps each and every time.
*Finally, I just wanted to throw a quick thank you to TigerNet owners Crump and B-Meist as you know them. We try to keep TigerNet free, and making the trip to College Park isn't cheap or easy, but we try to make sure that TigerNet has all of the videos, photos and quotes up as quickly as possible for the fans who can't make the game, and that requires those two telling us to go and paying the way.
So thanks to Crump and B-Meist for helping make all of the postgame videos, audio and photos possible.

Tags: Clemson Football
,
Andre Ellington
,
C.J. Spiller
,
Dabo Swinney
,
Dalton Freeman
,
Dwayne Allen
,
James Davis
,
Jamie Harper
,
Mike Bellamy
,
Sammy Watkins
,
Tajh Boyd