| | |
| --- | --- |
| Shrine Bowl Day One Observations | |
---
| | | |
| --- | --- | --- |
| Monday, December 16, 2013, 3:08 PM | | |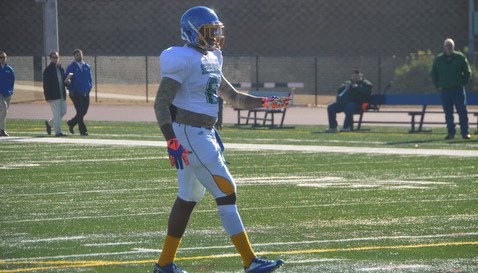 SPARTANBURG – Practice for the 2013 Shrine Bowl got underway at Spartanburg High School early Monday morning, the frost and chilly temperatures giving way to almost balmy conditions by the time the morning practice session had ended.
This year's Shrine Bowl just feels different than in the past, at least from a Clemson perspective. There was really just one prospect that still hasn't committed that Clemson is in the running for, and that is Durham (NC) Hillside wide receiver Trevion Thompson.
I went over to watch Thompson during the early part of the drills, and my first impression was that he reminds me of current Clemson receiver Mike Williams

Mike Williams
Fr. Wide Receiver
#7 6-5, 205
Vance, SC
View Full Profile , although he is a just a tad more slender. He has the same body type and legs, and he looks like Williams in how he gets off the line. There really weren't a lot of passing drills during the morning session, so I was unable to watch him catch the ball, but hope to as the week goes on.
He didn't appear to be as quick as I had expected, but he moves with ease.
I wanted to talk to Thompson, but as has been the case for a while now, he declined any and all interviews and said he will not do interviews at all this week.
*The best-looking prospect out there might just be Clemson linebacker commit Chris Register of Greensboro (NC) Dudley. He is listed at 6-4, 235 pounds but might even be a little heavier than that. He played middle linebacker all through the morning session, and he was explosive. He even grabbed a couple of interceptions during early 7-on-7 drills.
I was standing next to a couple of coaches, and we all said the same thing at the same time – he looks like he could grow into a defensive end if the Clemson coaches decide to move in that direction. Heck, he already looks like he outweighs Vic Beasley

Vic Beasley
RS Jr. Defensive End
#3 6-3, 225
Adairsville, GA
View Full Profile – just not quite as tall – and he has a similar burst.
I asked Register about that after the practice had ended, and he smiled and said no, that the Clemson coaches have told him they want him at the MIKE. Dudley won the state championship last weekend, an experience that he said was "surreal." He then told me that he wants to do the same thing at Clemson – win championships.
*Clemson running back commit Jae'lon Oglesby was in street clothes. He injured his right knee (MCL) during the third week of the season, and when he had his physical for the Shrine Bowl taken, red flags went up. He was scheduled to have an MRI following the practice.
He said he hopes he gets to play Saturday, but it looks doubtful at this point.
*Clemson DL commit Jabril Robinson was another prospect I got the chance to watch, and my first impression (and another Clemson writer standing there with me shared the impression) was that he reminded me of current Clemson defensive end Martin Aiken

Martin Aiken
RS Fr. Defensive End
#53 6-2, 255
Bamberg, SC
View Full Profile .
However, he looked quicker than Aiken during the drills I watched, and once I got the chance to talk to him, he's taller than I first thought. I asked him if he had talked to the Clemson coaches about red shirting, and he said that Dan Brooks

Dan Brooks
Assistant Coach / Defensive Line
View Full Profile told him to not even consider Clemson if he wanted to red shirt.
Needless to say, my second impression was a lot better than my first. He told me that he hopes to play defensive end at Clemson, but with his size he could be a guy that could move inside if needed.
*Belton-Honea Path linebacker and Clemson commit Kendall Joseph played inside linebacker for the morning session, and he was thicker than I expected. However, he is a great communicator on the field, and it looked like he was taking on a leadership role on the Sandlapper defense. Hopefully we can watch him more and more as the week goes on.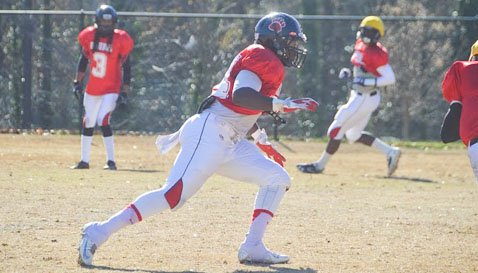 *Clemson OL commit Taylor Hearn worked out mostly at guard during the morning session, but he told me afterward that he has taken notice of the events happening at Clemson right now, and he hopes to arrive on campus in June and compete for time at the right tackle spot, the spot he has played throughout his high school career.
Clemson has had issues at right tackle all season, and Giff Timothy announced last week that he was retiring from football. Isaiah Battle

Isaiah Battle
So. Offensive Tackle
#79 6-6, 280
Brooklyn, NY
View Full Profile is expected to move back to left tackle in the spring, and Hearn said he plans on coming in and competing for a spot.
He told me he is 6-5, 315 pounds as of this morning, and that is the weight that Clemson line coach Robbie Caldwell

Robbie Caldwell
Assistant Coach / Offensive Line
View Full Profile would like to see him play at.