| | |
| --- | --- |
| Sensabaugh sticking with Plan A | |
---
| | | |
| --- | --- | --- |
| Monday, December 19, 2011, 2:14 PM | | |
CLEMSON – Clemson senior cornerback Coty Sensabaugh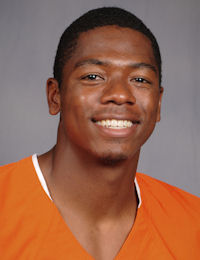 Coty Sensabaugh
Gr. Defensive Back
#15 6-0, 180
Kingsport, TN
View Full Profile has a plan, and he is sticking to it. There is no Plan B.
Sensabaugh has played extremely well in this his final season, but first as a starter, and his stellar play has many thinking that he can play on the next level. Sensabaugh told TigerNet this week that he believes that as well.
Despite graduating last May with a degree in communication studies and taking graduate courses this past fall, Sensabaugh says he isn't even thinking about the real world. Not yet.
"If you have a Plan B, it deviates from Plan A," Sensabaugh said. "Right now, I only have a Plan A and that is the NFL."
He said that he is hearing about his chances for playing on the next level, but has no clue exactly where he might fit into the NFL draft this April.
"I have heard from people, but I don't want them to tell me what my draft status is," he said. "I am working as hard as I can to put myself in the best position I can. Whatever happens after that, it happens, and I can live with it."
Sensabuagh's stat line at first may not be overwhelming – 37 total tackles and just one interception – but he leads the team in 11 passes broken up and his defensive coordinator said Sensabaugh has effectively taken an entire side of the field away from opposing offenses and used the recent ACC Championship Game as an example.
"I think, probably the biggest thing, anybody that watched the championship game would say Coty did an outstanding job, really dominated," Kevin Steele
Kevin Steele
Defensive Coordinator/Linebackers
View Full Profile said. "He had the one interference call – and I won't say any more about that – but he's gotten to where, now, you don't even realize he's out there. They don't attack the side that he's on. It's almost like saying, 'OK, go out there and play with 10 men.' That's kind of where Coty is right now with his game. For a corner, when they stop throwing in your direction, it's a pretty good thing."
All of that is pretty heady stuff for a player who toiled behind some notable defensive backs such as Chris Chancellor
Chris Chancellor
Defensive Back
# 5-9, 163
Miami, FL
View Full Profile , Crezdon Butler
Crezdon Butler
Defensive Back
# 6-0, 180
Asheville, NC
View Full Profile , Marcus Gilchrist
Marcus Gilchrist
Defensive Back
#12 5-11, 190
High Point, NC
View Full Profile and Byron Maxwell
Byron Maxwell
Defensive Back
#36 6-1, 205
North Charleston, SC
View Full Profile for his first three seasons.
He took those three seasons, however, and soaked up football knowledge like a sponge.
"I learned a lot from those guys," he said. "When I first got here, I wasn't mad but I was frustrated. I wanted to play. But looking back on it, it worked out in my favor."
He said that in taking the long and winding road to success, he also understands how quickly it can leave.
"This has been great, but all it takes is one bad game where the guy you are covering catches five or six passes," he said. "Then people will stop talking about you. All it takes is one bad outing, and then you are no longer an island. I have to work hard every day and try and improve."
Sensabaugh said that in the short term, he is focused on preparing for West Virginia, Clemson's opponent in the Orange Bowl in early January. The Mountaineers bring in one of the nation's best passing attacks behind quarterback Geno Smith, and he knows it will take a big effort from Clemson's secondary in order to stop their attack.
"Right now, I am just focused on this game and finishing this semester academic-wise," Sensabaugh said after practice this week. "I graduated in May in Communication Studies, and right now I want to make sure my academics are in order, and I am focusing on West Virginia and this game. After the game, I can think about all that other stuff. Right now, my mind is on the Orange Bowl."