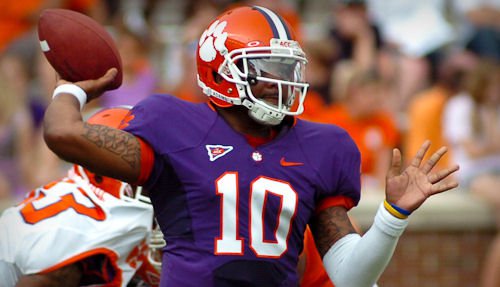 | | |
| --- | --- |
| Saturday Scrimmage Report | |
---
| | | |
| --- | --- | --- |
| Saturday, August 13, 2011, 3:20 PM | | |
Clemson, SC — Starting quarterback Tajh Boyd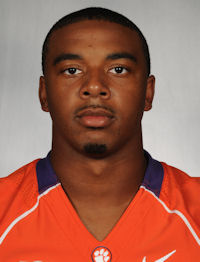 Tajh Boyd
Quarterback
#10 6-1, 230
Hampton, VA
View Full Profile completed 10-12 passes for 168 yards and a touchdown to highlight offensive play in Clemson's 75-play scrimmage in Memorial Stadium on Saturday morning. The Tigers are preparing for the season opener on September 3 against Troy.
Clemson will have Sunday off, then will have two-a-day practices next Monday and Wednesday with single practices on Tuesday, Thursday and Friday. The team will hold its annual Fan Appreciation Day at Death Valley on Sunday, August 21 from 4:30 PM to 6:30 PM.
Boyd had arguably his best practice of the preseason as he completed each of his last eight passes to six different receivers. He threw a 44-yard scoring pass to top receiver DeAndre Hopkins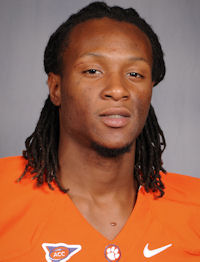 DeAndre Hopkins
Wide Receiver
#6 6-1, 195
Central, SC
View Full Profile , then connected on a three-yard score to Dwayne Allen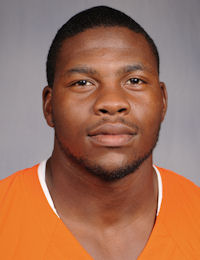 Dwayne Allen
Tight End
#83 6-3, 245
Fayetteville, NC
View Full Profile in a goal line situation.
Allen had three receptions for 66 yards, including a diving catch over the middle for 14 yards and a first down. Brandon Ford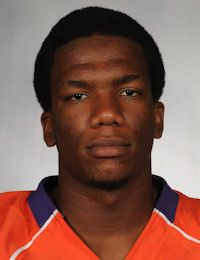 Brandon Ford
Tight End
#80 6-4, 220
Wando, SC
View Full Profile had three receptions for 37 yards, including a five-yard touchdown pass from Cole Stoudt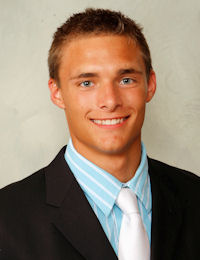 Cole Stoudt
Quarterback
#8 6-3, 195
Dublin, OH
View Full Profile . The freshman QB was 4-14 passing, but threw for 71 yards and two touchdowns, one to Ford and one to Bryce McNeal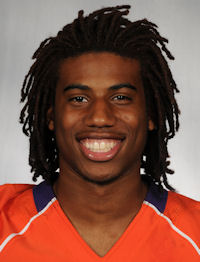 Bryce McNeal
Wide Receiver
#7 6-1, 180
Minneapolis, MN
View Full Profile (23 yards).
The top rusher was Rod McDowell, who had four rushes for 68 yards, including a 39-yarder on his first carry of the day. Andre Ellington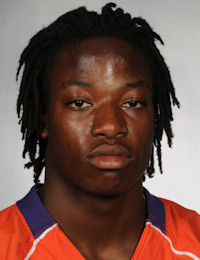 Andre Ellington
Running Back
#23 5-10, 190
Moncks Corner, SC
View Full Profile had 5-41 rushing and added two receptions, while freshman Mike Bellamy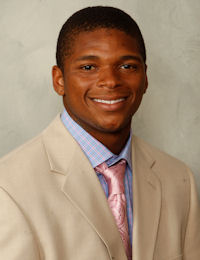 Mike Bellamy
Running Back
#5 5-10, 187
Nocatee, FL
View Full Profile had five carries for 40 yards.
The first-team defense did not allow a scoring drive and was led by Martin Jenkins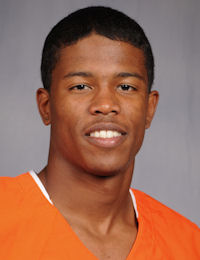 Martin Jenkins
Defensive Back
#27 5-10, 170
Roswell, GA
View Full Profile with seven tackles, including a tackle for loss. Corico Hawkins

Corico Hawkins
Linebacker
#42 5-11, 230
Milledgeville, GA
View Full Profile had five tackles and a fumble recovery, while freshman defensive end Corey Crawford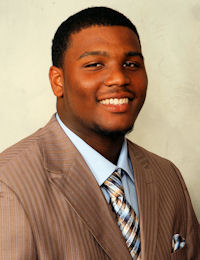 Corey Crawford
Defensive End
#93 6-5, 275
Columbus, GA
View Full Profile had five stops, including a sack. Other players with sacks were Rennie Moore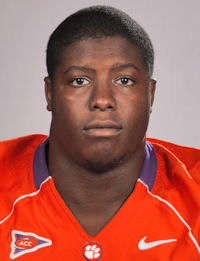 Rennie Moore
Defensive Tackle
#94 6-4, 270
Saint Marys, GA
View Full Profile , and Victor Beasley. Justin Parker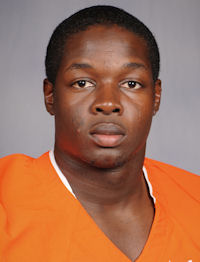 Justin Parker
Linebacker
#8 6-1, 225
Port Royal, SC
View Full Profile , Coty Sensabaugh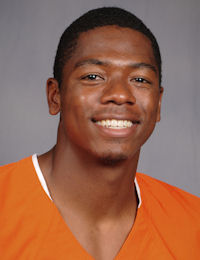 Coty Sensabaugh
Defensive Back
#15 6-0, 180
Kingsport, TN
View Full Profile , Bashaud Breland, Kantrell Brown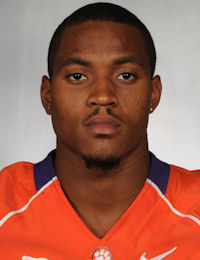 Kantrell Brown
Safety
#37 6-1, 195
Saint Matthews, SC
View Full Profile and Victory Beasley all had passes broken up.
Another bright spot of the day was the kicking game. Clemson's three kickers, Chandler Catanzaro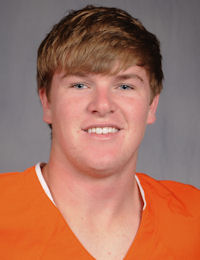 Chandler Catanzaro
Punter / Kicker
#39 6-2, 205
Greenville, SC
View Full Profile , Ammon Lakip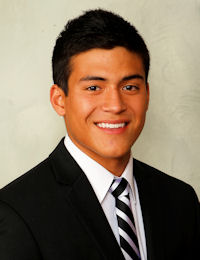 Ammon Lakip
Punter / Kicker
#36 5-11, 175
Alpharetta, GA
View Full Profile and Brian Symmes were a combined 16-16 on the day in field goal attempts and extra points against a live rush.
Three Tigers missed the scrimmage because they were going through graduation exercises across the street from Memorial Stadium in Littlejohn Coliseum. Starting offensive tackle Landon Walker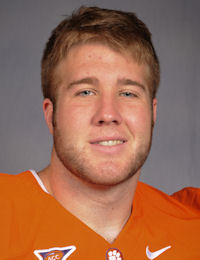 Landon Walker
Offensive Line
#72 6-6, 310
North Wilkesboro, NC
View Full Profile , starting safety Rashard Hall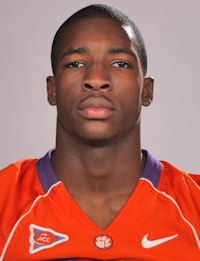 Rashard Hall
Safety
#31 6-2, 200
St. Augustine, FL
View Full Profile and reserve defensive end Kourtnei Brown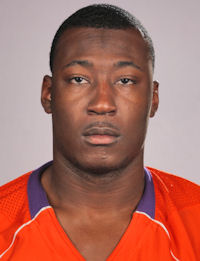 Kourtnei Brown
Defensive End
#90 6-5, 250
Charlotte, NC
View Full Profile all graduated from Clemson on Saturday.
It was especially noteworthy for Hall, who has been at Clemson just three years. He joins Nick Eason (now in the NFL with the Arizona Cardinals) as the only scholarship football players to graduate with two years of athletic eligibility remaining.
Four players missed the scrimmage due to injury. Those players were defensive back Xavier Brewer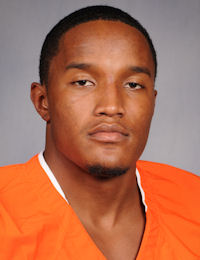 Xavier Brewer
Defensive Back
#29 5-11, 190
Jacksonville, FL
View Full Profile (sprained foot), defensive back Garry Peters
Garry Peters
Defensive Back
#38 6-0, 185
Conyers, GA
View Full Profile (bruised calf), Andre Branch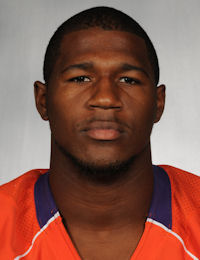 Andre Branch
Defensive End
#40 6-5, 260
Richmond, VA
View Full Profile (head injury), DeShawn Williams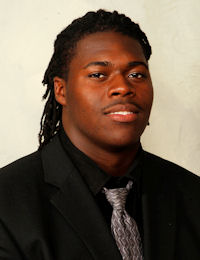 DeShawn Williams
Defensive Tackle
#99 6-1, 295
Central, SC
View Full Profile (sprained ankle).

Tags: Clemson Football
,
Ammon Lakip
,
Andre Branch
,
Andre Ellington
,
Brandon Ford
,
Bryce McNeal
,
Chandler Catanzaro
,
Cole Stoudt
,
Corey Crawford
,
Coty Sensabaugh
,
DeAndre Hopkins
,
DeShawn Williams
,
Dwayne Allen
,
Garry Peters
,
Justin Parker
,
Kantrell Brown
,
Kourtnei Brown
,
Landon Walker
,
Martin Jenkins
,
Mike Bellamy
,
Rashard Hall
,
Rennie Moore
,
Tajh Boyd
,
Xavier Brewer