| | |
| --- | --- |
| Saturday scrimmage: News, notes and nuggets | |
---
| | | |
| --- | --- | --- |
| Saturday, August 15, 2015, 2:45 PM | | |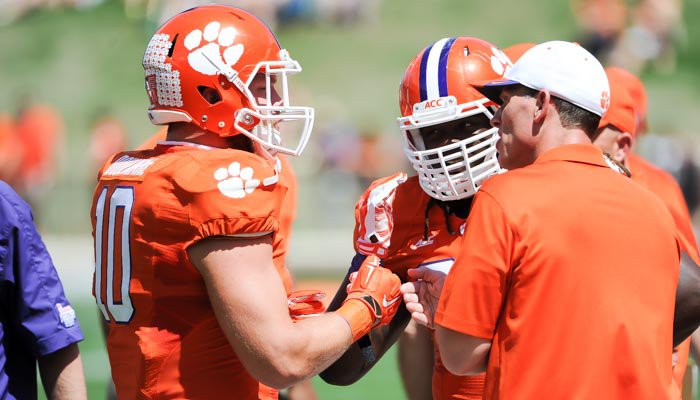 CLEMSON – The Clemson football team scrimmaged for two hours inside Death Valley Saturday morning, and nobody came away happy. Head coach Dabo Swinney

Dabo Swinney
Head Coach
View Full Profile wasn't pleased, defensive coordinator Brent Venables

Brent Venables
Def. Coordinator / Linebackers
View Full Profile wasn't happy and offensive coordinator Tony Elliott

Tony Elliott
Co-OC / Running Backs
View Full Profile said it was a mixed bag.
Clemson opens the season three weeks from today against Wofford in Death Valley, and Swinney the Tigers have a lot of improvements to make in that span. That includes the kicking game.
"Just way too many critical penalties today, would be the biggest thing," Swinney said after the scrimmage. "Just a lot of critical penalties on both sides. Kickers were really poor today. That was probably the biggest disappointment because they've been very good in practice. I've been kind of cautious with them in practice and optimistic and really anxious for this day to see how they respond. They really had a bad day. (Punter) Andy Teasdall

Andy Teasdall
RS Jr. Punter
#32 5-11, 185
Winston-Salem, NC
View Full Profile had a good day. Our kickers were inconsistent to say the least. They've very capable. Based on what we've seen in practice, we're in good shape but today they didn't handle the little difference in environment. We've got a lot of work to do to get them ready for 85,000. I think they're the right kind of guys and it will work itself out."
The offense suffered from turnovers.
"We had a couple of big tips that led to picks," Swinney said. " Marcus Edmond

Marcus Edmond
RS So. Cornerback
#29 5-11, 170
Hopkins, SC
View Full Profile made a great play on a pick six. Had a lot of good things. When you're repping three groups and you're not truly game planning against the opponent and just kind of running your stuff, you can't really match up, so you can't really get a true evaluation. You have evaluate each player and their particular job and not get so caught up in the group."
The news wasn't all bad as Swinney pointed out several players that caught his eye.
"There were a lot of good things. Charone Peake

Charone Peake
Gr. Wide Receiver
#19 6-2, 205
Moore, SC
View Full Profile had a really, really good day," he said. " Jordan Leggett

Jordan Leggett
Jr. Tight End
#16 6-5, 250
Navarre, FL
View Full Profile had a nice play. Ray-Ray (McCloud) had a good day. Deon Cain

Deon Cain
Fr. Wide Receiver
#8 6-1, 190
Tampa, FL
View Full Profile had a nice play. Trevion Thompson

Trevion Thompson
RS Fr. Wide Receiver
#1 6-2, 195
Durham, NC
View Full Profile had a touchdown. Deshaun Watson

Deshaun Watson
So. Quarterback
#4 6-2, 205
Gainesville, GA
View Full Profile was excellent all day. The tempo wasn't anywhere near where we need it to be offensively. That was another thing I was kind of disappointed in. Had some good runs - Wayne Gallman

Wayne Gallman
RS So. Running Back
#9 6-1, 205
Loganville, GA
View Full Profile , C.J. Fuller

C.J. Fuller
RS Fr. Running Back
#27 5-9, 215
Easley, SC
View Full Profile , Tyshon Dye

Tyshon Dye
RS So. Running Back
#22 5-11, 215
Elberton, GA
View Full Profile , Adam Choice

Adam Choice
So. Running Back
#26 5-9, 215
Thomasville, GA
View Full Profile . Everybody ran the ball effectively at times.
However, Swinney said there is still a lot of work to be done before September 5th.
"The critical penalties, the turnovers, the missed assignments, those are things that will get you beat quickly. When you're in my perspective and looking at the whole thing, we've got some work to do, but that's okay. We've got three weeks to get ready to play and we'll be ready play when it comes time."
Other notes
Ammon Lakip

Ammon Lakip
RS Sr. Punter / Kicker
#36 5-11, 200
Alpharetta, GA
View Full Profile
"He'll be back when school starts, as far as being back on the team. He's done everything that's been asked of him. I'm really pleased with what he's done. I've been really pleased with all of his off the field responsibilities that he needed to take care of. He's gone way above and beyond what we've asked him to do. He'll be back and then he's got team discipline. He'll play when we run him out there but it will be a while. He could [play in the first game], but he won't. Sure he could, but not here at Clemson he won't."
His thoughts on the team
"I like our team. I like the potential of our team. If we can just kind of stay the course and keep a few guys healthy we will have a chance. We are one of those teams that has a chance and people should talk about.
Players who have improved over the summer and early fall camp
"There are a lot of those guys. A guy like Justin Falcinelli

Justin Falcinelli
RS Fr. Offensive Tackle
#50 6-3, 305
Middleton, MD
View Full Profile , a guy like Trevion Thompson, a guy like T.J. Green

T.J. Green
Jr. Safety
#15 6-3, 205
Sylacauga, AL
View Full Profile , wow, Marcus Edmond, Adrian Baker

Adrian Baker
RS So. Cornerback
#21 5-11, 180
Hallandale, FL
View Full Profile has had an excellent camp. I mean really, really good camp. Ryan Carter

Ryan Carter
RS So. Cornerback
#31 5-9, 180
Grayson, GA
View Full Profile . Those three guys can play. I'm really, really encouraged by their development and just the depth we have created on the backend. Jefferie Gibson

Jefferie Gibson
RS Fr. Safety
#17 6-4, 200
Hope Mills, NC
View Full Profile is another guy. He isn't ready to play but boy you talk about improvement from the spring till now. Whoa, man that kid has really made a step. Those are the things that excite you as a coach when you see that. A guy like Zach Riggs

Zach Riggs
RS So. Center
#54 6-5, 270
Greer, SC
View Full Profile . Nobody ever asks me about Zach Riggs but he is a guy that has learned to play OL. He has played both tackles, both guards, center and that's a guy from his own measurement from where he was in the spring to where he is right now there is tremendous improvement. So it is all across the board. Different levels and different guys."
Scrimmage winners and losers
"Until I see the tape, it's not fair to give you a true answer, but there were some guys that jumped out. I thought Charone, it was good to see him finish some plays and show his speed today. I saw some good things. We had a couple of guys get into some fights. Ben Boulware

Ben Boulware
Jr. Outside Linebacker
#10 6-0, 235
Anderson, SC
View Full Profile was having a good scrimmage and all of a sudden he was thrown out of the game, because that's exactly what's going to happen in the game. He just kind of lost his temper. We're two weeks into camp and these guys are tired of each other. They're together all day every day and their beating each other up every day. They're ready to hit somebody else. We had a couple of guys lose their temper out there and he was one of them. We try to make it as game realistic as possible today. Guys have to be disciplined and we were an undisciplined team today."
Tight end Garrett Williams

Garrett Williams
Fr. Tight End
#44 6-4, 225
Orlando, FL
View Full Profile
"Not surprised how good he has looked physically. Physically, he can flat out run. He's gifted from a strength standpoint. He was a power lifter in high school. He reminds me of a Chad Diehl

Chad Diehl
Fullback (2007 - 2011)
#30 6-2, 260
Lyman, SC
View Full Profile . A faster, bigger, more athletic Chad Diehl. That's the kind of mentality he brings. The edge he brings every single day to practice. But the thing that has surprised me was mentally how he has picked it up because it is a very difficult position. Outside of the quarterback probably the most difficult position just from a mental standpoint to be able to do all the things that we ask that position to do. I have been very, very impressed with him mentally. He is going to be a player. No doubt."
Nuggets
*Defensive end Martin Aiken

Martin Aiken
RS Jr. Defensive End
#53 6-2, 255
Smoaks, SC
View Full Profile has moved to the WILL linebacker spot. Linebacker Korie Rogers

Korie Rogers
RS Fr. Outside Linebacker
#43 6-2, 235
Buford, GA
View Full Profile has decided to give up football, so Aiken moves from end to linebacker and defensive tackle Dane Rogers

Dane Rogers
RS So. Defensive End
#85 6-3, 260
Shelby, NC
View Full Profile has moved back to defensive end.
*We heard that Tyshon Dye ran through three leg tackles for a big gain and showed the power we've heard about.
*C.J. Fuller ran over a defender and then skipped to the outside for a touchdown. Fuller has had a fantastic camp and is in the mix for significant playing time.
*We first told you about linebacker Jalen Williams

Jalen Williams
Fr. Linebacker
#30 6-0, 215
Columbia, SC
View Full Profile during Swinney's summer camp a few years ago. The Blythewood product stood out in the middle of bunch of 5-stars, and Venables brought Williams in as a gray shirt. Williams is already on the second team at the MIKE linebacker spot, and we were told he was all over the field Saturday. He is a tackling machine that nobody wanted because of his height – he's around 5-10 – but just goes out and makes plays. Of course, Clemson has had success with shorter linebackers, including Keith Adams
Keith Adams

View Full Profile .
*Speaking of linebackers, Ben Boulware was tossed from the scrimmage. The offense scored on a short-yardage play, and we were told that left guard Eric Mac Lain

Eric Mac Lain
RS Sr. Offensive Tackle
#78 6-4, 305
Hope Mills, NC
View Full Profile carried his block through to the end and Boulware took exception. A small scuffle ensued and Boulware was tossed.

Tags: Clemson Football
,
Martin Aiken
,
Eric Mac Lain
,
Charone Peake
,
Ammon Lakip
,
Tyshon Dye
,
Wayne Gallman
,
Ben Boulware
,
Marcus Edmond
,
Dane Rogers
,
Jordan Leggett
,
Adrian Baker
,
Ryan Carter
,
T.J. Green
,
Andy Teasdall
,
Zach Riggs
,
Deshaun Watson
,
C.J. Fuller
,
Trevion Thompson
,
Korie Rogers
,
Jefferie Gibson
,
Justin Falcinelli
,
Adam Choice
,
Jalen Williams
,
Garrett Williams
,
Deon Cain
,
Brent Venables
,
Tony Elliott
,
Keith Adams