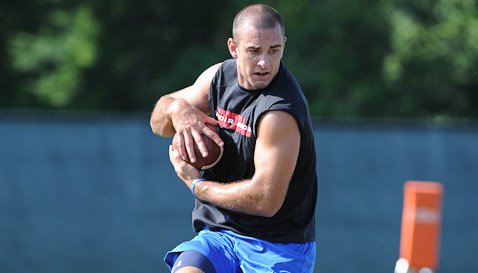 | | |
| --- | --- |
| Saturday morning Swinney camp observations | |
---
| | | |
| --- | --- | --- |
| Saturday, June 16, 2012, 12:40 PM | | |
* Dabo Swinney Football Camp Photos V *
CLEMSON – It doesn't matter how early in the morning it is, Clemson offensive coordinator Chad Morris is always full of energy.
Saturday morning's first workout of Dabo Swinney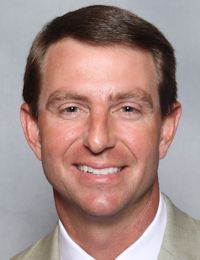 Dabo Swinney
Head Coach
View Full Profile 's high school football camp was no exception, and he immediately started picking on several of the players in attendance.
One of those players was Winter Haven's Kendrick Holland, a 2014 wide receiver who has a Clemson offer. Holland was sporting a t-shirt that had the Georgia head coach Mark Richt's camp name and logo on it, and it quickly drew the attention of Morris.
"You need to turn that shirt inside-out," Morris told Holland with a big smile. "I don't want to see that logo. You come up here to my camp and wear a shirt from my rival? That's like my coming to your high school and wearing a shirt with your rival's name on it. We need to get rid of that shirt."
Holland beamed at the barbs from Morris, who then took his act on down the line of players getting ready to work out.
*The first group of players I went to watch work out was Greensboro (NC) Dudley 2014 linebacker Chris Register, who will be one of the top players in the Tar Heel state in 2014. Register stopped workouts twice to chat with Swinney and defensive coordinator Brent Venables, who spent a good portion of the early workout talking to Register. One of Register's coaches at Dudley told me that Register banged knees with another player at a camp last week, and his left knee has been a little swollen and sore. As a result, he ended his workout early to ice the knee. However, he stood out with a 6-4, 210-pound frame in the drills he did participate in.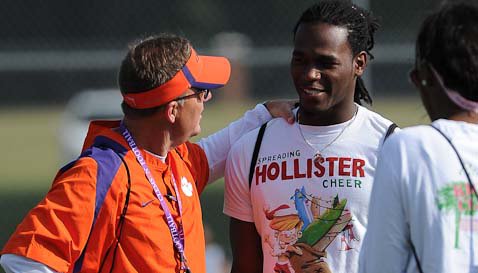 Tyshon Dye with Chad Morris
*I briefly talked to Tyshon Dye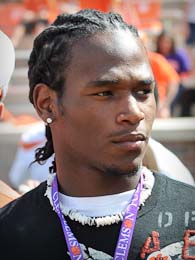 Tyshon Dye
Running Back
6-1, 210
Elberton, GA
View Full Profile , a 4-star running back from Elberton (Ga.) Elbert County, who was in attendance at the camp but didn't work out. He told me he was there to watch his brother - 2014 cornerback Marquice Dye – go through drills.
*As I have throughout the week, I walked over to watch the tight ends, specifically Jeb Blazevich of Charlotte (NC) Christian. I spoke with Blazevich earlier this week, and he hopes to receive a Clemson offer at some point this weekend. He told me that Clemson recruiter and tight ends coach Danny Pearman has been in constant contact, but the staff wanted to see Blazevich work out for them before tendering an offer. I didn't get to see any drills where he was able to show off what type of speed he has, but he does have soft hands. In one drill, Pearman was throwing knuckleballs at the tight ends and Blazevich caught every pass.
*As I have mentioned before, there have been a lot of former Clemson players who have brought their own kids in for camp this week, and Saturday morning was no exception. Ray Brown, who played on Clemson's National Championship team, brought his son Solomon to the morning session. Solomon goes to Daniel and is a hybrid-athlete who actually looked pretty good in the linebacker drills. He played outside linebacker for the Lions and is a 2014 prospect.