| | |
| --- | --- |
| Recruits react to top-ranked Clemson's win over FSU | |
---
| | | |
| --- | --- | --- |
| Sunday, November 8, 2015, 4:49 PM | | |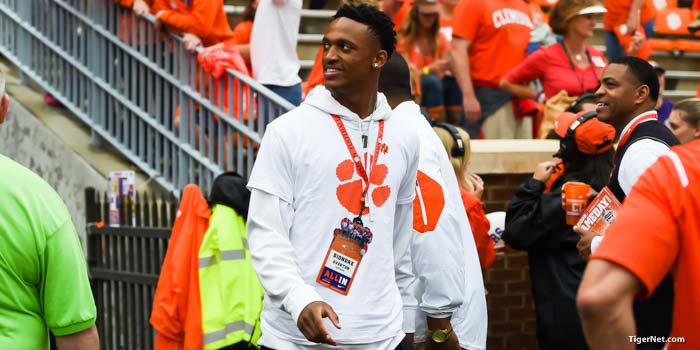 Photo Gallery: Recruits at Clemson-FSU
Clemson hosted its biggest recruiting weekend of the season Saturday, welcoming over 50 prospects to Death Valley to witness its division-clinching win over Florida State.
With a No. 1 ranking and an undefeated season, Clemson is gaining the attention of recruits from around the country, but it wasn't just the 23-13 win over the Seminoles that caught the attention of those in attendance. It was the way the Tigers fought back after the early Dalvin Cook score and the early offensive struggles.
2016 Spartanburg (SC) running back commit Tavien Feaster might have summed up the night the best.
"It was a great win. FSU came out and hit them in the mouth, but Clemson fought back the whole game and they came out on top," Feaster said
Other recruit reactions
Trajan Bandy, 2017 cornerback prospect, Miami (FL) Columbus
"Man, it was crazy. The atmosphere was insane. It felt like the stadium was rocking."
Stuart Head, 2017 safety prospect, Woodstock (GA) Etowah
"It was unbelievable. Every time I visit I get a great feel for the university and the game day atmosphere. It was incredible and gave me chills. They definitely deserve the ranking they have by they way they're playing."
J.J. Givens, 2016 safety South Carolina commit, Mechancsville (VA) Atlee
"It was awesome."
Malik Cunningham, 2017 quarterback prospect, Montgomery (AL) Park Crossing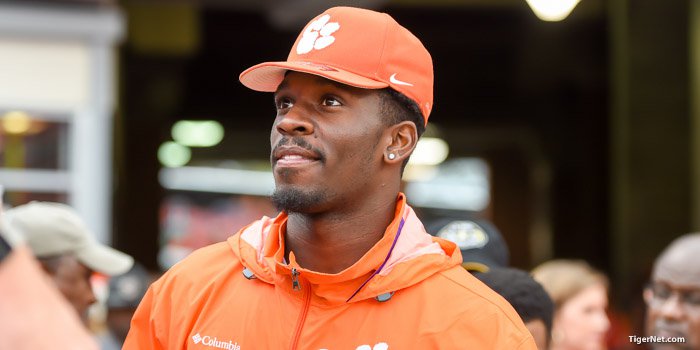 "That was a very good win for the program considering being ranked number, and they showed why they deserve that number one spot."
Dax Hollifield, 2018 linebacker prospect, Shelby (NC)
"I thought the defense played great the whole game except for the 1st drive and once the offense started going I thought they played well. And I think it's awesome that Clemson is #1 because I think they really deserve it and because I have an offer from the #1 team in the country."
Tyreke Johnson, 2018 athlete prospect, Jacksonville (FL) Trinity Christian
"It was a great experience. I like that they play tall, physical DB's like myself and they are very well coached."
Chandler Wooten, 2017 linebacker prospect, Kennesaw (GA) North Cobb
"It was amazing. I loved the fans, and the game day atmosphere! And it was just a great game."
Xavier Thomas, 2018 defensive end prospect, Florence (SC) Wilson
"I have literally fallen in love with Clemson - just the fans, the coaching staff and the players. As soon as I walked into the stadium, I hear fans telling me, 'Hey X, that hill is waiting for you.' I just love Clemson. this school will not leave my No. 1 on my top schools. Not just because of the
football team and that they're undefeated, but because they are building a heck of a program. There are not any more words I can use to describe it. I have literally fallen in love with Clemson. It was straight out guts. Just like Coach Swinney said that's championship football at its best. They did not let the ranking distract them. They just went out and played their hearts out and that's what it's all about."
Tre Lamar, 2016 linebacker commit, Roswell (GA)
"The game was great. The atmosphere was hype and the team really played well in the second half to come back and win."
Chandler Reeves, 2016 offensive line commit, McDonough (GA) Eagle's Landing
"That was a big win last night, I was there. It was a great game. That #1 ranking is awesome too, but it means nothing if they don't finish now! Which I think they will."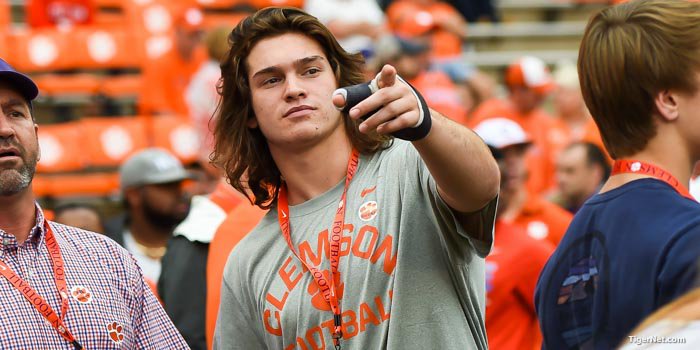 Baylon Spector, 2017 linebacker commit, Calhoun (GA)
"HUGE WIN! I thought the offense came out slow but bounced back in the second half. I also thought the defense played great, too. Clemson is on track, but they've got to move on to next week though."
Sean Pollard, 2016 offensive line commit, Southern Pines (NC) Pinecrest
"I knew they were going to win. I had no doubt. They proved why they are number one."
Cornell Powell, 2016 wide receiver commit, Greenville (NC) Rose
"We're number one for a reason! And every week they prove why! I can't wait to join them next year."
Xavier Kelly, 2016 defensive end commit, Wichita (KS) East
"The crowd was amazing! The fans are so passionate! You can tell they were really into the game!"
JC Chalk, 2016 tight end commit, Argyle (TX)
"It was exciting to see them get that victory since I know how hard they have been working and how bad they wanted that win!!!"
Diondre Overton, 2016 wide receiver prospect, Greensboro (NC) Page
"Clemson struggled at the beginning but they never quit. They fought through adversity and in the end they pulled out the win."
Grant Walker, 2017 athlete prospect, Decatur (GA)
"It was great! My dad played at Clemson in the 80's and my mom went to Clemson as well so I've grown up loving Clemson, but I've never seen anything like yesterday at Clemson before. The valley was rocking! After the game in the locker room was probably my favorite part because I got to see what it was really like in there after such a big win. It was an overall great experience and my best unofficial visit yet!"
Jordan Anthony, 2017 linebacker prospect, Bradenton (FL) IMG
"It was great. I had a great time. It felt like the stadium was rocking"
To run down that hill has always been a dream.. #ALLIN

— Keyshawn Jr. (@keyshawnnnn) November 7, 2015
Clemson is so hype

— Keyshawn Jr. (@keyshawnnnn) November 7, 2015
After Having an Amazing Time In Death Valley ???? with My Family, Mom, Dad, & Sister for the first time @ a game, Now I have a serious Top 3!

— Malcolm Askew™? (@MacAskew4) November 8, 2015
Clemson DB's getting lit pregame?? pic.twitter.com/lF3BFqOgRq

— Jamyest Williams (@Jamy0602) November 7, 2015
Enjoyed the game with dad ?? pic.twitter.com/jUUVtdx7TK

— The Real 1? (@BandyTrajan) November 8, 2015
Them Clemson boys so lit ??

— ??Chan Woo?? (@ItsMeWootang) November 7, 2015
#ALLIN #ClemsonvsFSU #ClemsonFamily pic.twitter.com/belZvql9LE

— Xavier Thomas (@atxlete) November 8, 2015
I am literally in love with clemson. The fans, coaches, players, everything just perfect. Clemson is not leaving #1 on my list . #ALLIN

— Xavier Thomas (@atxlete) November 8, 2015
And we roll... ACC Atlantic division champions @ Death Valley - Clemson Univ https://t.co/3f2badf9hs

— Chandler Reeves (@ChandlerReeves) November 8, 2015
#ESPNJR300 @Jordan_LittleBO of @IMGAFootball at @ClemsonFB the @CFBPlayoff #1 team @TomLuginbill @CraigHaubert pic.twitter.com/keykhZcmmG

— Chris Konrad (@TheHSFBProspect) November 7, 2015
Atmosphere was awesome on my recruiting visit to Clemson # first class pic.twitter.com/GJeoui2SCv

— Brayden Hawkins (@B_Hawkins8) November 8, 2015
Some ballers are here in Clemson @KippLAdams @rivalsmike @PlayBookAthlete @Clemson247 pic.twitter.com/K7vgkbE88d

— Christian Tutt (@cblacks500) November 7, 2015
Great time at Death Valley ?????? pic.twitter.com/4izlGQo08K

— Eric Douglas (@edoug71) November 8, 2015
Love you bro @_CarterBoy !! pic.twitter.com/F4QwnbrR8J

— Chase Brice (@CBrice_2) November 8, 2015
I see why they call it Death Valley lol couldn't hear nothing . ??

— The Real 1? (@BandyTrajan) November 8, 2015
Shoutout to clemson for the great visit

— Tyreke Johnson (@Im_showtime_) November 8, 2015
Had a great time On my way home now

— JAMES ROBINSON4??? (@_StunnaJayy_) November 8, 2015
Electrifying atmosphere in Clemson tonight. Loved the Visit!! ????

— Zachary L Carter™ (@_ZachAttacks) November 8, 2015
Death Valley was lit ?????? #ALLIN pic.twitter.com/w21mUBYlkx

— Zachary L Carter™ (@_ZachAttacks) November 8, 2015
Me and the head man himself Coach Dabo Swinney?? pic.twitter.com/ZJ0On2h0pl

— Jamyest Williams (@Jamy0602) November 8, 2015
Me and Lil Bro #1 DB C/O 2018 @cblacks500 @ClemsonFB Game?? pic.twitter.com/OaYCFSJ3RV

— Jamyest Williams (@Jamy0602) November 8, 2015
Coolin wit my brothers @cblacks500 @904cameron pic.twitter.com/XD9lypOPWa

— tyreke johnson (@Im_showtime_) November 8, 2015
Photo Gallery: Recruits at Clemson-FSU

Tags: Clemson Football
,
Tavien Feaster
,
Tre Lamar
,
Jamyest Williams
,
Sean Pollard
,
Diondre Overton
,
Cornell Powell
,
Malcolm Askew
,
Xavier Kelly
,
Christian Tutt
,
Tyreke Johnson
,
Xavier Thomas
,
Chandler Reeves
,
Chase Brice
,
Eric Douglas
,
Baylon Spector