| | |
| --- | --- |
| Recruits React: All In Cookout Edition | |
---
| | | |
| --- | --- | --- |
| Sunday, July 19, 2015, 8:01 AM | | |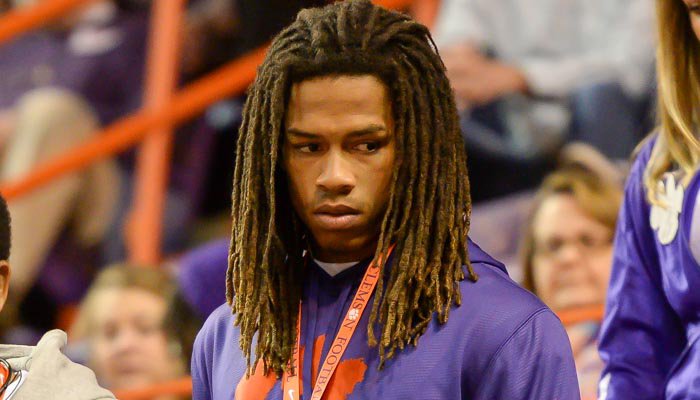 Clemson wrapped up the summer recruiting season Friday night with its fourth annual All In Cookout, full of doughnuts and dancing and a commitment.
The low-key, family affair event had its fireworks with the commitment of 4-star linebacker Tre Lamar

Tre Lamar
Linebacker
6-4, 235
Roswell, GA
ESPN:


View Full Profile and, of course, head coach Dabo Swinney

Dabo Swinney
Head Coach
View Full Profile showing his dance moves, and TigerNet caught up with the prospects on hand to gauge their reaction from the cookout.
T.J. Chase

T.J. Chase
Wide Receiver
6-2, 175
Plant City, FL
ESPN:


View Full Profile , wide receiver commit, Bradenton (FL) IMG Academy
"It went good up there," Chase told TigerNet. "It felt good to be back on campus and around that atmosphere. The best part was when we had to compete with the doughnuts."
Chandler Reeves

Chandler Reeves
Offensive Tackle
6-6, 255
McDonough, GA
View Full Profile , offensive line commit, McDonough (GA) Eagles Landing
" I loved it. It was a great time to just relax and hang out," Reeves told TigerNet. "There wasn't much talk about football. I just got to know all of the coaches, players and commits for 2016. They are a great group of high-energy, fun guys."
Xavier Kelly

Xavier Kelly
Defensive End
6-5, 230
Wichita, KS
ESPN:


View Full Profile , defensive end prospect, Wichita (KS) Wichita East
"The visit was great," Kelly said. "I got the opportunity to meet some of the players and the current commits. I had a chance to talk with the coaches. We all had a good time."
"Coach Venables and Coach Hobby were just telling me nothing but great things about Clemson and giving me a lot of good reasons why I should go there," Kelly said. "They were telling me that they really need me and I'm in a perfect position to come at this time. I love everything about Clemson. It's a family environment and they are all about academics. They really care about their players outside of the football field."
Zerrick Cooper

Zerrick Cooper
Quarterback
6-4, 200
Jonesboro, GA
ESPN:


View Full Profile , quarterback commit, Jonesboro (GA)
Cooper said the cookout gave him the opportunity to further strengthen his relationship with new quarterbacks coach Brandon Streeter

Brandon Streeter
Quarterback Coach
View Full Profile .
"It went pretty good. I got the chance to hang out with Coach [Brandon] Streeter and some of the other players," Cooper told TigerNet. "I have a great relationship with Coach Streeter. We've already bonded a lot. We got a new commit in Tre Lamar, so it was a fun cookout."
The Clemson quarterback commit also had a message for Clemson fans.
"They don't need to worry about me going anywhere else. I'm still solid to Clemson," he said.
Bryce Mathews

Bryce Mathews
Offensive Tackle
6-6, 275
Brentwood, TN
ESPN:


View Full Profile , offensive line prospect, Brentwood (TN) Brentwood Academy
"It was a great trip and a great experience," Mathews told TigerNet. "We got to spend a lot of time with the coaches and the players and meet a lot of people. I think we all had a really good time."
Nyles Pinckney

Nyles Pinckney
Defensive Tackle
6-3, 290
Seabrook, SC
ESPN:


View Full Profile , defensive tackle prospect, Seabrook (SC) Whale Branch
"It was good. I was just there having fun and the food was great," Pinckney told TigerNet. "It was nice to see Coach [Dan] Brooks, Coach Swinney and Coach [Tony] Elliott."
J.C. Chalk

J.C. Chalk
Tight End
6-4, 221
Argyle, TX
ESPN:


View Full Profile , tight end commit, Argyle (TX)
Chalk said he enjoyed getting to know members of the 2016 class, but the highlight was being with Tre Lamar before he committed.
"I had a lot of fun. It was great to hang out with some of the players," Chalk told TigerNet. "I really enjoyed being there with a lot of the commits. A lot of them I had met before but I'd never really gotten to talk to before. It was fun because we got to hang out and talk a lot.
"The highlight was Tre committing. I was hanging out with him and we were with some of the players and he said, 'Hang on, I need to go talk to the coaches.' Then we got a text from [current linebacker] Chad Smith saying that Tre had just committed, so that was pretty cool."
And, the doughnut competition?
"Each player was paired with a current player and a coach and each person had a dozen doughnuts and a glass of milk," he said. "We had to eat it and drink the glass of milk and then the next person down the line had to do it. Stanton Seckinger and I were about to throw up."
**As for Swinney dancing, here's what the players had to say…
Chalk: "It was pretty funny. We were all dying laughing."
Reeves: "That was awesome. He had everyone there rolling. That guy never stops. I love the energy he has no matter what he's doing."
Chase: "It was pretty exciting to see Coach Swinney dance. He's got some moves."
Cooper: "It was fun. I saw on Twitter that Coach Swinney was saying that he wasn't ready, but I guess he was ready at the cookout."
Here is the video so you can decide for yourself:
RT if you love Dabo pic.twitter.com/BJutByNAaG

— Caroline Potter (@carolinewpotter) July 18, 2015
***Stay tuned as we will have in-depth stories with some of the uncommitted prospects throughout the week.