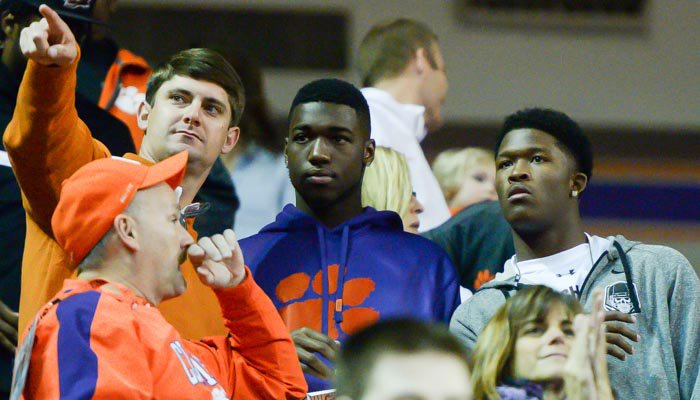 | | |
| --- | --- |
| Ray Ray McCloud on Clemson visit: "It was another great experience" | |
---
| | | |
| --- | --- | --- |
| Monday, January 26, 2015, 2:15 PM | | |
In a little over a week, Tampa (FL) Sickles athlete and 5-star Clemson commit Ray Ray McCloud will fax over his official Letter of Intent to the Clemson coaches and his recruitment and the drama stirred up by recruiting sites looking for a story will be over.
That's something that McCloud is looking forward to.
McCloud and his good friend and fellow 5-star commit Deon Cain

Deon Cain
Wide Receiver
6-2, 200
Tampa, FL
ESPN:


View Full Profile out of Tampa (FL) Tampa Tech made the drive to Clemson this past weekend – it was Cain's official visit and McCloud tagged along for an unofficial visit, the last chance for the two Florida playmakers to see Clemson's campus before National Signing Day.
According to McCloud, who talked to TigerNet Monday afternoon, the visit went well and was well worth the drive.
"It was definitely worth it. It was very organized and everything went well," McCloud told TigerNet. "The coaches talked very well and the players were great. It was another great experience."
McCloud said it's always good to hang out and spend time with his future teammate in Cain.
"It was cool. Me and Deon - it felt the same," he said. "It wasn't really any different. We hang out here in Tampa all of the time. I see him all of the time. Even on the bus trip to Clemson we were together. It was kind of the same, Deja vu really."
He then said that the highlight of the trip was Clemson's last-second win over Wake Forest in basketball Saturday afternoon in Littlejohn.
"The basketball game was definitely a highlight. The atmosphere and the intensity of it," McCloud said. "The fans were really into it. I was thinking about how Clemson is more than just about football. It was more like the school has support for every sport. That was a big eye opener for me."
McCloud said he also got to spend more time with the Clemson coaches, including offensive coordinator/running backs coach/main recruiter Tony Elliott

Tony Elliott
Assistant Coach / Running Backs
View Full Profile .
"I think I know most of them pretty good. It was more just spending time with them and growing the relationships with them," McCloud said. "He's (Elliott) been telling me to be ready to play and that when I come in I'll have to be a fast learner."
The duo also got to spend time with host Artavis Scott, another Florida playmaker who had a stellar freshman season.
"I talked to Tay a lot. We hung out a lot," McCloud said. "He was just telling me the same things as Coach Elliott that I have to be ready to play. The depth chart isn't thin but it's not loaded."
Now that his final visit is out of the way, McCloud can wait out his final few days before National Signing Day and he said he would be relieved when the drama is over and he submits his paperwork to Clemson.
"It's going to be pretty good. No more drama. No more coaches calling," he said. "My mom won't have to worry about what's going on and what I'm going through. It's going to be a relief."