| | |
| --- | --- |
| QBs getting equal reps in what Morris calls a "three-person race" | |
---
| | | |
| --- | --- | --- |
| Friday, March 28, 2014, 7:39 PM | | |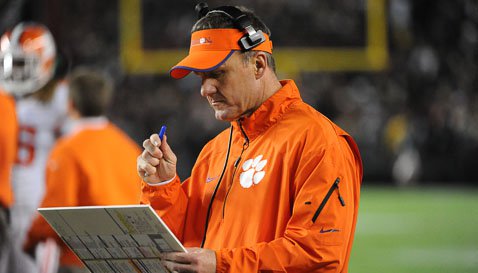 CLEMSON – Monday will be a big day for several of Clemson's offensive players.
The Tigers will hold a stadium scrimmage Monday afternoon, a scrimmage that offensive coordinator Chad Morris

Chad Morris
Offensive Coordinator / QBs
View Full Profile hopes will shine a light on the best fit for players in many of the position battles the Tigers have this spring.
"We have had a good eight days of practice, and this will be the first scrimmage where we can get these guys in a game-like setting," Morris said after Friday's practice. "It will be interesting to see. We will have a better understanding of where we are after Monday. Putting these guys in a game-like setting will be interesting to see. "
Morris especially wants to see if the freshmen step up.
"We have a lot of true freshmen out there getting quality reps – the game is moving fast for them but they are catching on," Morris said. "We are eight practices in, and I have been pleased with some of them. The rest of them need to come on but we are now showing improvement."
Morris was asked about the status of the quarterback battle, and he seemed sincere when he said that freshman Deshaun Watson

Deshaun Watson
Fr. Quarterback
#4 6-3, 190
Gainesville, GA
View Full Profile was still in the mix.
"It's still a three-person race," Morris. "All three of them are working extremely hard, and all three of them have had their days and all three have had some not-so-good days. We will have a better understanding after Monday and try and settle in with a guy for the rest of the week after Monday's performance. We will gauge it and judge it and go from there.
"They are all competing really hard. They are all three going to get equal reps with the ones and the twos – it will be a fair assessment all the way across. We come back the following Monday, if one got a little bit more than the others then we'll come back in and give him a fair chance. Everybody is going to get a fair shake in this thing."
Morris is also looking to see who will step forward at running back.
"The main three we've been having in there -- D.J. Howard

D.J. Howard
RS Sr. Running Back
#22 5-11, 195
Lincoln, AL
View Full Profile really started off the spring strong," Morris said. "Then, you have Zac Brooks

Zac Brooks
Jr. Running Back
#24 6-1, 185
Jonesboro, AR
View Full Profile . Zac is back and doing some good things. Wayne Gallman

Wayne Gallman
RS Fr. Running Back
#9 6-1, 195
Loganville, GA
View Full Profile and of course, C.J. [Davidson] is a guy that is coming back off an [injured] wrist, so he's back doing some things. We hope to utilize him as well."
On the offensive line, Morris said he has five players in mind after the first eight practices, but nothing is set in stone.
"I think I have five in mind, but there are a lot of intangibles that go along with it," Morris said. "We have a long way to go until that first ballgame. Again, we will see after Monday. Today we had Jay Guillermo

Jay Guillermo
RS So. Center
#57 6-2, 290
Maryville, TN
View Full Profile at center, had Isaiah Battle

Isaiah Battle
Jr. Offensive Tackle
#79 6-6, 280
Brooklyn, NY
View Full Profile at tackle, along with Shaq Anthony

Shaq Anthony
RS Jr. Offensive Tackle
#76 6-3, 265
Williamston, SC
View Full Profile . But it could change from day-to-day. We hope we can find nine or ten we can feel confident in, but we have to develop some continuity there as well."
Morris was also asked about rising sophomore receiver Mike Williams

Mike Williams
So. Wide Receiver
#7 6-5, 205
Vance, SC
View Full Profile , who is expected to a big part of the offense next season.
"I was disappointed in Mike Williams early on," he said. "I was disappointed in his performance. I was expecting a lot more out of him being a veteran guy. But the last two practices, he's been better than he was the first couple of weeks. He is still far from where he needs to be, but he seems to be better with it. He is a veteran guy and you hope you can rely on him – that is the plan – but that hasn't been the case so far. He hasn't been very physical and hasn't been very good in route running. But he has had a good week because we called his attention to it."