| | |
| --- | --- |
| Price says being raised on a farm developed strong work ethic | |
---
| | | |
| --- | --- | --- |
| Tuesday, August 16, 2011, 9:49 PM | | |
AUDIO: Phillip Price after practice audio
CLEMSON – When you grow up on a sun-baked farm in Dillon, S.C., and have to be up early every morning in order to help your family survive, football isn't work. It's fun.
Even when the August sun beats down on two-a-day practices.
Left tackle Phillip Price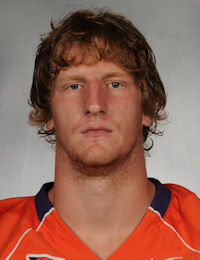 Phillip Price
Offensive Line
#79 6-5, 300
Dillon, SC
View Full Profile , the player that offensive coordinator Chad Morris said has had the best camp of any of the offensive linemen, grew up helping his family farm 1400 acres. Cotton was the primary crop until recently, his father adding soybean as a way to make money year-round.
Price said Tuesday following practice that he enjoys every moment he is out on the football field, and if any players think what they do is work, he can take them home and show them what real work is all about.
"What we do out here isn't work," Price said. "Growing up on the farm, now that is work. Playing football is fun. We can come out here and it's hot and we sweat, but we are only out here a couple of hours. If you get up at 5 a.m. and you don't come in until dark, then that's work. My daddy has done that his whole life, and he is forty and almost used up."
He says that growing up on a farm made him realize that a person has to work for everything they get in life and that is why he doesn't listen when people say he has already earned a starting job.
"I haven't been given anything," he said. "I have to go out there and work for it. If I earn it, I earn it. But this day isn't over. I still have to go and watch film tonight. I still have work to do today. Growing up that way, and the way I was coached in high school, has made me this way. Nothing is ever given to you – you have to earn it and appreciate every opportunity you get and be thankful for it."
Price said his father might argue that he never put in a full day's work on the farm.
"My daddy would say I wasn't much help," he said. "I would always do my best to scat out of there when he came calling me at six a.m. to pick weeds. I remember being out there when the cotton was taller than I was. We would go out there and find these big old pig weeds. That right there is working for you money."
The mentality of living life one day at a time has served him well as he fights for the chance to finally start, and he said he doesn't even allow himself the luxury of thinking ahead to the first game of the season.
"I can't think too far ahead because I have tomorrow to think about," he said. "I can't get jacked up and excited about something that is not even here yet. Now, it's coming and it will be here before you know it. But what I did wrong out there today, I have to correct that so I can be better tomorrow. You have to take it day-by-day and better yourself."
Price was told about Morris' praise for his play, but he said he can't take credit for his performance.
"That is nice that he said that, but we are a unit," he said. "We are in this together. I am doing well because I have a good left guard beside me in David Smith
David Smith
Offensive Line
#73 6-5, 315
Greenville, SC
View Full Profile , and Dalton [Freeman] is out there directing traffic. And Landon Walker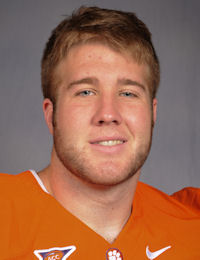 Landon Walker
Offensive Line
#72 6-6, 310
North Wilkesboro, NC
View Full Profile and Antoine [McClain] are doing their thing. Then you have Tajh and those boys out there making plays. It is a team effort, not an individual thing."
That hasn't stopped him, however, from wanting to be the best player on the line.
"I want to win. I want to be the best," he said. "I am a perfectionist in everything. If you want to be the best, you have to come to work. There is no other way around it. You have to bust your tail or someone will take what you have or beat you to it. And that is unacceptable."