| | |
| --- | --- |
| One Team. One Dream. One Clemson. | |
---
| | | |
| --- | --- | --- |
| Saturday, August 6, 2011, 9:17 PM | | |
CLEMSON – One Team. One Dream. One Clemson.
That slogan is going to be the mantra for the Clemson Tigers this season as they strive to put a disappointing 2010 behind them, and Clemson head coach Dabo Swinney made sure the team got the message during Thursday's team meeting.
Swinney walked into the meeting room with a t-shirt with those words emblazoned on it, with the number 1 acting as the leg of the 'N' in the word one, and said there were new expectations along with the new season.
Swinney had the shirt on at Saturday night's practice, but said the players have been talking about One Team, One Dream all summer.
"You are always trying to get things to pull them together," Swinney said Saturday. "We have to be one team, and we have to be a team with the same vision. And I think we do. Hopefully that will help us become the One Clemson we want to be.
"All summer, the players like Dwayne Allen
Dwayne Allen
Tight End
#83 6-3, 245
Fayetteville, NC
View Full Profile and Tajh Boyd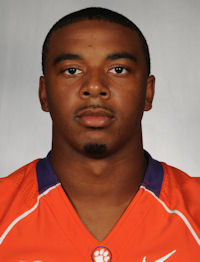 Tajh Boyd
Quarterback
#10 6-1, 230
Hampton, VA
View Full Profile had been talking about One Team, One Dream, and I decided to put the shirt together. They seemed to like it. When all is said and done, I hope we can be a team that will be together on all fronts and have the season we have been dreaming about."
Boyd said that he thinks safety Rashard Hall
Rashard Hall
Safety
#31 6-2, 200
St. Augustine, FL
View Full Profile is the one that came up with the slogan.
"He came up to me over the summer, and he said 'I think I might have something here' " Boyd said Friday night. "Instead of 'All In' which another team and I think adidas have kind of adopted, we have taken on the One Dream. It is not patented yet, but it should be, because we are one team and we all have that same dream."
Left guard David Smith
David Smith
Offensive Line
#73 6-5, 315
Greenville, SC
View Full Profile said the slogan exemplifies how much this team has come together over the summer.
"I love the slogan we have now. A lot of teams get hooked on having one go-to guy, but this year we are going to be one team and get it done," Smith said. "When I first heard it at the team meeting on Thursday, I loved it. It means we have to focus on each other and make plays for each other."
Swinney said the team leaders on this year's squad have definitely bought into the approach and are passing it down to the younger players.
"I have seen the leadership on this team grow since January," he said. "It has been awesome. I know with that type of leadership, and the ownership and accountability that these guys have taken on, we are going to get where we want to be. They have demanded certain things of their teammates."