| | |
| --- | --- |
| Offensive line: Who has the edge heading into summer? | |
---
| | | |
| --- | --- | --- |
| Wednesday, May 7, 2014, 7:14 AM | | |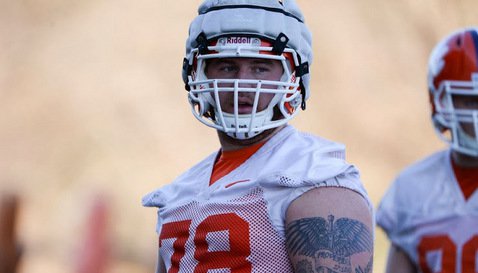 CLEMSON - For the first time in a few years, the Clemson football program enters the summer with a bevy of question marks surrounding the offense. While there may be more questions than answers right now, the coaching staff feels like the right players (answers) are in place, they just have to step forward.
With that in mind, TigerNet takes a look at the depth chart on offense heading into a summer workouts, with an emphasis on the starters. Today we take a look at the offensive line, which might have the biggest question marks of all.
The problem, of course, is the very fluid nature of the offensive line, especially when there aren't clear cut starters at every position. The coaches cross-trained a lot of players during the spring, and we saw Kalon Davis

Kalon Davis
RS Sr. Offensive Guard
#67 6-5, 330
Chester, SC
View Full Profile play tackle and guard, we saw Ryan Norton

Ryan Norton
RS Jr. Offensive Line
#58 6-3, 270
Simpsonville, SC
View Full Profile play guard, we saw Eric Mac Lain

Eric Mac Lain
RS Jr. Offensive Line
#78 6-3, 260
Hope Mills, NC
View Full Profile playing both sides of the line, Jay Guillermo

Jay Guillermo
RS So. Center
#57 6-2, 290
Maryville, TN
View Full Profile played both guard and center. There were injuries, and the specters of suspensions to open the season also play a part.
Left tackle
This spot belongs to Isaiah Battle

Isaiah Battle
Jr. Offensive Tackle
#79 6-6, 280
Brooklyn, NY
View Full Profile , pure and simple. Battle worked a fraction of the spring at right tackle, his size is better suited for the left tackle spot. At 6-foot-7, he was the tallest player listed on the 2013 team, and it's that kind of size that NFL scouts look for in their left tackles.
He has 14 knockdowns in 512 snaps over 15 games (four starts) in his career, and he had 13 knockdowns in 359 snaps over 10 games (four starts) last season. The coaches would have loved for Battle to have taken a starting spot last season, but he battled inconsistency during the fall. He was then suspended after throwing a punch at an NC State player early in the season. However, he showed added maturity once he returned from the suspension, and the coaches moved him to right tackle late in the season in an effort to shore up the line. He said during spring practice that he is ready to take his game to the next level.
Left guard
David Beasley
David Beasley
RS Sr. Offensive Guard
#68 6-4, 315
Columbus, GA
View Full Profile gets the nod here, but he will miss the opener against Georgia because of a suspension. Beasley burst onto the scene in 2012 when he had 27 knockdowns in 764 snaps over 12 games (12 starts). Those numbers declined sharply in 2013, however, as he had 14 knockdowns in 433 snaps over 13 games (seven starts) while splitting time with Kalon Davis.
Beasley started out the spring at second-team, but came on towards the end. He told TigerNet at the end of spring practice that he realizes his time is now, and that he needs to continue to work hard. His weight (348 pounds at the end of spring) has been an issue, but he promises to be down to 320 by the start of fall camp. If he puts it all together, can be a dominant player.
Center
Ryan Norton has 37 knockdowns in 1,118 snaps over 25 games (13 starts) in his career. He has recently battled a shoulder issue (torn labrum) but said he felt like he would be completely healthy by the start of fall camp. Norton logged 841 snaps last season, but he has been pushed by Jay Guillermo and spent part of the spring learning how to play guard.
Guillermo has earned the chance at more playing time after logging 182 snaps over eight games in 2013, and he also spent time at the guard spot in the spring. If someone goes down at either of the guard spots, it's not hard to envision either Guillermo or Norton moving while the other takes over at center. This will be interesting to watch over fall camp. From what we've heard, Guillermo had an excellent spring and is poised for more playing time, but it will be at guard or center?
Right guard
Davis started seven games and logged 500 snaps last season, more than triple his previous output in 2012. Taking over for the graduated Tyler Shatley

Tyler Shatley
Offensive Guard (2009 - 2013)
#62 6-3, 295
Icard, NC
View Full Profile won't be easy, and at 330-plus pounds Davis isn't exactly the prototypical pulling guard. However, he had an excellent spring and is one of the more dependable players on the roster. If Beasley can hold onto the left guard spot, the Tigers will be in good shape with Beasley at right guard. He could also play tackle if needed, but he seems destined to play guard this season.
Davis wasn't exactly a force when he first arrived, but he has changed his body type and seems to be more physical.
Right tackle
Eric Mac Lain or Shaq Anthony

Shaq Anthony
RS Jr. Offensive Tackle
#76 6-3, 265
Williamston, SC
View Full Profile ? Anthony might get the nod here simply because he has the experience and Mac Lain battled a turf toe injury this spring and lost valuable reps. However, Anthony is out against Georgia and Mac Lain may very well reclaim the nod here after entering the spring first on the depth chart. Mac Lain is big and strong and doesn't mind contact, reminiscent of former right tackle Landon Walker

Landon Walker
Offensive Tackle (2007 - 2011)
#72 6-6, 305
North Wilkesboro, NC
View Full Profile . For Mac Lain, it's all about gaining experience.
Giff Timothy started out the season as the starter in 2013, but injuries forced his retirement from football and Anthony took over. Inconsistency eventually led to the coaches installing Battle at right tackle late in the season. However, Anthony logged 503 snaps in three starts. Anthony is better at pass-blocking than run-blocking, and has to become more physical at the line of scrimmage if he truly wants to earn a starting job.
Others
There are other players who will battle for a spot during the fall, but those mentioned here will get the first crack at starting. We will have a more in-depth look at the line later on.