| | |
| --- | --- |
| Notes and quotes from Clemson vs Wofford | |
---
| | |
| --- | --- |
| Saturday, September 10, 2011, 10:40 PM | |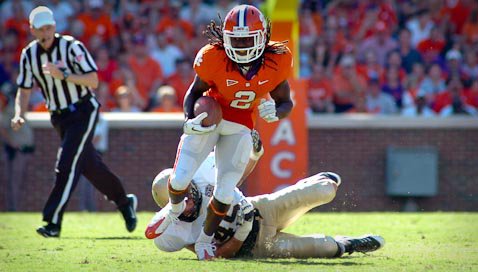 CLEMSON – Notes and quotes following Saturday's 35-27 win over Wofford.
Clemson Head Coach Dabo Swinney
On Tajh Boyd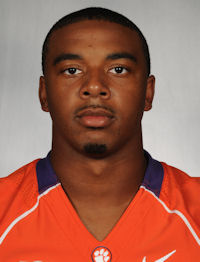 Tajh Boyd
RS So. Quarterback
#10 6-1, 230
Hampton, VA
"I thought Tajh played outstanding today. He made a great decision on third down when he threw a great pass to Nuke (DeAndre) Hopkins. That was a huge play for us. He knew all the right plays to make today. He also made plays with his legs and has improved since last week. He had a steady game. We had some drops in the first quarter that hurt him a little, but he was efficient overall. He had an excellent day. He took care of the ball and he made some big throws. I'm proud of how he ran the offense today."
On pace of the game:
"We really controlled the pace of the game today and that helped us. We got them tired. In the second half, we really had a good tempo going and we were able to milk the clock at the end of the game and win the game on offense."
On offensive line:
"We were able to rush the ball ok today and that was good. We didn't pass protect well and that was disappointing. Tajh reacted well when the line didn't help him and he made some good decisions."
On Andre Ellington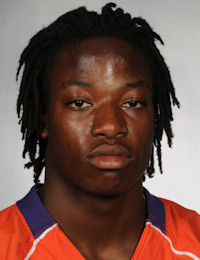 Andre Ellington
RS Jr. Running Back
#23 5-10, 190
Moncks Corner, SC
"It was good to see him play a physical game today. Wofford the defending Southern Conference champion and they played us all the way to the end. I really wanted to rest him today, but Wofford played us so tough, we had to play him. He had a very solid day and that's very positive for us."
Wofford Head Coach Mike Ayers
Overall thoughts:
"I was proud of my kids. I was proud of our team the way that they just fought their tails off. They didn't give up. Even when we had bad field position sometimes, we were able to overcome. Defensively, we tackled some great backs today. I don't know about anyone else, but those guys there are pretty hard to tackle. I thought we did an unbelievable job of not allowing them to hit that crease and go."
On his team's defensive performance:
"We made some mistakes. But overall, I thought the game plan was outstanding for what they did. We had some situations where coverage was great, and we had some situations where we didn't get the check. But that's going to happen early in the year, especially with the type of pressure they put on you with the athleticism and size and the pace of the game. They have a hurry-up offense, and I thought our guys withstood the test."
On coming close to the upset:
"Sometimes, you make a play and sometimes you don't. They had some studs on defense. I was pleased with the way that we played. Am I pleased with losing? No. I told our guys at halftime that I wasn't happy with them. We were in a situation where we should have been ahead by a couple of scores."
On how his team built confidence:
"I don't think we've ever quit a game. We knew coming in what to expect. You never know what you're going to get playing. But when we started out on a positive note, it was like throwing a match on a can of gasoline. We were on fire, and we kept that fire for four quarters."
On the steady flow of his offense:
"We don't ask much of our offense. If we get four yards, we throw a party. A lot of guys want that forty or fifty, but we're patient. We'll take what you give us."
Running back Andre Ellington
"I wasn't surprised at all (by Wofford's performance). I knew that they were going to come out and give it their all. We lacked focus early in the game, but we got it back in the second half."
On the long touchdown run:
"It felt great to see my teammates and the fans get excited."
On Tajh Boyd's performance:
"We have guys on this team other than myself that can make plays. We have great wide receivers that are capable of making big plays. Tajh (Boyd) is a great quarterback, and he's getting better with every game."
On second-half performances this season:
"We have to come out next week from the beginning; we can't just get hot late. We have to play a full game."
On preparing for Auburn:
"It's a lot like last year. We have to focus and prepare well. We cannot take those guys lightly because they are a great team. Last year's loss was just more motivation for us. If we don't prepare well, it will be tough to win."
Center Dalton Freeman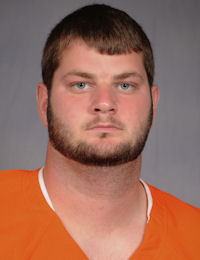 Dalton Freeman
RS Jr. Offensive Line
#55 6-5, 285
Pelion, SC
"We're disappointed with the way we started the game. We went into the game thinking they were going to do a lot of things they didn't do. Our preparation has to get a lot better. We came in at halftime and made adjustments. We went back to our basic offense and we ran plays the way we normally run our blocking schemes and pass protections. If we come out like that next week against Auburn, it's not going to work.
"We changed everything we were doing up front, pass-protection wise. They did a good job disguising their defense, and were walking their linebackers up to the line of scrimmage. They brought middle pressure."
Defensive coordinator Kevin Steele
On missed tackles
"I guess we are going to have to start scrimmaging on Monday, Tuesday, Wednesday and Thursday. Again, we had too many missed tackles."
On two long passes by Wofford
"I don't know that I've ever been in a game where I've seen two completed passes for 127 yards. But then again, I don't know that I've been in a game where I've seen two guys that wide open. We busted coverage on one touchdown."
On older players
"There are some positives from the older guys. Obviously, we had some guys not out there today. That is not an excuse. It's a good thing because it gave us a chance to see some younger guys. We got a chance to play some younger guys in critical situations and they got to play."
On Wofford
"Hats off to Wofford. They are a bunch of fighters, but that's no surprise being from this state and knowing Mike Ayers. They are well-coached and they played well. They are a bunch of fighters. Again, we had a bunch of mistakes. I guess we are going to have to start scrimmaging every Monday, Tuesday, and Wednesday to make sure we don't miss tackles because we had too many missed tackles. All in all, third down for an option team, we kept them in control. I think we were 67% on third down and 75% on fourth down."
Quarterback Tajh Boyd
"I need to do a better job on my progressions. I feel like I can do a better job finding my check-down guys. There were a few times when I tried to force it and it almost cost us. If I had just gone to my check-down guy we would have picked up yards."
Offensive Coordinator Chad Morris
On fake field goal
"Coach called it. I guess they saw something there. I was actually over with the offensive line trying to figure out what went wrong with the first two calls. I don't know whose call it was. To be honest with you, the way they were squeezing, it was a great call. I'm behind it. You gotta do it."
On the play of Tajh Boyd
"I thought Tajh played better. He looked more comfortable. I was pleased with Tajh. He protected the football. One positive thing that needs to be mentioned is that we won a football game that we didn't have any turnovers. That's a positive right there. We preach ball security every day. I'm proud of Tajh in that regard. He missed some easy passes. He was trying to place it instead of just throwing it. I saw him grow up a lot today. He pulled the ball down and got some positive yards. "
On Andre Ellington
"I thought Andre ran well. You could see that he looked like he was in better shape. The more he went, the stronger he got especially right there at the end. We had to get the ball off of the goal line. We are going to put it in his hands. I thought he did a good job. I thought Chad Diehl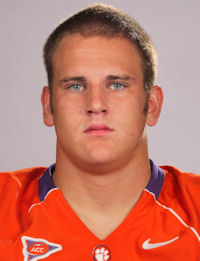 Chad Diehl
RS Sr. Fullback
#30 6-2, 265
Lyman, SC
View Full Profile did a good job when he had to come in and do a few different things that we asked. Andre did a lot better job running. He's a good back and if we give him a crease he can get some yards."
Clemson Team Notes
* Clemson now holds an 11-3 all-time against Wofford, including a 7-0 record against the Terriers at Clemson. The Tigers have now won 40 straight games against Southern Conference teams and 50 straight games against current Southern Conference teams.
* Clemson is now 25-0 all-time against Football Championship Sub-Division teams. But, today's game was the closest for the Tigers against a FCS team. The previous smallest margin of victory was 11 points, a 28-17 win over Furman in 2003 and a 21-10 win over Western Carolina in 1982.
* Clemson has now won two games without leading at the half in either one. Clemson tailed 16-13 to Troy in the opener and won 43-19. Today the teams were tied at 21 before Clemson won 35-27. This is the first time Clemson has won consecutive games without leading at the half since 2005. That year Clemson was tied with Florida State 14-14 before winning 35-14. The following game Clemson trailed at South Carolina 6-3 before winning 13-9.
* Clemson tallied 215 yards rushing and 261 yards passing in today's game. It is the first time the Tigers have had 200 rushing yards and 200 passing yards in a game since last season when Clemson rushed for 212 yards and threw for 202 yards against Presbyterian. Clemson is now 54-0-1 in its history when gaining at least 200 yards rushing and 200 yards passing in the same game.
* Clemson did not record a sack in today's game. That is the first time is since the ACC Championship Game in 2009 against Georgia Tech that Clemson did not record at least one sack.
This was a steak of 15 straight games in which Clemson had recorded a sack. Wofford only threw eight passes in the game.
Clemson Player Notes
* Martavis Bryant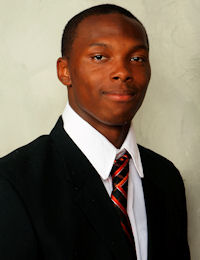 Martavis Bryant
Fr. Wide Receiver
#1 6-4, 195
Anderson, SC
View Full Profile scored his first career touchdown on a 42-yard pass from Tajh Boyd in the first quarter. It was his second career catch as he had a 54-yard reception in the opener against Troy.
* Andre Ellington recorded the longest rush of his career with 74-yard touchdown in the first quarter. Ellington rushed for 22 carries for 165 yards and one touchdown. His 22 carries ties a career-high which came against Auburn last year. The 165 yards were just one off his career high of 166 yards against Georgia Tech last year.
* Sammy Watkins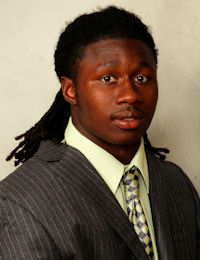 Sammy Watkins
Fr. Wide Receiver
#7 6-2, 200
Fort Myers, FL
View Full Profile added four catches for 56 yards and one touchdown. He also carried the ball three times for 30 yards and tallied five kickoff returns for 110 yards to finish the game with 196 all-purpose yards. That is the most all-purpose yards by a Clemson freshman since Derrick Hamilton had 205 at Maryland in 2001. The Clemson record for a freshman is 234 by Don King against Fordham in 1952.
* Tajh Boyd was 18 for 29 passing for 261 yards and three touchdowns in today's game. With three touchdowns last week, Boyd is the first Clemson quarterback to throw for three touchdowns in back-to-back games since 2007. That year, Cullen Harper threw for five touchdowns against Louisiana-Monroe and then threw for three touchdowns against Furman the following week. It is the second most touchdown passes by a Clemson quarter in his first two starts. The record is eight by Charlie Whitehurst, who threw four in each of his first two starts, at Duke and at North Carolina in 2002.
* Kantrell Brown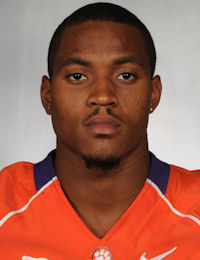 Kantrell Brown
RS Sr. Safety
#37 6-1, 195
Saint Matthews, SC
View Full Profile intercepted the first pass of his career in the fourth quarter and returned it 43 yards. He also recorded one tackle.
* Andre Branch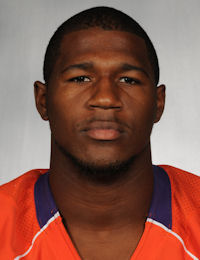 Andre Branch
RS Sr. Defensive End
#40 6-5, 260
Richmond, VA
View Full Profile and Jonathan Meeks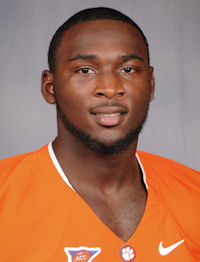 Jonathan Meeks
Jr. Safety
#5 6-1, 205
Rock Hill, SC
View Full Profile led the Tigers on defense today with a career-high 10 tackles each. Quandon Christian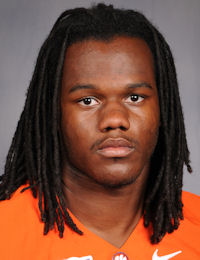 Quandon Christian
RS So. Linebacker
#34 6-3, 215
Lake View, SC
View Full Profile also recorded a career-high eight tackles.
Wofford Notes
* Against FBS (I-A) teams, Wofford is 1-13 overall. The lone win was in 2000 against Louisiana Monroe.
* The 27 points scored were the most second-most against an FBS team (34 in 1999 against Louisiana-Lafayette).
* In the series against Clemson, the Tigers are 11-3. The 27 points by Wofford were the most ever in the series that dates to 1896.
* The 127 receiving yards by Brenton Bersin were the tenth-most in a single game for Wofford. Eric Breitenstein ended a streak of four straight games with 100 or more rushing yards.
* Attendance was 73,500 at Memorial Stadium, the sixth largest crowd ever to see Wofford play.

Tags: Clemson Football
,
Andre Branch
,
Andre Ellington
,
Chad Diehl
,
Dalton Freeman
,
Jonathan Meeks
,
Kantrell Brown
,
Martavis Bryant
,
Quandon Christian
,
Sammy Watkins
,
Tajh Boyd