---
| | | |
| --- | --- | --- |
| Wednesday, November 27, 2013, 11:11 AM | | |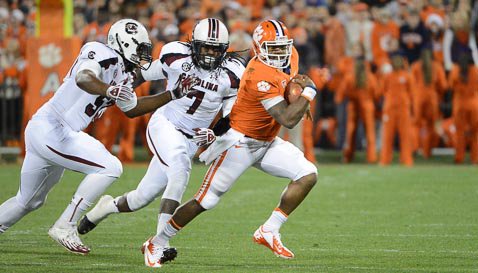 Clemson has absolutely no shot at winning the game Saturday night. None. Don't buy tickets. Don't go. Don't even watch on television. The Tigers have lost before the game even starts.
And that's exactly why they just might surprise everybody and arrive back in Clemson late Saturday with a win under their belts.
I spent the better part of Tuesday listening to the Clemson player and coach interviews in the WestZone, I listened to the satellite radio college football shows on the way to and from the WestZone, and I've read a lot of the early predictions from the national pundits who have probably watched the two teams play a combined six quarters this season. I've read all of the stats and heard all about the streaks.
Yep, I am convinced. Clemson has no shot at winning this football game.
Here is what we know.
• South Carolina has won four straight in the series.
• The Gamecocks have won 17 consecutive games at Willy Brice, a school record and currently the longest streak in the nation.
• The Gamecocks have won 14 consecutive games against non-conference opponents.
• It's Senior Day at Willy Brice.
• The Gamecocks have won each of the last four games against Clemson by double digits and a combined score of 124-54.
• South Carolina has logged 16 sacks over the last four games, including 11 the last two seasons.
• Steve Spurrier is 4-1 against Dabo Swinney

Dabo Swinney
Head Coach
View Full Profile .
• Connor Shaw has never lost a game he has started at Willy Brice.
• South Carolina is 6-0 at home this season, and looking to go 7-0 for the second straight season.
I made a mistake Monday evening and posted some stats I had researched about the two teams, and I was told by certain Clemson fans that the stats don't matter. Here is what I learned from those people.
• Jadeveon Clowney will cast aside his ills and aches and pains, and play "with his hair on fire."
• Connor Shaw is unstoppable in the running game.
• Bruce Ellington owns Clemson and apparently has a deed to Clemson property.
• Tajh Boyd

Tajh Boyd
RS Sr. Quarterback
#10 6-1, 225
Hampton, VA
View Full Profile will walk out Saturday night, see the Gamecock uniforms, and simply quit.
• South Carolina has a "Serious mental edge."
• South Carolina's defense is so good they can just sit back and let Clemson beat themselves.
• Clemson fans are staying away in droves. Most of them say "you couldn't pay me to go down there."
Tuesday, I was subjected to an eager young television reporter from a Columbia television station, who asked the same question of Clemson head coach Dabo Swinney in 14 different ways. He got the same answer 14 different times.
Said reporter then asked Tajh Boyd, Tyler Shatley

Tyler Shatley
Gr. Offensive Guard
#62 6-3, 295
Icard, NC
View Full Profile , Brent Venables

Brent Venables
Defensive Coordinator / Linebackers
View Full Profile and the other players that same question, all thinly-veiled and slightly altered, but still asking the same thing: "Do you realize you are 0-4 against those guys, does it hurt and what will it feel like to lose number five?"
Yep, number five is a given. Everything tilts the way of South Carolina, and the Tigers have no edge in this one.
In fact, this reminds me of the game against LSU last season, when Clemson's players were reminded how they are wimps and how they couldn't beat an SEC team that was physical. All of the advantages went the way of LSU in that one.
And we all know how that one turned out.
Maybe, just maybe, being an underdog - in a hostile environment and with everybody expecting the loss before the game ever starts - is just what this program needs.
Yep. The Tigers have no shot. Everybody keep saying that and repeating it over and over to anyone that will listen.