| | |
| --- | --- |
| News and notes from Swinney media golf outing | |
---
| | | |
| --- | --- | --- |
| Tuesday, July 17, 2012, 11:30 AM | | |
SENECA – News and notes from the morning interview session at Clemson head coach Dabo Swinney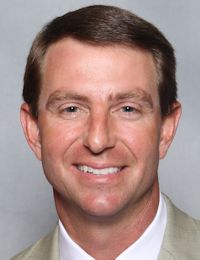 Dabo Swinney
Head Coach
View Full Profile 's media golf outing at Cross Creek Plantation.
The media was able to speak with running backs coach Tony Elliott, defensive backs coach Charlie Harbison, offensive line coach Robbie Caldwell, defensive ends coach Marion Hobby and defensive tackles coach Dan Brooks in the morning session.
We will interview offensive coordinator Chad Morris, defensive coordinator Brent Venables, wide receivers coach and recruiting coordinator Jeff Scott and tight ends coach Danny Pearman in the afternoon session.
Tony Elliott
*Elliott said he thinks that freshman running back Zac Brooks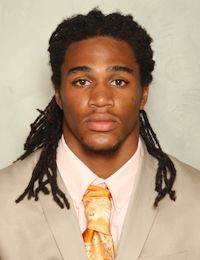 Zac Brooks
Fr. Athlete
# 6-2, 180
Jonesboro, AR
View Full Profile has to prepare like he is going to play this season. The Tigers have a depth issue in the backfield after the loss of Mike Bellamy
Mike Bellamy
So. Running Back
#5 5-10, 175
Nocatee, FL
View Full Profile at the beginning of
the summer.
Elliott said he sees Brooks as a power back. "I see him continuing to grow, and he can be a 210-pound back with size and power," Elliott said. "Outside of D.J. [Howard], who is 195 pounds, he is our biggest back. He adds that element of power. You are confident he can be a guy that can add power but he can also catch the ball out of the backfield."
Elliott said he also wants to see – as do many Clemson fans – senior back Andre Ellington
Andre Ellington
RS Sr. Running Back
#23 5-10, 190
Moncks Corner, SC
View Full Profile stay healthy.
"One thing I want to see Andre do is catch the ball better out of the backfield," he said. "That is something he needed to work on. He also needs to work on being able to stay healthy – you saw towards the end of last season that when he is healthy he is something special."
Robbie Caldwell
*Offensive line coach Robbie Caldwell was his typical charismatic self, and full of one-liners. However, he also told the media that he thinks he can find the seven or eight players needed to compete for an entire season.
"I talked to Chad Morris this morning, and I feel like we have seven or eight we can go to battle with," Caldwell said. "I'm anxious to see how we pick it up."
*Caldwell said he thinks that this year's line, despite the youth and inexperience, has a chance to better than last year's line.
*Caldwell said he has been very impressed with Tyler Shatley
Tyler Shatley
RS Jr. Offensive Line
#43 6-3, 295
Icard, NC
View Full Profile , who moved over from the defense in the spring.
"He is making tremendous progress and will do big things for us," Caldwell said. "Oh my goodness. He caught on quicker as a first-time player in my system than any player in my 30
years. That tells you how hungry he is, and how important it was to him to catch it."
*Caldwell said that Spencer Region
Spencer Region
RS So. Offensive Guard
#78 6-4, 370
Cullman, AL
View Full Profile is dropping weight.
"When I left [for vacation], he was in the 350's," he said. "I saw him this morning, and I don't know what he weighed, but he looked good from a distance. He had a big smile on his face, so the scale must have gone down. He really enjoyed recruiting and taking his visits, and he swelled up in a bad way."
Charlie Harbison
*Secondary coach Charlie Harbison said he thinks that Martin Jenkins and Bashaud Breeland have the inside edge at corner heading into fall practice. He also said that safety Rashard Hall, who had off-season knee surgery, has been moving well and tells the coaches he is close to being 100 percent.
Dan Brooks
*Defensive line coach Dan Brooks said he can't wait to see if freshmen Carlos Watkins and D.J. Reeder will be able to help the team.
"I think they are ready to play, physically" Brooks said. "Carlos benched 365 pounds and D.J. benched 400 pounds yesterday. They are physically ready to play, if they learn the scheme. But this is different than playing at Chase High School. When they get hit by Tyler Shatley right in the mouth, they will find out if they are a he-dog or a she-dog and if they like it. Those two guys have a chance to help us – Carlos at tackle and D.J. at the nose. I think there is chance."
*Brooks said he has never had a situation where he has had so much inexperience at a position like he does in the middle of the line.
"There has always been a bell cow guy," Brooks said. "I thought Tyler was going to be that guy, he was going to be on the field with the game on the line. I've never had a situation where everybody was either a freshman or a sophomore. That isn't an excuse, but you can't buy game experience. But they can go against Dalton Freeman in practice, and if we can lay against him and hold our own then maybe we can be in the ballgame."
Marion Hobby
Defensive ends coach Marion Hobby says that he is looking for senior end Malliciah Goodman to provide leadership.
"The biggest thing with Malliciah is that I want him to bring his leadership to the party," Hobby said. "Seniors have to play like seniors. I don't want to put his whole season on just the number of sacks he has. It takes a lot of rushes to get ten sacks. He is very smart and active."
Hobby said he is looking at younger players to provide depth at the end spot.
"Vic Beasley really showed up and played well in the spring game," he said. "Rod Byers had a good spring – he is a young guy that made a lot of mistakes. We need to be battle-tested in game-type situations. Kevin Dodd will help us, and then we have two young guys coming in that we think can help."