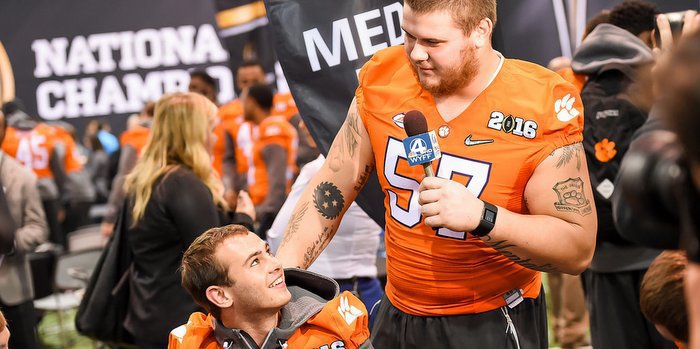 | | |
| --- | --- |
| New Blood: Which players will emerge as team leaders? | |
---
| | | |
| --- | --- | --- |
| Sunday, January 24, 2016, 8:01 AM | | |
Clemson's football held its annual awards banquet in the indoor practice facility Saturday night, and watching the broadcast and seeing the different players that received many of the awards brought a point home: many of this team's leaders are moving on to bigger and better things.
The question now becomes: who will be the leaders for mat drills, offseason conditioning, spring practice, summer workouts and fall camp? Who will step into the shoes of Eric Mac Lain and Ryan Norton and B.J. Goodson?
The backbone of the 2014 team was a senior-heavy group that included Grady Jarrett, Vic Beasley, Stephone Anthony, Robert Smith, Sam Cooper, Reid Webster and Kalon Davis. There were even seniors on special teams that helped keep things calms, long-time players like Corbin Jenkins and Michael Sobeski.
This past season, Mac Lain was in many ways the front man for the offense – he didn't mind being in front of the cameras and talking to the media. The bigger the game, the bigger the smile, and Mac Lain fulfilled all of the interview requests and showed his teammates that you could have a good time and smile on the big stage.
Senior center Ryan Norton is another player that the younger players looked to for guidance, and Norton didn't let an early-season injury and lack of playing time deter the fact that he was one of the leaders on a young offensive line.
Defensively, the heart of the secondary was in many ways Jayron Kearse. Kearse was uber-focused and he didn't mind being a vocal leader on and off the field.
But there were other leaders the players looked to, and it started with junior defensive end Shaq Lawson. Lawson was the perfect leader if you're a coach – he loved to practice, he played hurt, always had a smile on his face and didn't mind getting in the face of someone who he thought was giving less than maximum effort.
We saw that first-hand in Clemson's preparations for the Orange Bowl in just the first practice once the team arrived in Florida. Lawson barked at one player that he "played too much" and then told another that he wasn't taking things serious. Who needs coaches when Shaq is around?
Another leader was senior linebacker B.J. Goodson, a study in perseverance. A 3-star coming out of high school, he red-shirted the 2010 season and then had to play behind guys like Tony Steward and Stephone Anthony. Goodson waited his turn, and when it finally came he exploded on the scene. Goodson registered 108 tackles to lead the team.
So who steps into those roles?
In the secondary it will fall to Jadar Johnson and the quiet Cordrea Tankersley to lead what will be a young group. Johnson and Tankersley are entering their senior seasons and they know what to expect and they've played in the biggest games. Secondary coach Mike Reed will lean on those two for leadership, especially in these first few months without a player like Kearse.
At linebacker, the coaches have to look no further than Ben Boulware. Boulware played hurt all season, and he has the task of helping young linebackers like Chad Smith, Kendall Joseph, Tre Lamar and Rahshaun Smith turn into playmakers.
Along the defensive line, senior tackle Carlos Watkins and junior Scott Pagano will give the group experience, while talented sophomore Christian Wilkins leads simply by his play and his youthful exuberance. Wilkins loves to play, and it shows.
On offense, the good news is that quarterback Deshaun Watson, running back Wayne Gallman, receiver Artavis Scott and tight end Jordan Leggett all return. However, all of those guys are more quiet leaders rather than vocal leaders – at least from what we've seen – but I expect Watson to fully embrace being the leader of the offense this season. This is his team, and he knows it.
Along the offensive line, Mac Lain's rather large shoes will be filled by senior Jay Guillermo. Guillermo is another player that doesn't mind being in front of the cameras and taking the attention away from the younger players. Guillermo is also one of the team's clowns, and his impersonations of the team's coaches keeps his teammates loose prior to games. The offensive line – in many ways – belongs to Guillermo.
Obviously, other leaders could and will step up. Safety Korrin Wiggins has the attitude to be a leader, and so does Dorian O'Daniel. Leggett made tremendous strides last season and could be the guy the skill players listen to.
While it's always fun to see how players progress on the field, I've always found it intriguing to see who steps up in the locker room and meeting rooms.
Who will be the surprise leader this year? Only time will tell.

Tags: Clemson Football
,
Vic Beasley
,
Sam Cooper
,
Kalon Davis
,
Reid Webster
,
Grady Jarrett
,
Eric Mac Lain
,
Ryan Norton
,
Robert Smith
,
Tony Steward
,
Stephone Anthony
,
B.J. Goodson
,
Michael Sobeski
,
Jay Guillermo
,
Carlos Watkins
,
Shaq Lawson
,
Cordrea Tankersley
,
Corbin Jenkins
,
Wayne Gallman
,
Ben Boulware
,
Jordan Leggett
,
Jayron Kearse
,
Jadar Johnson
,
Korrin Wiggins
,
Scott Pagano
,
Deshaun Watson
,
Artavis Scott
,
Kendall Joseph
,
Chad Smith
,
Christian Wilkins
,
Mike Reed