---
| | | |
| --- | --- | --- |
| Sunday, August 16, 2015, 4:11 PM | | |
CLEMSON – Two weeks into fall camp and with two big scrimmages in the books, several players on the Clemson roster are making the coaches take notice.
That list includes redshirt freshmen, true freshmen and veterans and with another big scrimmage looming Thursday they have another chance to earn playing time.
Following Saturday's scrimmage, the coaches noted some of those players.
Dabo Swinney
Dabo Swinney
Head Coach
View Full Profile
Linebackers
"Right now it's Jalen Williams

Jalen Williams
Fr. Linebacker
#30 6-0, 215
Columbia, SC
View Full Profile who has had a heck of a camp. We took Martin Aiken
Martin Aiken
RS Jr. Defensive End
#53 6-2, 255
Smoaks, SC
View Full Profile and moved him to WILL as well. We are trying to give us a little bit more veteran guy there. He has a good two days at that position. Hopefully, we will get that shored up. But Jalen Williams has had a nice camp and slowly but surely getting to where we need him to be. Kendall Joseph

Kendall Joseph
RS Fr. Linebacker
#34 5-11, 225
Belton, SC
View Full Profile I think is ready to play for us. We got to get him healthy. He is kind of banged up a little bit, but he will be a guy who is ready to go as we go through this season. He can play either spot. So that is big challenge for us right now is developing those young guys because J.D. (Davis), Judah (Davis), Chad (Smith) and Jalen, they are just all young guys and they have all done some good things. But we just got a lot to teach. A lot to do. Losing Korie (Rogers) is a big loss for us."
On Hunter Renfrow

Hunter Renfrow
RS Fr. Wide Receiver
#13 5-10, 170
Myrtle Beach, SC
View Full Profile and Andy Teasdall
Andy Teasdall
RS Jr. Punter
#32 5-11, 185
Winston-Salem, NC
View Full Profile earning scholarships
"It's always fun when you get a chance to do that. I hadn't had chance to do it in the last couple of years. C.J. Davidson

C.J. Davidson
RS Sr. Running Back
#21 5-10, 200
Clemson, SC
View Full Profile was a guy a couple of years ago we were able to put on. He really has had a great camp. He's a guy that is poised to have an excellent year for us. He has had some good moments, helped us win. Helped us win the Orange Bowl. Helped us win big up at BC last year. Teasdall is a guy that came out to try out in the spring one year. We were like yeah we like this guy let's keep this guy. One of the things we try to teach our guys is just prepare for your opportunities. Even if you don't get it prepare. Better to be prepared without an opportunity than not be prepared with one. That's just the mentality we try to create. And when that young man got his chance he was ready, and now he is on scholarship at Clemson and the starting punter for the Tigers. His teammates were just so happy."
On tight end Garrett Williams
Garrett Williams
Fr. Tight End
#44 6-4, 225
Orlando, FL
View Full Profile
"Not surprised how good he has looked physically. Physically, he can flat out run. He's gifted from a strength stand point. He was a power lifter in high school. He reminds me of a Chad Diehl
Chad Diehl
Fullback (2007 - 2011)
#30 6-2, 260
Lyman, SC
View Full Profile . A faster, bigger, more athletic Chad Diehl. That's the kind of mentality he brings. The edge he brings every single day to practice. But the thing that has surprised me was mentally how he has picked it up because it is a very difficult position. Probably outside of the quarterback probably the most difficult position just from a mental standpoint to be able to do all the things that we ask that position to do. I have been very, very impressed with him mentally. He is going to be a player. No doubt."
Other players that have improved this spring
"There are a lot of those guys. A guy like Justin Falcinelli

Justin Falcinelli
RS Fr. Offensive Tackle
#50 6-3, 305
Middleton, MD
View Full Profile , a guy like Trevion Thompson
Trevion Thompson
RS Fr. Wide Receiver
#1 6-2, 195
Durham, NC
View Full Profile , a guy like T.J. Green

T.J. Green
Jr. Safety
#15 6-3, 205
Sylacauga, AL
View Full Profile . Marcus Edmond
Marcus Edmond
RS So. Cornerback
#29 5-11, 170
Hopkins, SC
View Full Profile and Adrian Baker

Adrian Baker
RS So. Cornerback
#21 5-11, 180
Hallandale, FL
View Full Profile have had an excellent camp. I mean a really, really good camp. Ryan Carter
Ryan Carter
RS So. Cornerback
#31 5-9, 180
Grayson, GA
View Full Profile . Those three guys can play. I'm really, really encouraged by their development and just the depth we have created on the backend. Jefferie Gibson
Jefferie Gibson
RS Fr. Safety
#17 6-4, 200
Hope Mills, NC
View Full Profile is another guy. He isn't ready to play but boy you talk about improvement from the spring till now, that kid has really made a step. Those are the things that excite you as a coach when you see that. A guy like Zach Riggs
Zach Riggs
RS So. Center
#54 6-5, 270
Greer, SC
View Full Profile . Nobody ever asks about Zach Riggs but he is a guy that has learned to play offensive line. He has played both tackles, both guards, center and that's a guy from his own measurement from where he was in the spring to where he is right now there is tremendous improvement. So it is all across the board. Different levels and different guys."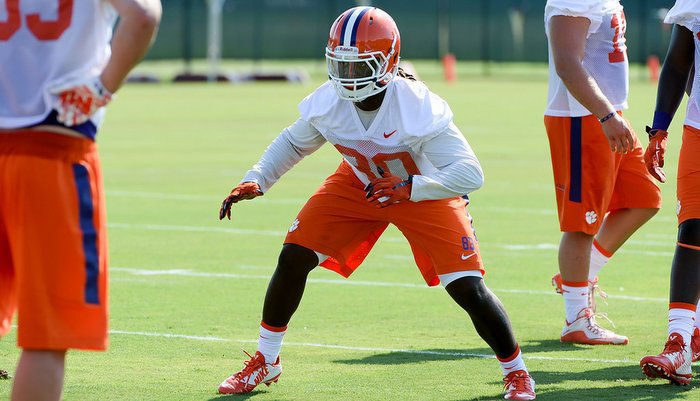 Tony Elliott

Tony Elliott
Co-OC / Running Backs
View Full Profile
On the running backs
" Wayne Gallman

Wayne Gallman
RS So. Running Back
#9 6-1, 205
Loganville, GA
View Full Profile is up to about 213 pounds and running hard. Terry Allen's assistance has been valuable with him. C.J. Davidson and C.J. Fuller
C.J. Fuller
RS Fr. Running Back
#27 5-9, 215
Easley, SC
View Full Profile are looking tough. Adam Choice
Adam Choice
So. Running Back
#26 5-9, 215
Thomasville, GA
View Full Profile looks good when he gets in there but obviously isn't 100 percent back yet. And Zac Brooks

Zac Brooks
Running Back (2012 - 2015)
#24 6-0, 200
Jonesboro, AR
View Full Profile was out today so we didn't get to see much of him."
On Kelly Bryant

Kelly Bryant
Fr. Quarterback
#2 6-4, 205
Calhoun Falls, SC
View Full Profile
"I thought Kelly did some positive things today. He is continuing to push Nick (Schuessler) and pressing him to continue to be that guy that he was in the spring. He isn't far from that but he has had some opportunities to grow."

Tags: Clemson Football
,
Ryan Carter
,
Zach Riggs
,
Adrian Baker
,
Martin Aiken
,
Zac Brooks
,
Wayne Gallman
,
Marcus Edmond
,
T.J. Green
,
C.J. Davidson
,
Andy Teasdall
,
C.J. Fuller
,
Trevion Thompson
,
Jefferie Gibson
,
Justin Falcinelli
,
Kendall Joseph
,
Adam Choice
,
Jalen Williams
,
Hunter Renfrow
,
Garrett Williams
,
Kelly Bryant
,
Tony Elliott