| | |
| --- | --- |
| Montravius Adams' coach speaks out | |
---
| | | |
| --- | --- | --- |
| Tuesday, January 29, 2013, 4:11 PM | | |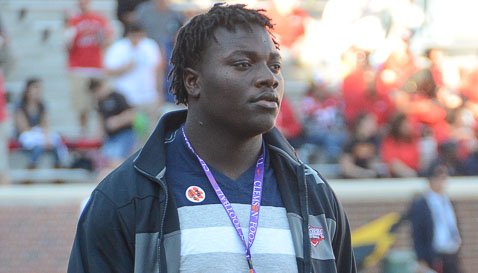 Jimmy Hughes felt like he had seen it all during his football coaching career, but he admitted Tuesday afternoon that he has never seen anything like the recruitment of Big Mon.
Hughes is the head coach at Dooly County High School in Viena, Ga., and is the head coach of 5-star prospect Montravius Adams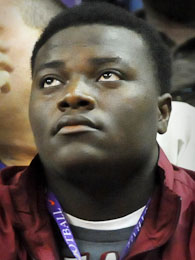 Montravius Adams
Defensive Tackle
6-3, 281
Vienna, GA
View Full Profile . Adams just happens to be one of the most sought-after prospects not only in the state of Georgia, but in the entire nation.
Adams' blend of athleticism, size and speed has college coaches from coast to coast drooling over his potential, and Hughes has had to deal with each and every one of those coaches.
Clemson is still very much in the running for Adams, along with Georgia and maybe a late push by a few other schools, so TigerNet reached out to Hughes.
In a frank and candid interview with TigerNet, Hughes details what Big Mon's recruitment has been like and gives some insight into not only Adams the player, but Adams the person.
TIGERNET: What has the recruiting process been like?
"It's been good. Early on, before he narrowed his list of schools down, it was really busy. It always finds a way to work itself out. When he narrowed it down, it was a lot easier to manage for him and for me. All of the schools and the coaches that work for them have been real professional in the way they handle things. I've been very appreciative of that. They have honored our wishes about not all getting to the school at the same time so that we don't have to deal with it because he also has to go to school as well. I guess there was a time two weeks ago when we had four schools here and multiple coaches from each school, all at the same time. That was probably the most hectic day that we've had. I think that was the day after the [college football coaches] convention was over. That was the first day they could get back out. I think it was the week of the national championship game. It was a busy, busy time then. It has worked its way down now and we are in the home stretch. Georgia has been here today. I know Clemson will be here Friday. I don't know what tomorrow and Thursday hold yet, but we are waiting to hear from a couple of schools to see if and when they will come in. It will be over with this weekend."
How do you feel he has handled all of the attention?
"He's a quiet kid. He's very reserved. He chooses his words and thinks before he speaks which a lot of kids don't do now. They probably wish they did. He's guarded in what he tells other people. He's quiet, but he is thinking a lot when he's quiet. He's been real careful not to say the wrong thing and not get too mixed up in this social media thing that these kids are getting mixed up in. He doesn't have a Twitter account. I told him that when he got one, I would get one. Neither one of us are on Twitter. He may look at Facebook, but very seldom does he post anything. I've been real happy with the way he's handled all of this attention. He's been a good kid through this process. The schools have as well."
Tell us about Adams the football player?
"He's a student of the game. He's developed. He spends a lot of time with us coaches off the field. We do what we as coaches do, and we always try to find an edge and are always looking at different schemes that may help us with our kids to make our team more successful on a yearly basis. We are doing that now. I've sat in meetings that he's had with these coaches over the last year and asks questions that probably a lot of these guys don't ask. He's wanted to know more about the coverage end of it that he's never had to deal with. I've heard him ask about quarters coverage, what is it, who does what. He's learned an awful lot and it will probably help him be a better player."
What will the school that he chooses get out of him?
"They are going to get a kid that has played 90 or 100 plays in high school, because he had to play both ways for us. He played offensively, defensively. He was our punter. He kicked off for us. He very rarely was off the field. You are going to see a player that can devote all of his time to perfecting his craft and learning to play defensive tackle or defensive end, and who has an extremely quick burst off the ball. He's lightning quick even at 300 pounds. He's a penetrator. He wants to get up the field and make things happen. He is still very raw when it comes to pad level. He will have to improve his pad level when he starts going against those other 300 pounders. Surely, he'll learn how use his hands, where to place them, and how to fight off those blocks, to be able to stay in his gaps with all of these zone read schemes. These are all things that he hasn't seen in high school. He'll still have a lot in front of him to learn, but he's bringing a skill set that probably just a hand full of kids in the country have at his size.
Will he have a chance to play early?
"I think so. He's still 17 years old and probably won't turn 18 until he's on campus somewhere. July is when his birthday is. He's still very young compared to these 21 or 22-year old offensive linemen and defensive linemen that have been around the program for three or four years. To say that he is going to go in and start or play the majority of the snaps, I think would be a reach. I think he can come in and contribute with the way they roll these defensive linemen in and out of the game now; I would be surprised if he wasn't in the rotation at some point. Even at 6-3 ½ or 6-4 and 300 pounds, his 6-4, 300 pounds is going to be different than those other kids that have been in the program, that have been in the strength and conditioning program for three or four years. He's going to be behind some of those kids physically, but do I think he can come in and get 20 or 25 snaps a game? I do believe that."
What has kept Clemson in the running?
"He's a very loyal kid. I think Coach [Robbie] Caldwell and Coach [Dan] Brooks have recruited him throughout this entire process. They've been up front and haven't pressured him to make a decision one way or another throughout the process, and I think he's really appreciated that. He really respects Clemson as a university. He knows that they've sent several players at that position to the NFL. He's been on the campus several times. Clemson was the first school to offer Montravius and he is very loyal. There will always be a spot there for Clemson, whether he goes there or not, because they were the first ones to offer him a D-1 scholarship. At that point really, everyone was still looking at him and evaluating him and then he had a huge junior year and it set the alarms off for everyone else. They've done an excellent job recruiting him. They've been up front with him. If that's where he chooses to go, I would back him 100 percent because they have been very professional in their dealings with him and with me. They should be applauded for that. They do things the right way."