| | |
| --- | --- |
| Monday Orange Bowl Notebook | |
---
| | | |
| --- | --- | --- |
| Monday, January 2, 2012, 4:01 PM | | |
FORT LAUDERDALE, FLA. – The Clemson Tigers are finishing up preparations for Wednesday's Orange Bowl against West Virginia, with several defensive players taking the stance on Monday that they are ready to get the game kicked off.
Junior safety Rashard Hall
Rashard Hall
Gr. Safety
#31 6-1, 210
St. Augustine, FL
View Full Profile said having a month to prepare has made the defense almost reach a saturation point.
"We have been studying them for a month, and I feel like I can see their plays in my sleep," Hall said. "This is as prepared for any offense that I have ever been. Having this long to prepare for them has been good, because of the different things they do. But I am ready to play."
Hall said that freshman quarterback Tony McNeal
Tony McNeal
Fr. Quarterback
#12 6-0, 195
Chester, SC
View Full Profile has done a credible job of taking on the role of West Virginia quarterback Geno Smith.
"He has been great, even getting all of his hand signals down," Hall said. "We feel like the scout team has us really prepared."
Senior defensive tackle Brandon Thompson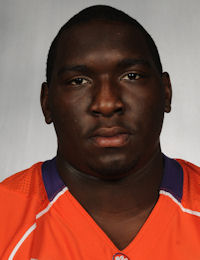 Brandon Thompson
Sr. Defensive Tackle
#98 6-2, 310
Thomasville, GA
View Full Profile said he was also ready to get the game started.
"Everybody is ready to play now. We have been practicing for a long time – almost a month. It is time to get out and make things happen."
Senior defensive end Andre Branch
Andre Branch
RS Sr. Defensive End
#40 6-5, 260
Richmond, VA
View Full Profile echoed those sentiments, but said he has enjoyed spending his final days with his teammates.
"This is my final rodeo," he said. "I am just enjoying spending time out on the practice field, with my coaches and with teammates. But we have been here for a while, and we have been practicing for a month now. Now it's time to get this thing going."
*Senior cornerback Coty Sensabaugh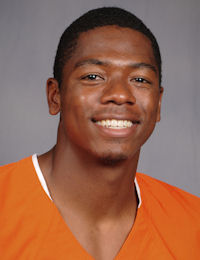 Coty Sensabaugh
Gr. Defensive Back
#15 6-0, 180
Kingsport, TN
View Full Profile and defensive coordinator Kevin Steele
Kevin Steele
Defensive Coordinator/Linebackers
View Full Profile apparently had an argument at practice Sunday that still had some of the players buzzing on Monday.
Sensabaugh said that even though he is fast, he still doesn't like to run after practice and Steele showed his displeasure with the senior's effort in a loud and demonstrative way.
"Coach Steele and I have a special relationship," a smiling Sensabaugh said Monday. "We have gotten into it a few times. It was over pretty quick. We have our own way of discussing things. He was just letting me know what he thought. We were just communicating with each other, and we have a weird way of communicating with each other."
Defensive back Xavier Brewer
Xavier Brewer
RS Jr. Defensive Back
#29 5-11, 190
Jacksonville, FL
View Full Profile , when asked what was the funniest thing he had seen so far during his bowl trip, said the Steele and Sensabaugh argument was the best thing he has seen.
"Watching Coach Steele go off on Coty and watching him argue back was the best thing," Brewer said. "They have a special relationship which is just funny out there. They respect each other, but at the same time they are really tough competitors and in the heat of the fire, they just go at it. I won't say what words were said."
*Defensive coordinator Kevin Steele interviewed Thompson once his portion of the press conference was over, taking the microphone away from me and asking Thompson a few questions. Go check out the video on our video page.
*Xavier Brewer, who plays all over the secondary for the Tigers, started at safety in a few games at the end of the season, but said he will once again be demonstrating his versatility in the Orange Bowl. We are hearing that Jonathan Meeks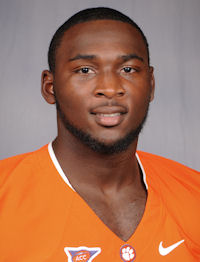 Jonathan Meeks
Jr. Safety
#5 6-1, 210
Rock Hill, SC
View Full Profile will be back at safety after his effort in the ACC Championship Game, while Brewer will be at corner and nickel and even floating in the dime package.
Brewer did say, however, that he hopes he gets to see more time at the safety position in the spring.
*Brewer said the players knew before the season started that there would be plenty of challenges for a young secondary this season.
"Last spring is when it started. We all sat down and had a heart-to-heart. It was really deep," he said. "We knew it was going to be really hard because we have a lot of young players. They have taken coaching really well from us."
*Brewer also compared the Orange Bowl to others bowl he has been in.
"There is no comparison really," he said. "Getting police escorted to practice every day and everywhere you go. It's like getting presidential service. Just little things like that. And helping them [younger players] to understand little things like gift suites. It's way different than other places. We had a choice of gifts. We had a whole room full of gifts. You have certain amount of points. They give you the gifts at other bowls. You have no choice. This place is a lot different. If you want to get back here again it's going to take a lot of hard and even more so probably."
*Junior linebacker Corico Hawkins
Corico Hawkins
Jr. Linebacker
#42 5-11, 230
Milledgeville, GA
View Full Profile said he is glad that head coach Dabo Swinney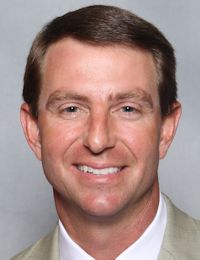 Dabo Swinney
Head Coach
View Full Profile brought the Tigers down early.
"I really like the fact that Coach Swinney and the staff made us come down here two days early to get adjusted to the weather and where we were going to be staying," he said. "It was great for us to come down here and get focused coming off the holidays and enjoying the time with our families. It was a great move by the coaches. I think it's going to show on Wednesday."
*Hall has struggled with a knee injury since early in the season, and he was asked on Monday if he had to run a 40-yard dash, would he be healthy.
"I get an MRI the following week of the bowl game- around the eleventh," Hall said. "When the injury first happened I thought that I would need surgery, now it feels like I don't even need my knee brace and I wear it just as a precautionary measure, I'm not sure at all. [If I had to run the 40-yard dash today], I don't want to answer [and say that I would be 100% and as fast as I was]. If I wasn't able to do things to the best of my abilities and the way my team needs me then I wouldn't put myself out there."