| | |
| --- | --- |
| Midseason thoughts: Is the ACC really this bad? | |
---
| | | |
| --- | --- | --- |
| Monday, October 8, 2012, 4:28 PM | | |
The open date is here, and that means it is time for a little bit of reflection and a little bit of a break from the normal routine.
Due to the open date – and for your scheduling purposes I am telling you this – we will have a short round of player interviews on Tuesday (no coordinators) and Dabo following Wednesday's practice. That will be the last availability we have for the football team until next Monday, when we jump back into our regular routine with Chad Morris
Chad Morris
Offensive Coordinator / QBs
View Full Profile .
We do have basketball availability this week – yes, it's that time. We get to talk to players Tuesday afternoon in Littlejohn Coliseum, and then we get head coach Brad Brownell
Brad Brownell
Head Coach
View Full Profile and his assistants on Wednesday during Brownell's annual media golf outing.
* The football season is halfway over, not counting bowl or championship games, and the Tigers are 5-1, about what I expected from the early part of the schedule and exactly what I've predicted so far in my weekly predictions. Last week, I missed the final score of the Georgia Tech game by just one point – I said 47-30 and it wound up being 47-31.
How easy is the rest of the schedule to predict?
The schedule for the remainder of the season sets up nicely – home games against Virginia Tech, Maryland, N.C. State and South Carolina and very winnable road games at Wake Forest and at Duke. I know that Clemson fans want a nice bowl game at the end of the season, but the ACC tie-ins are just not very exciting once you get past the Chick-fil-A Bowl, and the obvious goal is to make it to a BCS game.
To do that, the Tigers are simply going to have to win out. The ACC has been – to put it bluntly – brutal to date. Clemson's win over Auburn now looks less than exciting, and if you take today's rankings and look at the schedule, the Tigers would play exactly two ranked teams this season – FSU and South Carolina. Not only is that laughable, but what happens if Clemson finishes 10-2, with losses to FSU and [heaven forbid] South Carolina? That means the Tigers would be 10-0 against unranked teams and 0-2 against ranked teams.
Unfortunately, that is what the ACC has become. Virginia Tech, picked by many to win the Coastal, went 0-2 against Big East foes Cincinnati and Pittsburgh; Miami was trounced at Notre Dame; Boston College got beat by Army – at home; Georgia Tech was embarrassed at home by Middle Tennessee St.; N.C. State looked outmatched against Tennessee in the season opener and was beat up by Miami the week before beating FSU; Virginia, which came within a game of playing for the ACC Championship a year ago, is 2-4 and has losses to Louisiana Tech and Duke; Boston College has yet to beat a BCS team, their only win coming over Maine.
Heck, the ACC's best out of conference game might be Maryland's 31-21 loss to West Virginia. Ouch and double ouch.
But, back to the Tigers – unlike in other conferences where you can lose a game against a ranked team and get a shot at redemption a week or two later, there is no redemption in the ACC. Not this season. The Tigers have to win out, the defense has to play better, and some of the wins need to be "impressive wins." In other words, win big.
Yes, FSU lost Saturday and that opened up the door for Clemson to maybe make a run at another division title. But that loss really hurts in terms of the conference's perception. Clemson really needs for FSU to lose another game, and then the Tigers need to take care of business against South Carolina and the rest of the schedule. An FSU team with one loss doesn't help Clemson at all, whereas a no-loss Seminole team would have. And now, a two-loss Seminole team is better than nothing. Yikes.
*I see where Georgia Tech fired defensive coordinator Al Groh, a move that many Tech fans thought was overdue. I talked to some Tech supporters in the press box Saturday, and they love Paul Johnson and think he is the guy that can take them to multiple ACC championships and bowl games. But, I wonder how much of Georgia Tech's defensive issues were due to coaching and how much of it was due to recruiting? I didn't see anything schematically wrong with Tech on Saturday, and it's not like they busted a bunch of coverages. They simply didn't have the horses to stop Clemson.
*Speaking of defense – It was nice to see Spencer Shuey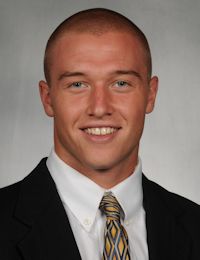 Spencer Shuey
RS Jr. Linebacker
#33 6-3, 230
Charlotte, NC
View Full Profile get his shot at middle linebacker this past Saturday. He has never started a game at Clemson, but has been a special teams and goal line force for the Tigers. Seeing him in the middle also makes me wonder if the coaching staff would ever consider moving Stephone Anthony
Stephone Anthony
So. Linebacker
#12 6-3, 235
Polkton, NC
View Full Profile back outside, to take advantage of his coverage skills. Would they then move Tony Steward
Tony Steward
So. Linebacker
#7 6-1, 235
Hastings, FL
View Full Profile back to the middle? Venables doesn't answer personnel questions like that very..umm…cheerfully. But I'm gonna ask anyway.
We also saw a lot of Travis Blanks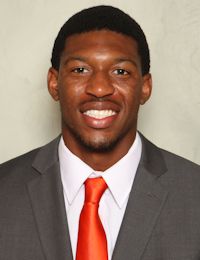 Travis Blanks
Fr. Defensive Back
#11 6-1, 190
Tallahassee, FL
View Full Profile at safety Saturday. Will that be the case moving forward, like many of us thought? Another question that will be answered as Clemson begins preparations for Virginia Tech. I do know this – the tackling of the safeties has been horrendous at best, and several coverages have been blown. That makes me wonder – is Robert Smith
Robert Smith
So. Safety
#27 5-11, 210
St. George, SC
View Full Profile not good enough to stick back there? Or are coaches just determined to stick with one player through it all. I don't know the answer to that.
*As I noted earlier, the win over Auburn looks less and less impressive with each passing week. Auburn head coach Gene Chizik hired Scot Loeffler to be the offensive coordinator after Gus Malzahn left, wanting to implement the power running game with players that were recruited for Malzahn's spread offense. That brings up the old "square peg, round hole" argument. The question is, will Auburn fans and administrators have the patience it takes when you make a move like that? With Alabama still winning big, Chizik's seat is getting warmer.
*And finally – Bud Foster is the defensive coordinator at Virginia Tech, and he has been one of the best coordinators in the conference for many, many years. Last year. However, we started to see some chinks in the armor, especially when he couldn't stop Chad Morris' offense twice. This season, the Hokie defense was supposed to be all grown up and much better across the board. However – the numbers in a few of the games have been downright ugly.
The Hokies looked decent against Georgia Tech in the opener, giving up just 326 yards. However, Pitt rolled up 537 yards, Cincinnati had 495 yards, and North Carolina had 533 yards, 339 of which was on the ground.
*We will have more thoughts this week on Clemson, the season so far, and the players that have stepped up and stood out.