| | |
| --- | --- |
| Mac Lain puts team's need ahead of his own | |
---
| | | |
| --- | --- | --- |
| Wednesday, September 26, 2012, 9:49 AM | | |
CLEMSON – Eric Mac Lain
Eric Mac Lain
RS Fr. Tight End
#88 6-4, 260
Hope Mills, NC
View Full Profile loves to play tight end, be a part of the action, catch the football and run with it. And he loves to score touchdowns, something he hasn't done since his senior year at Jack Britt High School in Fayetteville, N.C.
Because of all of the reasons listed above, he was looking forward to this season and being a part of Chad Morris
Chad Morris
Offensive Coordinator / QBs
View Full Profile ' offense after red-shirting a year ago. He knew he would be in a back-up role behind Brandon Ford
Brandon Ford
Gr. Tight End
#80 6-4, 240
Wando, SC
View Full Profile , but hoped he would be able to see the field and perfect his game.
However, he also saw the Tigers worry about the depth at the tackle spot, a position he has been told by many people that he would be a great fit to play. He then saw starting right tackle Giff Timothy go down in camp with a knee injury, and decided to put the team's need ahead of his own.
The result? He texted Clemson head coach Dabo Swinney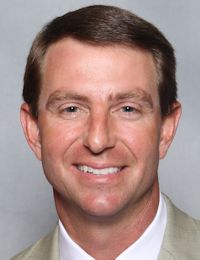 Dabo Swinney
Head Coach
View Full Profile and volunteered his services along the offensive line, and he is now learning to play tackle and guard, meeting with both the offensive line and tight end groups, and hopes a move might get him on the field even more. He meets with Danny Pearman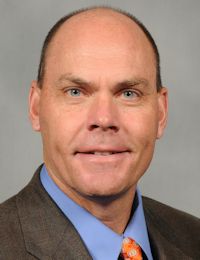 Danny Pearman
Assistant Head Coach / Tight Ends
View Full Profile 's position group on Mondays and Thursdays. The rest of the week's position meetings are with offensive line coach Robbie Caldwell
Robbie Caldwell
Assistant Coach / Offensive Line
View Full Profile .
"Going through these years and all the processes that we've been going through, with some injuries that we've had, I was just watching some film and I just felt like this would be the best thing for the team and me, in the long-run," Mac Lain said Monday. "I texted Coach Swinney when Giff hurt his knee, and said, 'Coach, maybe we can meet about this, and think about this.' And then Giff hurt his knee in practice again, and I just brought it up and we've run with it from there."
Mac Lain said that former left tackle Phillip Price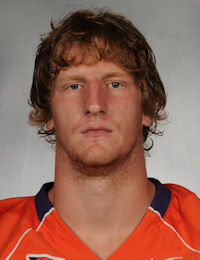 Phillip Price
Offensive Tackle
#79 6-5, 315
Dillon, SC
View Full Profile – who came to Clemson as a tight end before transitioning to the offensive line – has served as an inspiration.
"Just seeing how he did it in the time that it took him, I think that's a very good figure that I can be going after," Mac Lain said. "Being a tight end, I feel like I have better footwork from the start. But I guess, just learning would be the key right now."
Offensive coordinator Chad Morris thinks Mac Lain's athleticism gives him a head start.
"When you move him into the offensive line, his athleticism really stands out," Morris said. "When you stick him out on the edge and at receiver, you don't really see that."
Mac Lain, who currently checks in at 6-5, 270, began the transition last Monday. He said he has already gained about 15 pounds, and thinks he will see action when he gets into the 290-pound range.
"I guess, when I'm about 290 or 300 pounds, I can't add any more," said Mac Lain, who then added that he knows he can't just eat junk food to gain the weight. "As a health science major, we know you don't want to be fat, right away. We're trying to do it the right way."
He said that a specialist has told him he can add weight without hurting his body.
"With me, I've been trying to maintain a certain weight for so long," he said. "We had a specialist come in and he said I'd be able to put on 40 pounds of muscle in one year. There's a different balance with carbs and proteins. You want to take it into the 1000's (protein) and it can raise your weight throughout time."
In the meantime, he will be wearing his usual No. 88 for the games, but will have another jersey on hand just in case his offensive line number is called."
"Until it's actually official-official, I'll be wearing 88," he said. "But they do have an extra jersey on the sidelines. I think it's 78. So, until we make that last process, I'll be doing both."
He said the move wasn't done in haste, that it was something he has talked about extensively with his father, a major in the United States Air Force.
"He just wants me to get on the field as fast as possible any way I can," he said. "We talked a long time about this. At first, we were kind of skeptical about it. I've never done this before on the highest stage. At the end of the day we just want to get on the field. If that's at tackle or guard or special teams, then that's what we're going to do. We decided that's what is best for the team and us."
Taking that sense of duty he learned from his father, he said he will miss catching passes, but just wants to help the team.
"My favorite thing is catching passes. I love it," he said. "I'll miss it, but you have to do what the team needs. But we already have some tackle eligible plays. Dude, we've been scheduling that up and writing that up already."