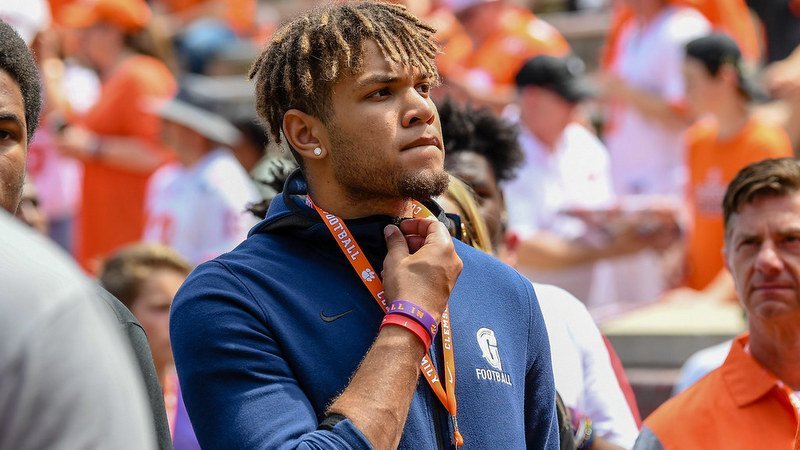 | | |
| --- | --- |
| Let the Camps Begin: Swinney's high school camp gets off to roaring start Tuesday | |
---
| | | |
| --- | --- | --- |
| Tuesday, June 4, 2019, 8:18 AM | | |
Clemson head coach Dabo Swinney's camp gets underway today with two sessions as the coaching staff endeavors to take a close-up look at 2020 prospects and an early look at the 2021 class and beyond.
A couple of players will have everyone's attention on Tuesday. Clearwater (FL) Academy International receiver Ajou Ajou and Brentwood (TN) Ravenwood future four-star 2021 linebacker Junior Colson will both be in for a one-day visit.
Ajou is an intriguing prospect. A three-sport star in Canada with a basketball and high-jump resume, he also played football while in Canada. He moved to Florida and has been at International this spring, but already has a handful of Power Five offers.
That list includes Alabama, Auburn, Florida, Florida St., Penn St., Tennessee, Texas A&M and a bevy of others.
Ajou visited Georgia Tech Monday, while Clemson coaches Tony Elliott and Jeff Scott have been by his school. It's notable that Ajuo doesn't have a Clemson offer – the coaching staff is still focusing on players like Alabama receiver EJ Williams – but Tuesday's visit will go a long way towards determining a direction the staff could move if certain targets fall elsewhere.
Colson earned a Tennessee offer on a visit last week, and his stop in Clemson is part of a tour that includes Alabama, South Carolina, Kentucky, and Michigan.
Atlanta (GA) Pace 2021 wide receiver Jayden Thomas is also expected to camp Tuesday. Thomas has early offers from Alabama, Florida, Georgia, Georgia Tech, Michigan, Miss. St., Nebraska, UNC, Ohio St., UofSC, Virginia, and Virginia Tech.
Georgia is considered an early leader for Thomas, but he has ties to Virginia Tech through his mother. He plans to visit Alabama, Clemson, Georgia, Ohio St. and Michigan this summer.
Miami (FL) Gulliver Prep 2020 tight end Diego LaMonica will be in for a one-day visit. LaMonica is waiting on a Clemson offer and was told that the coaches wanted to work with him before extending said offer. Another tight end who will work out Wednesday is Tallahassee (FL) Lincoln prospect Sage Ennis.
Ennis has a multitude of smaller offers but also has offers from Florida St., NC State, and South Carolina.
*Switching over to basketball for a second - new NCAA basketball recruiting rules now allow prospects up to 15 official visits thru the end of their high school career. They are permitted to make five visits between Aug. 1 and the end of their junior year, five visits between the end of their junior year and Oct. 15 after high school graduation and five more visits between Oct. 15 after graduation and the remainder of their college eligibility.
Six-nine forward PJ Hall of Spartanburg (SC) Dorman, considered the state's top prospect for 2020, already has knocked off two. He went to Florida over the weekend then arrived at Clemson Sunday and went thru the recruiting treatment Monday.
"We went to their lift in the morning and their training session and came out of that and went with the coaches for lunch," Hall said. "We got a tour of the football facilities, the operation center, that was awesome. We came back and talked about our recruiting and then we went to their practice and had a photo-shoot."
Hall said most of his contact with the Tigers had been generated by their former director of recruiting Lucas McKay who is now at UMKC. So, he spent most of his time visiting with head coach Brad Brownell and assistant Dick Bender.
"The guy that was recruiting me before Coach Bender was Lucas McKay, and now it's Bender and he's really picked up where McKay left off," Hall said.
"I've always had good talks with them. Coach Brownell was saying he could never promise me playing time, but he was saying that I have a bright future, but there's a lot to figure out, there's a lot I could do but can't do right now."
Hall said two more definite official visits for him will be Virginia Tech and Tennessee. He said he also remains in regular contact with USC coach Frank Martin and an official visit with the Gamecocks is also on the table.
Hall plans to make his decision before his senior season.