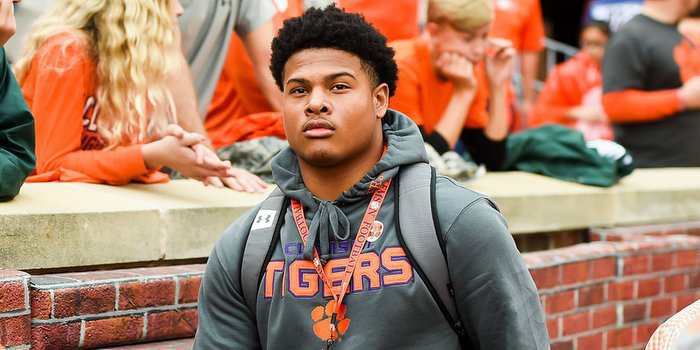 | | |
| --- | --- |
| Junior Day: Clemson coaches hosting nation's top talent | |
---
| | | |
| --- | --- | --- |
| Friday, March 3, 2017, 8:11 AM | | |
Junior Day might not be the correct name for this week's recruiting festivities on the Clemson campus.
The Clemson coaching staff will host the second Junior Day of the year Saturday, and while plenty of 2018 prospects will be on hand, the weekend will also feature visits from several 2019 and 2020 prospects. In fact, this weekend's visitor list is so impressive that head coach Dabo Swinney has curtailed Youth Day activities so the coaches and player-hosts can spend more time with the prospects once the morning practice has ended.
Therefore, a more fitting name for the weekend might be Recruiting Day.
Headlining the group is a pair of 2018 out of state 5-stars. Houston (TX) Lamar cornerback Anthony Cook and Harrisburg (PA) Central Dauphin defensive end Micah Parsons – a Penn St. commit – will both attend Saturday's events.
One of the Tigers' more recent offers will be on hand in 4-star linebacker Payton Wilson out of Hillsborough (N.C.) Orange. This will be the third trip to campus for Wilson, who attended the Orange and White Game last April and was on hand when Clemson destroyed arch-rival South Carolina last November. Wilson has named his leaders as Alabama, Clemson, Georgia, Ohio State, Penn State, North Carolina and Virginia Tech.
Of course, a group of talented prospects from Bradenton (FL) IMG will be on hand as part of a tour of colleges in the southeast. That includes Clemson 2018 linebacker commit Mike Jones, 5-star defensive end Xavier Thomas, 5-star defensive tackle Taron Vincent and 4-star defensive end and Clemson legacy Stephon Wynn.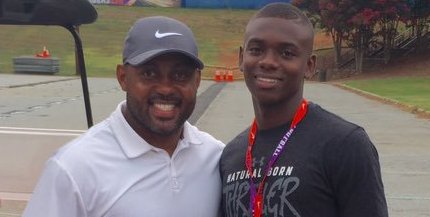 Another group to watch hails from the Atlanta area. The group is called the "True 19" and includes Owen Pappoe and Kenyatta Watson from Loganville (GA) Grayson and LaGrange-Troup's King Mwikuta.
4-star Baltimore (MD) St. Frances defensive end, Eyabi Anoma, and 4-star safety Philadelphia (Penn.) Imhotep Charter's Isheem Young are two highly-touted prospects could also possibly make the trip.
As Clemson prepares to possibly replace several offensive linemen in the next two years, a pair of intriguing offensive linemen will be making the trip in Chris Hinton out of Norcross (Ga.) Greater Atlanta Christian and the nation's number one tackle in Keiondre Jones out of Hogansville (Ga.) Callaway.
An intriguing addition to the list this week is Murfreesboro (TN) Blackman four-star Master Teague, who
visited Clemson last July with his family. Teague is on Clemson's short list of running backs for the 2018 cycle. South Carolina is also involved with Teague, who has offers from Louisville, Tennessee, Duke, Georgia Tech, Kentucky, Mississippi State, Purdue and Auburn.
After Clemson, Teague has said he will visit Georgia, Auburn, Ohio State and Mississippi State. After that, he said they will make plans for return visits to schools they have already visited.
Jovaughn Gwyn, a 2018 offensive lineman out of Charlotte (NC) Harding, will be making his second trip to Clemson. He told TigerNet recently that he's been in contact with the Clemson coaches about a potential offer.
"I went up there for a game against Louisville and the crowd was going wild. It would fall in if they offered me because I want to do engineering," Gwyn said. "They told me for my class that they had seven linemen that they're looking at and they can only offer three of them. They said I would most likely fall into that three."
Stafford (VA) North Stafford's Devyn Ford, the No. 2 running back in the country, is also expected to make the trip.
Many believe Ford's current leaders are Clemson and Ohio State, however, he told TigerNet that all of his suitors are even at this point.
"Everyone is pretty even for me," Ford said. "I'm looking for a coach that is going to completely honest with me. I want to know exactly where I'll stand on the depth chart."
2018 expected visitors
Anthony Cook, 2018 5-star CB, Houston (TX) Lamar
Jovaughn Gwyn, 2018 OG, Charlotte (NC) Harding
Darnell Jeffries, 2018 4-star DT, Covington (GA) Newton
Mike Jones, 4-star LB commit, Bradenton (FL) IMG
B.T. Potter, 2018 K, Rock Hill (SC) South Pointe
Dennis Smith, 3-star WR, Gaffney (SC)
Master Teague, 2018 4-star RB, Murfreesboro (TN) Blackman
Payton Wilson, 2018 4-star LB, Hillsborough (NC) Orange
Xavier Thomas, 5-star DE, Bradenton (FL) IMG
Taron Vincent, 5-star DT, Bradenton (FL) IMG
Stephon Wynn, 4-star DL, Bradenton (FL) IMG
Isheem Young, 2018 4-star S, Philadelphia (PA) Imhotep Charter
2019 expected visitors
Devyn Ford, 2019 RB, Stafford (VA) North Stafford
Tyus Fields, 2019 CB, Cornelius (NC) Hough
Quinn Carroll, 2019 OT, Minneapolis (MN) Edina Senior
Chris Hinton, 2019 OT, Norcross (A) Greater Atlanta Christian
Nolan Groulx, 2019 WR, Cornelius (NC) Hough
DeMarcco Hellams, 2019 WR, Hyattsville (MD) DeMatha Catholic
Keiondre Jones, 2019 OT, Hogansville (GA) Callaway
Jacob Lacey, 2019 DT, Bowling Green (KY) South Warren
Wayna Morris, 2019 OT, Loganville (GA) Grayson
King Mwikuta, 2019 LB, LaGrange (GA) Troup
Owen Pappoe, 2019 LB, Loganville (GA) Grayson
Pierce Quick, 2019 OT, Trussville (AL) Hewitt-Trussville
Anthony Solomon, 2019 LB, Fort Lauderdale (FL) St. Thomas Aquinas
Kenyatta Watson, 2019 S, Loganville (GA) Grayson
2020 expected visitors
Cartavious Bigsby 2020 ATH, Hogansville (GA) Callaway
Blake Corum, 2020 RB, Laurel (MD) St. Vincent Pallotti
Myles Hinton , 2020 OT, Norcross (GA) Greater Atlanta Christian
Coziah Izzard, 2020 DE/LB, Laurel (MD) St. Vincent Pallotti
Michael Robertson, 2020 WR, Hogansville (GA) Callaway
Porter Rooks, WR, Charlotte (NC) Providence Day

Tags: Clemson Football
,
Xavier Thomas
,
Owen Pappoe
,
Anthony Cook
,
Tyus Fields
,
Keiondre Jones
,
Michael Robertson
,
Anthony Solomon
,
Isheem Young
,
Payton Wilson
,
DeMarcco Hellams