| | |
| --- | --- |
| Intense Price to see how knee responds | |
---
| | |
| --- | --- |
| Monday, November 28, 2011, 5:29 PM | |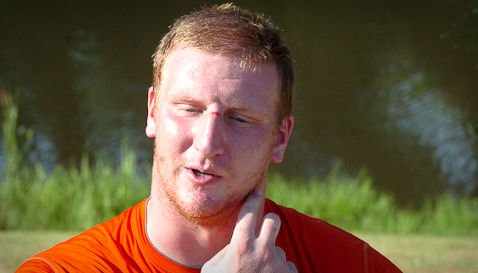 CLEMSON – Give me 10 players like Phillip Price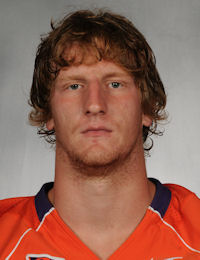 Phillip Price
RS Sr. Offensive Tackle
#79 6-5, 315
Dillon, SC
View Full Profile and problems like last Saturday's loss to South Carolina don't happen.
Price is a no-nonsense kind of person, and his physical and no-nonsense style of play has made him into perhaps the Tigers' most valuable lineman this season. That style served him well enough that he was able to transform himself from a walk-on tight end into a left tackle charged with protecting the quarterback's blindside.
The 6-5, 315-pounder injured his knee against Wake Forest and was unable to play against N.C. State a week later. He was listed as probable for the South Carolina game last weekend, but was pulled after the first series and on Monday, Price wasn't happy about that fact. Or being selected as an Honorable Mention on the All-ACC team. Or in talking to reporters.
He was told by one reporter that he couldn't imagine the disappointment that Price must have felt in not being able to go against South Carolina one more time, and Price was quick to answer.
"No. You probably can't, just to be honest with you," Price said. "It is what it is."
Price's departure meant that David Smith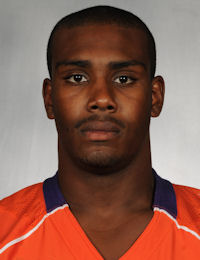 David Smith
RS Sr. Offensive Tackle
#73 6-5, 310
Greenville, SC
View Full Profile came in to play left guard while Brandon Thomas

Brandon Thomas
RS So. Offensive Line
#63 6-3, 300
Spartanburg, SC
View Full Profile move to Price's left tackle spot.
"It was not real good. Not real good at all," Morris said of the combination of Brandon Thomas and David Smith that replaced Price. "We didn't do a good job in any areas up front. From the first play of the game we realized right there that he couldn't go. The guy he was playing against had such speed and power. He is a guy who can get on you and he [Phillip] couldn't hold up. It was more of a detriment at the time."
Price said he was going to follow the doctor's orders this week, and he hopes he can play Saturday.
"I am going to practice this week. That is the plan I was told yesterday," Price said. "We will see how it goes. There is no timetable. I will play when I am ready. I thought I was ready last week, but I guess they saw different. That is fine. I didn't want to hurt the team. They said they could tell. I wasn't 100 percent obviously, but they said they could tell. So I said fine."
Price said he didn't go into the game thinking he wouldn't finish.
"Every time I go out there, I plan on playing the whole game," he said. "I don't like being taken out. You can't approach it like you are going to be playing half the game. That's stupid."