---
| | | |
| --- | --- | --- |
| Thursday, March 27, 2014, 8:42 PM | | |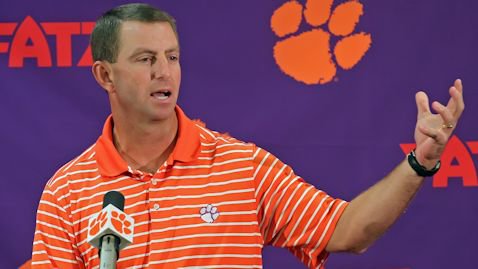 Dabo don't play.
That first phrase may not be grammatically correct, but in the lexicon of today's youth it says everything you need to know about Clemson's head coach and how he handles discipline and even focus issues on his football team.
Swinney ambled over to the media Monday evening inside the indoor practice facility, and one of the first questions he was asked centered around any discipline issues he might have had with players over spring break, a typical question following spring break, summer break and the break before the bowl game.
Swinney announced that he didn't have a discipline issue, but did have a focus issue with wide receiver Germone Hopper

Germone Hopper
RS So. Wide Receiver
#5 6-0, 170
Charlotte, NC
View Full Profile . Swinney said that Hopper wasn't suspended, and the talented redshirt sophomore wasn't academically ineligible. However, the grades were enough of a concern that Swinney wants Hopper to take the time he would have spent on the football field this spring – the ten remaining practices and all of the film work – and spend it in Vickery Hall catching up on his studies.
Dabo don't play.
Nikki was running the video camera, and while Swinney finished the remainder of his press conference I thought about the times we've had these conversations with Clemson's head coach – earlier this spring when he announced that four players were suspended for the season opener against Georgia; Martavis Bryant

Martavis Bryant
Wide Receiver (2011 - 2013)
#1 6-5, 200
Calhoun Falls, SC
View Full Profile being left at home for the Chick-fil-A Bowl; Mike Bellamy

Mike Bellamy
Running Back (2011)
#5 5-10, 175
Nocatee, FL
View Full Profile being given every chance – albeit with a little tough love – before being sent away; Sammy Watkins

Sammy Watkins
Wide Receiver (2011 - 2013)
#2 6-1, 205
Fort Myers, FL
View Full Profile ; getting defensive back Garry Peters

Garry Peters
RS Sr. Cornerback
#26 6-0, 195
Conyers, GA
View Full Profile refocused by having him sit out last spring.
In today's win-at-all-costs society, it's refreshing to see someone -whose job depends on those wins – have the wins take a backseat to building up the character of the young men in his charge, making sure that they receive the tough love they need as young men that will make them better husbands and fathers down the road.
Not everybody agrees with this kind of discipline – there are well-known head coaches who will do everything in their power to make sure that their great players are eligible for the big game, suspending them for a game somewhere down the road or for a practice or two, effectively enabling bad behavior down the road. The message is clear – you are a star athlete, you can do what you want.
Even fans get caught up in that kind of thinking, fans who will ground their teenager for being late for curfew, who will take away car privileges for a tiny white lie. Those same "good parents" will scream when a star player is suspended for a big game. After Swinney announced the four suspensions for the Georgia game, I had more than one person I respect as a parent ask me why Swinney couldn't wait and suspend them a week later against South Carolina St., when it would hurt the team the least. Heck, we've seen that kind of "coaching" in this state before, and it wouldn't hurt now, would it? Coach, it's Georgia!!! Can't we look away this time? Just this one time?
Nope, can't look away. It sends the wrong message. It says that winning trumps all else. That kind of "discipline" is nothing more than a show for the fans, administrators and media.
Heck, even I wondered about Sammy Watkins' suspension, wondering if it was too harsh. But Sammy came out of the suspension a better man, a better player. I wondered privately how Bryant would handle being left at home for the bowl game against LSU, thought maybe he would just give up and we would see another brilliant talent wasted. Instead, Bryant took the tough love to heart, came back to school, worked harder than ever and now has a good chance of being picked up in the first few days of the NFL Draft next month. For every Mike Bellamy that can't take that kind of discipline, there are others like Watkins and Bryant who thrive and who come out on the other side better for the experience.
Swinney reiterated Monday night that he loves Hopper, that he is a good kid who just needs to focus on his priorities right now. He has also said that the four who are suspended for the opener "didn't rob a bank" but just need to know that there are limits. In the news recently, we saw where four college players actually did defraud a bank of funds. The ball – so to speak – is now in their coach's court.
I ran into one of Clemson's four suspended players recently, and he smiled and admitted he made a dumb mistake (No, I didn't ask) and he said "we did something dumb." He then said it makes him want to work harder than ever and play the final 11 games of the season with a purpose. He said the hardest thing is knowing he let his teammates down.
Message received, coach.
When I was younger, my brother-in-law and sister took me to old Comiskey Park in Chicago to see the Baltimore Orioles and the White Sox play. The fans had a chance to go on the field before the game and get pictures with their favorite players, but I went over to an older guy in an Oriole uniform that I had seen on NBC's Game of the Week countless times – Cal Ripken, Sr.
We talked for a few minutes, and I asked him what made all of those Oriole teams of that generation so good, and he told me about The Oriole Way. He explained that all Oriole players were taught – from the moment they first set foot on a professional ball field – to play the game the right way, to execute the fundamentals and to treat the game with respect.
Here, at Clemson, we now have The Clemson Way. Basketball coach Brad Brownell

Brad Brownell
Head Coach
View Full Profile certainly isn't afraid to sit a player. Jack Leggett

Jack Leggett
Baseball Head Coach
View Full Profile sat Steve Wilkerson for a three-game series to open the season.
Dabo don't play. That's a good thing.