---
| | |
| --- | --- |
| Monday, September 19, 2011, 1:13 PM | |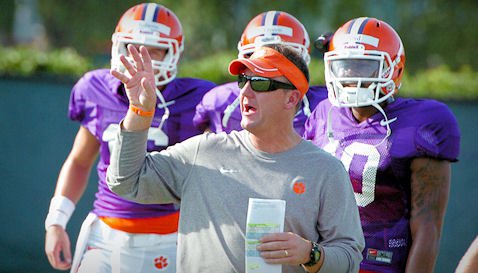 CLEMSON – The Clemson offense put up 624 yards of total offense on Saturday, but offensive coordinator Chad Morris said on Monday there is still plenty of work to do, especially with Florida St. coming to town this weekend.
Morris said his offense needs to be prepared for an even tougher week of preparation this week than they experienced last week.
"If they thought last week was tough, this week is going to be even tougher," Morris said during his interview session Monday. "We have to bear down on them. I am proud of them, and we did some things that will allow the offense to grow a little bit more. I was hard on them last week, but I don't care if they like me or not. I don't need 22-year old friends. They need to keep buying in and believing in themselves and their teammates."
Morris said that left guard Brandon Thomas

Brandon Thomas
RS So. Offensive Line
#63 6-4, 300
Spartanburg, SC
View Full Profile earned the right to start this Saturday against the Seminoles after his performance against Auburn.
Starting left guard David Smith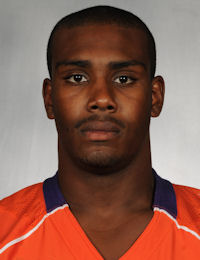 David Smith
RS Sr. Offensive Line
#73 6-5, 315
Greenville, SC
View Full Profile had labrum surgery last week and he was replaced in the lineup by senior Mason Cloy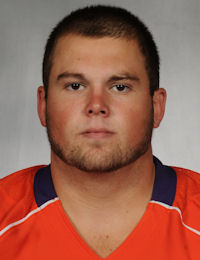 Mason Cloy
RS Sr. Offensive Line
#62 6-3, 295
Columbia, SC
View Full Profile . Cloy was injured early against Auburn, however, and Thomas stepped into the breach.
"I think the way that Brandon played it [starting job] is Brandon's right now. We might go through practice and it might change, but right now, the way he played he earned a start. At the end of the week we might have a different attitude. We want Brandon to come out there today and tomorrow and have the same excitement that I have for Brandon."
Other highlights from Morris' interview
On beating mentor Gus Malzahn
"It was special, but every win is special. It's always great to win. But it wasn't like I was playing against Gus or Gus against me. There were so many things that were so common – the paths to get to where we are and things like that. Coming away with win was great. During that four or five hour time on Saturday, we were enemies. It was great to get a win against the defending national champions despite who was on the other side. "
On expanding the playbook
"I think you always as an offensive coordinator try to grow offense. A week ago I wasn't real comfortable with that, and I also knew we were working on things we hadn't shown. Whether we could execute those or not, I didn't know, and we did. It gives our players a lot of confidence and a sense of belief. We are far from where we need to be right now. We had a lot of three-and-outs early and a lot of hidden yardage."
On play of offensive line
"The line had a better week. After looking at them on film, we still had some missed assignments up front, and we still had times where we needed to be more physical. But as the game wore on we got a little stronger and that was a plus. To be able to run effectively and run nine minutes off the clock was huge. We also had quite a few first downs. That was good to see, and we are excited and happy. Are we ready to say they are new group of Hogs from the old days? No, they aren't there yet. They are working hard, taking great pride in it and in holding each other accountable. I am proud of Brandon Thomas - he stepped up and he played because he had to. I told him on the sidelines, 'It's time to grow up now. ' We are trying to force him to grow up in practice, but I told him a lot of people were counting on him. He missed a few things, as we all did, but I think he has definitely proven himself in a live situation what he is capable of doing."
On quarterback Tajh Boyd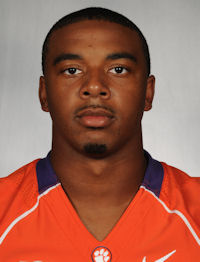 Tajh Boyd
RS So. Quarterback
#10 6-1, 230
Hampton, VA
View Full Profile
"I think if you look at Tajh, he is maturing. I keep going back and saying the same thing – it is an honor to play football at Clemson and it is an honor to be the quarterback for the Clemson Tigers. I tell him that daily. He has to continue to grow up. I tell him to play within his means and I think you have seen him do that. He was definitely feeling it Saturday. He was moving the chains and getting the ball to playmakers. He doesn't have to win the game for us."
On wide receivers blocking
"It wasn't just the offensive line we were challenging – it was the entire unit from the wide receivers all the way to the quarterback. We challenged Tajh to take more ownership, and they were more physical but still not where we want to go. We can pat them on the pack and tell them they did a good job, but we left a lot out there we shouldn't have. You are starting to see guys buying into that. They know if they don't block they will stand beside me [on the sideline.] "
On FSU
"It's the first conference game. They came out to start the season in the top five, and they are definitely a top five team. Without a doubt they are very talented. There is no question how physical they were against Oklahoma. Those guys do a great job and we will have our hands full with them."
On injury to Ellington and play of D.J. Howard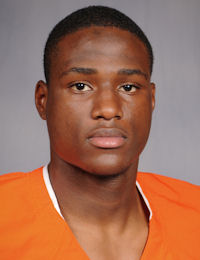 D.J. Howard
RS Fr. Running Back
#22 5-11, 190
Lincoln, AL
View Full Profile
"Andre tweaked his hammy but he will be ready to go Saturday and be ready to work out Tuesday. We will hold him today. Holding him Saturday was more precautionary than anything. I was proud of how D.J. [Howard] stepped in and made some really good runs. He has to get better at protecting the football – he carried too loose. We have to hold him accountable. And we are trying to grow Mike [Bellamy] and bring him along. He is obviously a phenomenal athlete, but he has to dive into the playbook and understand what we are asking of him and expand on being more than a role player. "
On win over Auburn
"There are bigger games ahead and that is what we have to prepare for."
On the tempo this past Saturday
"I thought the tempo was good. There were a couple of series I was disappointed in. We had 92 snaps and three penalties, and we had two three-and-outs to start the game, but I thought the tempo was good."
On gaining 624 yards and not being satisfied
"Regardless if you have one yard or 701 yards, you have to win and do whatever it takes. That is our approach. On the sidelines when we were down 21-7, nobody was panicking. That is my approach to them."
On Sammy Watkins
"I think Sammy is definitely playing well. He is one of the elite players in the country and there is no question about that. He is able to do it all, not only receiving but carrying the football. He is a phenomenal athlete, but he is a better person than he is a football player. He has to continue to play more physical, but he has stepped up his game blocking-wise. We are going to coach Sammy harder than anybody else, and we are going to coach Tajh harder than anybody else and Dwayne [Allen] harder than anybody else. The guys getting the limelight, we have to coach them harder. Just because you have a couple or three good games doesn't mean anything right now. It's not the first three games you are going to be remembered by."