| | |
| --- | --- |
| Football scrimmage news and notes | |
---
| | | |
| --- | --- | --- |
| Monday, April 2, 2012, 8:17 PM | | |
CLEMSON – How fast was Clemson's offense during Monday's scrimmage in Death Valley? How does 100 plays in 80 minutes sound?
The Clemson offense, operating behind an experienced hand in quarterback Tajh Boyd, played at a tempo that Boyd said was fast even for Clemson's standards. The scrimmage was over so fast that many in the media didn't make it to the stadium in time for interviews.
"I think we did a lot of good things," Boyd told TigerNet following the scrimmage. "I am very pleased with the energy and enthusiasm. The tempo – we moved faster than we have ever moved. And that is what we have to have. This offense is based off of speed, and it was flying today. Coach [Morris] even said it was fast, so I know it was fast."
That doesn't mean that Boyd was pleased with the overall performance, however, saying the offense moved the ball well in between the 20-yard lines but struggled once the ball got close to the goal line.
"We just have to learn to be tough on that goal line," Boyd said. "The one-yard line, the three-yard line, we have to bust it. It's more mental than physical right now, but we have to get there. Coach is challenging us, and I feel like it is a challenge for me being the leader. We did some good things well, especially in the open field. The running game did well, the line protected well, so everything you could ask for was there today. Except on the goal line."
Boyd finished the scrimmage 8-for-15 for 89 yards, while Cole Stoudt was 8-for-13 for 85 yards. Clemson head coach Dabo Swinney said following the scrimmage that all of the quarterbacks – except for Boyd – were live in the scrimmage, meaning they could be hit and tackled. Football scrimmage news and notes
Other news and notes:
*Rising senior defensive end Malliciah Goodman had a test, so he was unable to participate in the scrimmage. That enabled Vic Beasley to start, along with Corey Crawford. The second-team defensive ends were Roderick Byers and Kevin Dodd.
"We really stressed a lot of those young guys today- a guy like Dodd didn't handle it very well," Swinney said. "He's a guy that's going to help us, but we've got to grow him up. We've got to toughen him up and get him better. Malliciah [Goodman] couldn't practice today because he had a test so it was a good opportunity to see some of those other guys."
*Swinney said that Monday was Stoudt's best outing of the spring, and praised the work that Morgan Roberts has put in thus far in spring practice.
"Right now I don't have anyone pushing Tajh other than the coaches," Swinney said. "But we have a really competitive situation behind Tajh. Morgan Roberts has really made a move. He has really come on. He probably has improved as much as anybody on the team. A very, very competitive young man that has had a very good spring. Cole [Stoudt] has been pretty average. I've been a little disappointed in him to this point and today he comes out and has his best day I thought of the spring. He had an interception early, but he looked like the Cole Stoudt I expected to see today."
Stoudt also ran the ball five times for 32 yards.
*Swinney said that he didn't want to jinx kicker Chandler Catanzaro by revealing his kicking percentage so far this spring, but apparently "Cat-man" has been money. Swinney also said that both Bradley Pinion and Spencer Benton punted well.
"Chandler Catanzaro has just been outstanding," Swinney said. "I don't want to jinx him so I won't tell you what his field goal percentage was. He was really excellent today. Spencer Benton and [Bradley] Pinion both punted the ball well today."
*The good news for the defense was that the linebackers actually led the team in tackles, with Stephone Anthony, Corico Hawkins and Tig Willard each tallying six tackles. Lateek Townsend even came up with a sack, drawing praise from his head coach.
"Lateek Townsend continues to make great strides," Swinney said. "He is going to help us big time. He is a football player. He is a guy who has really shot his stock up in the last two or three practices. They [the linebackers] just did a really good job with the drops, with their eyes, and we got our hands on some balls. Stephone was excellent. Tig Willard had a really good day. He looked like he had a really good scrimmage."
*Swinney said he was pleased, overall, with the scrimmage.
"I thought it was probably one of the better first scrimmages from my perspective, which is probably a little different from an assistant's because they are looking at a certain segment," Swinney said. "Today was kind of find out who knows what they're doing, who know a little bit about what they're doing, and who knows nothing about what they're doing and get a plan for those guys for the next five practices before the spring game.
"I was actually very encouraged by our defense. My expectation was that they may be a little behind going into it today, but they really did a good job and held their own. Very competitive. The guys that I thought were going to be winners and playmakers for us were- 23 [Andre Ellington], 2 [Sammy Watkins], and 6 [Nuk Hopkins]. Those guys all stood out. Tajh did some good things."
*Swinney said he was proud of how the defense responded.
"I was just very encouraged by our first group of defense," he said. "We had some critical errors in the red zone offensively- we put the ball on the ground, we had a little snap issue. The flip side of that is defensively you want to stop them in the red zone and we did that, you want to create a turnover and they did that, you want to keep them out of the endzone and they did that. A lot of good work. A lot of good on both sides and a lot of things to work on on both sides."
Scrimmage Stats
Passing
Tajh Boyd 8-15 89 0 TDs 0 Ints
Cole Stoudt 8-13 85
Tony McNeal
Tony McNeal
RS Fr. Quarterback
#12 6-0, 195
Chester, SC
View Full Profile 6-9 48
Morgan Roberts 1-3 50 1 TDs
Donny McElveen
Donny McElveen
RS So. Quarterback
#14 6-2, 210
Summerville, SC
View Full Profile 1-2 27
Rushing
Rod McDowell 9-26
Tajh Boyd 4-5
Andre Ellington
Andre Ellington
RS Jr. Running Back
#23 5-10, 190
Moncks Corner, SC
View Full Profile 4-21
D.J. Howard
D.J. Howard
RS Fr. Running Back
#22 5-11, 195
Lincoln, AL
View Full Profile 8-36
Mike Bellamy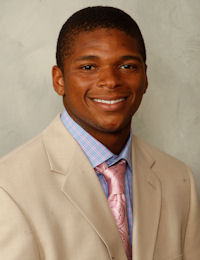 Mike Bellamy
Fr. Running Back
#5 5-10, 175
Nocatee, FL
View Full Profile 6-15
Cole Stoudt – 5-32
Adam Humphries
Adam Humphries
Fr. Wide Receiver
#13 6-0, 190
Spartanburg, SC
View Full Profile 3-33
Receiving
Sammy Watkins
Sammy Watkins
Fr. Wide Receiver
#2 6-1, 200
Fort Myers, FL
View Full Profile 4-116 1 TD (2 50 yd receptions)
DeAndre Hopkins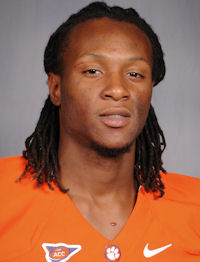 DeAndre Hopkins
So. Wide Receiver
#6 6-1, 200
Central, SC
View Full Profile 3-40
Brandon Ford
Brandon Ford
RS Jr. Tight End
#80 6-4, 235
Wando, SC
View Full Profile 2-26
Forbush 2-32
Sam Cooper
Sam Cooper
RS Fr. Tight End
#86 6-4, 240
Brentwood, TN
Adam Humphries 3-20
Andre Ellington 1-10
Rod McDowell 1-9
Tackles
Stephone Anthony 6
Corico Hawkins 6
Jonathan Wilard 6
Robert Smith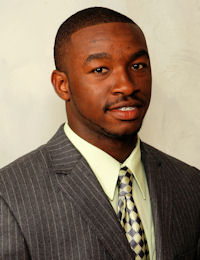 Robert Smith
Fr. Defensive Back
#27 5-11, 210
St. George, SC
Josh Watson
Josh Watson
RS Fr. Defensive Tackle
#91 6-4, 290
Wilmington, DE
Sacks
Lateek Townsend 1
Cortez Davis
Cortez Davis
RS Fr. Defensive Back
#2 6-3, 200
Daytona Beach, FL
Interception
Dante Steward 1
B.J Goodson 1
Fumble recovery
DeShawn Williams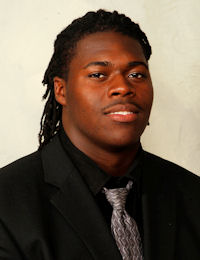 DeShawn Williams
Fr. Defensive Tackle
#99 6-1, 290
Central, SC

Tags: Clemson Football
,
Adam Humphries
,
Andre Ellington
,
Bradley Pinion
,
Brandon Ford
,
Chandler Catanzaro
,
Cole Stoudt
,
Corey Crawford
,
Cortez Davis
,
D.J. Howard
,
Dabo Swinney
,
DeAndre Hopkins
,
DeShawn Williams
,
Donny McElveen
,
Josh Watson
,
Kevin Dodd
,
Lateek Townsend
,
Malliciah Goodman
,
Mike Bellamy
,
Morgan Roberts
,
Robert Smith
,
Roderick Byers
,
Sam Cooper
,
Sammy Watkins
,
Spencer Benton
,
Stephone Anthony
,
Tajh Boyd
,
Tony McNeal
,
Vic Beasley