| | |
| --- | --- |
| Fired up Swinney spurs Tigers to ACC title | |
---
| | | |
| --- | --- | --- |
| Tuesday, December 6, 2011, 6:10 PM | | |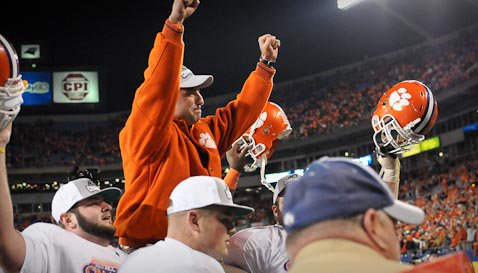 CLEMSON – Clemson head coach Dabo Swinney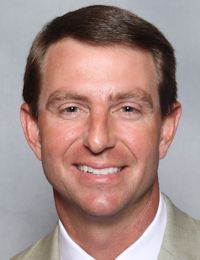 Dabo Swinney
Head Coach
View Full Profile is an emotional man, and he doesn't try to hide it.
A week ago, following Clemson's 34-13 loss to South Carolina, Swinney was even more fired up than usual, and it was the players who felt his wrath.
Swinney was angry and frustrated following the loss, and the bus ride back to Clemson was a quiet one. Offensive coordinator Chad Morris stood at the front of the bus and voiced his displeasure with the effort, and promised he would do whatever it took to fix the offense. Even if that meant that people who were feeling comfortable with their job might just lose it.
Still, Swinney was silent as he mulled over a talented yet confounding team, a team that could burst out to an 8-0 record and look like world-beaters and then look like the dregs of the conference in losing three out of their last four games.
On Monday, however, that silence ended.
The players were called into the team meeting room at the WestZone, and Swinney and the coaches spent the next two-and-a-half hours calling out players by name. Swinney said he felt like he had the majority of his team doing their jobs, but there were still those who were "pulling the rope against the rest of us."
The players listened, and tight end Dwayne Allen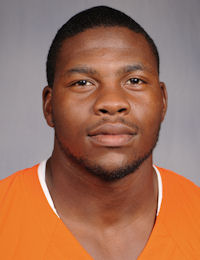 Dwayne Allen
RS Jr. Tight End
#83 6-3, 255
Fayetteville, NC
View Full Profile said it was a meeting to remember. He was asked if it was a 'come to Jesus meeting' and he said no.
"I wouldn't call it coming to Jesus," Allen said. "I would call it coming to Satan. Coach Swinney went off."
Middle linebacker Corico Hawkins

Corico Hawkins
Jr. Linebacker
#42 5-11, 230
Milledgeville, GA
View Full Profile said Swinney let loose. "He was emotional," Hawkins said. "As emotional as I've ever seen him."
Allen said Swinney laid everything out on the table.
"We've experienced the peaks. We've experienced the lows in the valley," Allen said. "Whenever we came back to this stage, we knew we were going to be the underdogs. So what. The only team that can beat Clemson is Clemson. When we make mistakes or when we get out of our gaps or when we don't play Clemson football, that's when we get beat.
"Playing for a championship and the Orange Bowl, that's what changed. In the rivalry, we played hard. Coach Swinney really sat us down and showed us what we did wrong in the South Carolina game. It was guys not doing their jobs and we knew the stakes we were playing for this weekend. Everyone came out and played their best and that's all he asked for."
Senior right tackle Landon Walker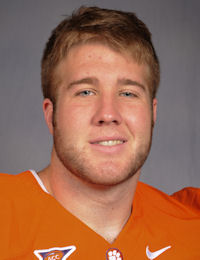 Landon Walker
Gr. Offensive Tackle
#72 6-6, 305
North Wilkesboro, NC
View Full Profile said it was hard for players to hear what the coaches were telling them, but it was something that needed to be said, especially with what was on the line.
"On Monday, we all got together and had a heart-to-heart and called guys out," Walker said "It was a sour taste for guys to accept what the coaches were saying in the meeting, but in the end it worked out. It needed to be said what was talked about and how coach issued a challenge to everyone to do their job. If you're not going to do your job, then you aren't going to be in there playing. I think it was a realization and a privilege for guys to be in there playing. You can't take any play for granted. There were a lot of big plays out there tonight. It made a huge difference."
Walker said Swinney didn't let up after Monday, and his Thursday rant that included taking shots at South Carolina Steve Spurrier was just a part of his week-long tirade.
"Coach Swinney was just fired up all week," Walker said. "We realized the stakes that were at hand. I think we fully answered that. In any case where there's a championship game, you have to put what's happened behind you. I think we did that this week. We did a great job of coming out on Monday and putting South Carolina, N.C .State, and all of the struggles behind us and just focusing on what we had to do.
"The offensive and defensive lines were able to just physically dominate the line of scrimmage. That's the way we were able to win. Virginia Tech has a great defensive line with a lot of freshmen and sophomores. I think we put it on the seniors' back. The offensive line is a bunch of seniors and Coach Swinney but it on the seniors' backs. We were able to run the ball really successful tonight with over 200 yards rushing. When you can rush for over 200 yards, the passing game is going to be wide open. We just dominated in all phases."
Junior safety Rashard Hall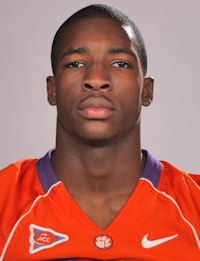 Rashard Hall
Gr. Safety
#31 6-1, 210
St. Augustine, FL
View Full Profile said it made players want to win for their teammates as well as themselves.
"Your technique and just doing what you're supposed to do had a lot to do with it," Hall said. "The biggest thing was playing for your brother next to you and bleeding for him because you don't want to let your teammate and your brother down. That's the main thing that happened tonight."
---
| | |
| --- | --- |
| | TigerNet Sponsor: Get your ACC Championship and Orange Bowl gear Our partner store has some great new Dr Pepper ACC Championship and Discover Orange Bowl shirts and hats for sale. A percentage goes to support TigerNet. . Click here to view our store: http://www.footballfanatics.com/partnerid/117 |
---