| | |
| --- | --- |
| Final thoughts: Georgia Tech | |
---
| | | |
| --- | --- | --- |
| Friday, November 15, 2013, 6:36 PM | | |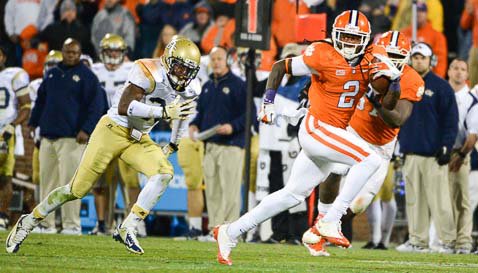 Thursday night's 55-31 thrashing of Georgia Tech was about as good as Clemson fans could have asked for in the first game back in Death Valley since the loss to Florida St.
The Tigers looked dominant – at times – on defense, and this offense looks like it is peaking at just the right time. As for Tajh Boyd

Tajh Boyd
RS Sr. Quarterback
#10 6-1, 225
Hampton, VA
View Full Profile – he still looks like he is having fun. Cooler weather, nemesis Paul Johnson on the sideline, a ninth win in 10 games and a resounding win on the national stage on Thursday night. Yep, couldn't have gone much better.
Some other thoughts:
*Ran into former Atlanta Brave Jeff Francoeur on the sidelines before the game, and he looked like he was having a blast. For those who don't remember, Francoeur was offered a scholarship to play wide receiver for Clemson coming out of Parkview High School back in 2002, but was drafted in the first round of the MLB draft by the Atlanta Braves. However, he told me he is still a huge Clemson fan, and wants to make it to more Clemson football games as time allows.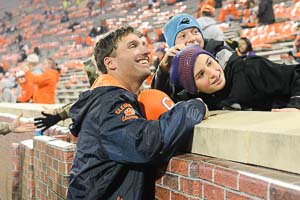 He told me that he leaves tickets at baseball games for head coach Dabo Swinney

Dabo Swinney
Head Coach
View Full Profile , so Swinney returned the favor for Thursday's game. Frenchy was designated for assignment by the Royals last season, and was picked up by the San Francisco Giants in early July. He was released on August 22nd and is currently a free agent. However, he told me he has a meeting with the Chicago Cubs next week.
*Since Paul Johnson took the job at Georgia Tech in 2008, he has been a thorn in the side of Clemson football. The option offense, the two defeats in 2009, the game in 2011 – they have all been games that Clemson fans would rather forget, and I would say that most Tiger fans would love to see CPJ go somewhere else to coach.
But let me throw this out there….since CPJ went 9-4 and 11-3 in his first two seasons (with Chan Gailey's players), he is just 27-24 with a group of players that he has recruited. Since his Yellow Jackets started out 6-0 in 2011, he is just 17-17. That is a whole lot of average.
The Tigers have actually won two in a row and three out of four in the series, and Clemson has scored 102 points the last two seasons. Clemson's recruiting has trended upward, and recruiting at Tech hasn't been very good. The talent gap has been noticeable the last two seasons, and I am just not sure that program is getting better. In fact, there was far more talent in the cupboard when Gailey left than there is now.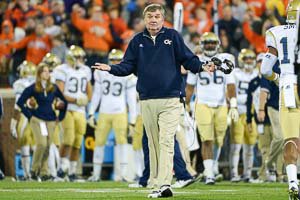 Considering all of those factors, do you really want him fired? Or, considering he is your cross-division rival and it looks like Tech will be an average program at best under CPJ, would you want him to stick around?
While we are on the subject of Georgia Tech – one play in particular Thursday night drew some laughs in the press box. Tech quarterback Vad Lee pitched the ball to a running back, and then he was swarmed by Clemson defenders for a loss. But what drew the laughs was three Georgia Tech offensive linemen laying in the middle of the field, having fallen down and blocked absolutely nobody.
So I asked Vic Beasley

Vic Beasley
RS Jr. Defensive End
#3 6-3, 225
Adairsville, GA
View Full Profile after the game if Clemson did anything different to prepare for the cut blocks, and he said that the defensive linemen didn't play as snug on the offensive linemen as they normally would, and that allowed them to avoid the blocks, keep their feet quick and go make plays. We might see that more and more against the Jackets.
*The coaching staff decided to start sophomore Isaiah Battle

Isaiah Battle
So. Offensive Tackle
#79 6-6, 280
Brooklyn, NY
View Full Profile at right tackle last night. We have all been wondering if he would get his chance, but we thought they might move Brandon Thomas

Brandon Thomas
Gr. Offensive Line
#63 6-3, 305
Spartanburg, SC
View Full Profile to right tackle and let Battle play left tackle. However, Giff Timothy got in the game, and so did Shaq Anthony

Shaq Anthony
RS So. Offensive Tackle
#76 6-3, 265
Williamston, SC
View Full Profile , so it will be interesting to see how that rotation shakes out before the game against South Carolina in two weeks.
Something else I liked seeing was offensive coordinator Chad Morris

Chad Morris
Offensive Coordinator / QBs
View Full Profile use max protect with tight end Sam Cooper

Sam Cooper
RS Jr. Tight End
#86 6-5, 250
Brentwood, TN
View Full Profile and fullback Darrell Smith

Darrell Smith
Gr. Fullback
#40 6-1, 250
Gadsden, AL
View Full Profile . On one series of plays, Tech defensive end Jeremiah Attaochu blew past Clemson's tackles – not something you want to see with Carolina in two weeks – and after that Morris kept Cooper and Smith in to block, and trusted his wide receivers to make plays. It worked, and Clemson's stable of Frisbee catching dogs at wide receiver made some nice plays once Boyd got the time he needed. I hope we see more of that.
*Boyd told me after the game that he hurt his collarbone not when he hit the ground, but when the Georgia Tech defender landed on him. He said that the pain was so intense, he immediately feared that his career was over. However, once the x-rays came back negative and he trotted back out to the Clemson sideline, he begged Morris to let him go back in for one more series, just to loosen up. Morris, of course, told him no.
Besides, who needs your quarterback to go in and risk further injury when Cole Stoudt

Cole Stoudt
Jr. Quarterback
#18 6-4, 205
Dublin, OH
View Full Profile can go in and make the kind of plays he made? I know people love to talk about Deshaun Watson, but Clemson will be loaded at quarterback next season with Stoudt and Kelly, and it will be hard for a true freshman to come in and take time away from those two, even in spring practice. People like to say that a Johnny Manziel or a Jameis Winston are "transcendent talents." Transcendent. Great word. And Watson may be that type of talent. But both Winston and Manziel benefitted from a redshirt year, and I've been around Clemson's coaches enough to know they take the cautious route with most young talent.
*Finally, did you happen to see what USA Today writer Dan Wolken posted on Twitter during the game last night? Wolken spent time with Clemson head coach Dabo Swinney during the summer, and he has written some very complimentary things about Swinney and the program.
However, what he had to say last night was interesting.
I know, I know, it's Twitter cool to clown on Dabo. But look at his record.

— Dan Wolken (@DanWolken) November 15, 2013
If Dabo takes Clemson to two BCS bowls in three years, why wouldn't Texas be interested? He's done an awesome job.

— Dan Wolken (@DanWolken) November 15, 2013
@DanWolken I'm still trying to figure out if you're serious. Do they chain Chad Morris to his new desk?

— Travis Haney (@TravHaneyESPN) November 15, 2013
@TravHaneyESPN Dabo will always get great assistants to work for him.

— Dan Wolken (@DanWolken) November 15, 2013
@kentbabb I don't think goofball is fair. I think he's the closest thing to a young Mack Brown as there is

— Dan Wolken (@DanWolken) November 15, 2013