| | |
| --- | --- |
| Final Orange Bowl thoughts: This one deserves a victory cigar | |
---
| | | |
| --- | --- | --- |
| Saturday, January 4, 2014, 3:46 PM | | |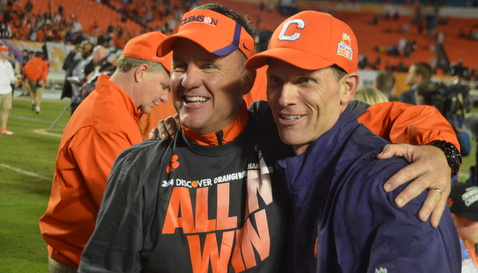 MIAMI GARDENS, FL – The fireworks that exploded during the national anthem prior to Friday night's Orange Bowl gave just a small hint of things to come.
I scrambled down from my perch in the press box and onto the field just as Stephone Anthony
Stephone Anthony
Jr. Linebacker
#42 6-2, 235
Polkton, NC
View Full Profile clinched the Orange Bowl win with his interception, and was trying to help take photos of the postgame celebration.
I've been in some postgame celebrations that were pretty amazing – last year's Chick-fil-A Bowl and the ACC Championship win come to mind – but last night's celebration felt a little different.
Maybe it was because everyone understood we had just witnessed one heck of a performance by Sammy Watkins
Sammy Watkins
Jr. Wide Receiver
#2 6-1, 205
Fort Myers, FL
View Full Profile , and that last night's game might be the last time we see him and some of the other juniors in a Clemson uniform. It was also the last time we got to see linebacker Spencer Shuey
Spencer Shuey
Gr. Linebacker
#33 6-3, 230
Charlotte, NC
View Full Profile , and it happened on a night when he looked like he was on a personal mission to disrupt anything Ohio St. Braxton Miller tried to do.
Indeed, it was the last time a lot of those guys will be together as a team, and they knew it. As a result, they celebrated with a sense of relief and finality. Even the coaches seemed drained after the thrilling win.
One of the first people I ran into down on the field was Clemson great Jeff Davis, who was holding a victory cigar in his fingers, joyfully asking anyone that came near for a light. Once he found someone that would do him the honor, he embraced backup quarterback Cole Stoudt
Cole Stoudt
Jr. Quarterback
#18 6-4, 205
Dublin, OH
View Full Profile in a big bear hug and told him that it was now up to Stoudt and the other quarterbacks to take Clemson to the next level.
Chad Morris
Chad Morris
Offensive Coordinator / QBs
View Full Profile and Brent Venables

Brent Venables
Defensive Coordinator / Linebackers
View Full Profile exchanged hugs, and Morris was asking everyone to please help him take pictures. I sat in the press box during the game and saw the reports that Louisville head coach Charlie Strong might be headed to Texas, and I wondered if Louisville would talk to Morris about the job.
It was also good to see Tajh Boyd
Tajh Boyd
RS Sr. Quarterback
#10 6-1, 225
Hampton, VA
View Full Profile all smiles after the game – Boyd has come under fire from many Clemson fans for not beating South Carolina, and I've had several argue with me on social media in recent weeks that Boyd doesn't count as one of the Clemson greats at the position.
Clemson head coach Dabo Swinney

Dabo Swinney
Head Coach
View Full Profile tried to put that to rest in his postgame comments.
"He put an exclamation point on his legacy," head coach Dabo Swinney said after Boyd threw for 378 yards and rushed for 127."He holds every record in the book, won a BCS game, an ACC Championship and has taken this program to 10 and 11 win seasons. And he did it while doing everything with class. Whatever NFL team drafts him, they are getting a player who will change their team, who will change their clubhouse and will change their community. He is a man of unbelievable character."
*How big was this win? Huge. Another loss in a big-game setting would have been cause for months of frustration and consternation among the Clemson faithful, and the national media would not have been kind to a Clemson team that lost its three biggest games of the year. This helps out the Clemson coaches on the recruiting front, because they can now go into players' homes and schools and say that they ended the season with a win in a BCS bowl game, and knocked off Ohio St. in the process.
The two programs have gone head-to-head over several prospects the last couple of years – head coach Urban Meyer understands the importance of recruiting in the South – while the win isn't likely to change the mind of recruits already committed, it gives the coaches an extra arrow in their quiver.
*Meyer grabbed Boyd after the game, embraced him, and then introduced Clemson's quarterback to his entire family and anyone else in Ohio St. garb that he could grab.
*Sammy's performance was eerily similar to the one put on by Nuk Hopkins in the Chick-fil-A Bowl. Both players were juniors, and both saved their best performance for their last game. Hopkins made grab after grab against LSU, and Watkins almost willed his team to victory Friday. In case you missed my story, Watkins could barely walk out of the postgame media interview session.
*The infamous 3rd-and-13 interception thrown by Boyd late in the game was yet another reason why Clemson fans either hate him or love him. We asked around after the game, and it turns out he wasn't supposed to throw the ball on that play. Obviously, the smart move there is to run the ball, chew up clock, make the Buckeyes take a second timeout, and then punt and pin them deep.
However, Boyd said he saw Germone Hopper
Germone Hopper
RS Fr. Wide Receiver
#5 6-0, 170
Charlotte, NC
View Full Profile wide open and couldn't resist. He took the gamble and was intercepted. Chad Morris rolled his eyes and said, "We never make it easy, do we?"
*It was good to see Morris stick with the running game throughout the contest – Clemson actually out-gained Ohio St. on the ground – and attacked the perimeter with the running game.