---
| | | |
| --- | --- | --- |
| Tuesday, April 9, 2013, 10:28 PM | | |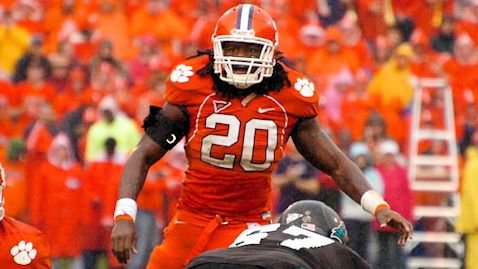 Brandon Maye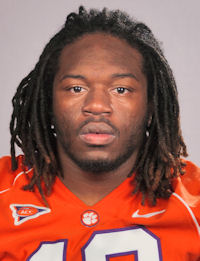 Brandon Maye
RS Sr. Linebacker
#20 6-2, 235
Mobile, AL
View Full Profile doesn't like to focus on the beginnings, but rather the endings and what began as a therapeutic release is becoming a dream come true.
After failing his physical with the Tampa Bay Buccaneers due to a torn Achilles tendon, Maye began putting his thoughts on paper and quickly realized that he could turn his lifetime of obstacles into an inspiration for athletes and the common man.
The result was Diamond in the Rough, a book that Maye has authored about his experiences in dealing with football, the injury and his life experiences. Maye will be at Mr. Knickerbocker in downtown Clemson on Saturday from 10:00 a.m. until 1:00 p.m. for his first book signing. He will be accompanied by Clemson head coach Dabo Swinney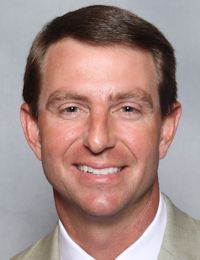 Dabo Swinney
Head Coach
View Full Profile and former Clemson standout C.J. Spiller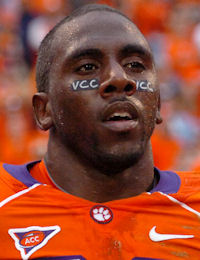 C.J. Spiller
Pro Running Back
#28 5-11, 195
Lake Butler, FL
View Full Profile , and fans will have autograph opportunities with all three after purchasing a copy of the book.
Maye said the book is a labor of love.
"I would only write this book at night. It was like a connection that was going on with me- I found myself," Maye told TigerNet Tuesday. "I was taking all of the emotion that was going on with me. It was actually a therapeutic thing because I was transferring the pain from the surgery and hurting from the Buccaneers physical. I was using it a therapy and first and then it just exploded as I worked every night for two months. I was committed to pushing myself and achieving greatness and achieving things that nobody in my family ever did.
"I've been inspired my whole life with my life story and I use it as encouragement. I took my experiences that I've been through in life, obstacles and the ups and downs that have made me who I am to inspire people and show them that with faith in God anything is possible. After my brief outing with the Tampa Bay Buccaneers and failing my physical due to my Achilles injury and then finding out that I would need surgery, I was inspired by God to put my life story down into a book."
Maye, who played linebacker for the Clemson Tigers from 2007 until 2010 and will return this weekend for the release of his book - a story that he hopes will inspire people to overcome their challenges and strive to make a positive impact on the world around them.
"My mission is to show people that with faith in God anything is possible," he said. "I think the number one thing is that it's not how you start in life or the obstacles and challenges you face in life, it's how you finish. I think people should be focused more on how they finish and making a positive impact. I just want to use my story to reach and encourage people that they can do anything in this life if they just reach within themselves and achieve those dreams."
Maye's first challenge came at the age of two when his father was killed, and he would have to learn to depend on his mother and step-father for all of life's lessons to become a hardworking, dependable member of society.
"I was blessed- a lot of kids in the community didn't have the support that I had with my family- my mom, my dad, and eventually my mom married her husband who became my step-dad," he said. "My dad was killed when I was two years old. A lot of my strength came from my family and the support that they gave me, the values and the morals they were teaching me my whole life, doing the right things, being a good citizen, doing the right things in the classroom, and all of it translated over even in the midst of the different things that were going on within my community- the drugs, the violence. They just kept me believing in the hope that you can do anything in this world that you dream to do."
Despite the familial support, however, Maye- like many inner city adolescents- began playing football at an early age as a way to keep him away from the violence and rampant drug use found in many urban cities.
"Football was used as a very big part of my life," he said. "It was my escape. I was using the game of football as a way to stay away from all of the violence and drugs and things that were going on within the community."
Without his love of football, Maye would have never had the opportunity to attend Clemson University and prove his skeptics wrong both on and off the field.
"They [Clemson] gave me a chance of a lifetime. Nobody really believed in my skill as a player," he said. "A lot of people doubted me and a lot of people said I wouldn't and I couldn't, but I've heard that all of my life. I just used that as my motivation. Clemson gave me the opportunity to achieve some of the greatest things when it comes to academics, when it comes being in front of so many great fans in the Valley, and gave me so much potential. That's a big part of the book- football and my experiences at Clemson. I feel like this book really heavily talks about Clemson."
Maye has been the first person in his family to achieve many things- including receiving a college degree- but he wanted to take that a step further in publishing a book- a feat that he wouldn't have been able to accomplish without a lot of help along the way.
"When I came back and had my surgery, I just told myself that it was time to write this book," he said. "I just started writing. I created an outline and had Lauretta Freeman- a women's basketball All-American at Auburn- helping me every night as I wrote. She helped me develop my structure. Every word was written from beginning to end. I also had Michelle Burnett, who is a best-selling author, come in and help improve everything. Even though I wrote the book from cover to cover, I had a great team of guys and great team of ladies, Traci and Jeremy Anderson of my great publishing company, and my booking agent Lorreen Pryor.
"My family was encouraging me through the entire process. It was very, very strenuous. I probably got three hours of sleep per night. I was motivated to achieve something great and I wanted to push myself. A lot of times we struggle in life with pushing ourselves. I was not a big writer in college, but I wanted to push myself to do this. I'm excited about the opportunity to release Diamond in the Rough."
After the release of the book, Maye hopes to begin workouts, return to football, and accomplish another dream- playing in the NFL.
"The sky is the limit. I'm a challenge driven guy. I put all of my goals on a board- including my book," he said. "I will do everything in my power to knock off my challenges and honor God in everything I do. Maybe I'll return back to the NFL. I'm actually rehabbing, working out and trying to get back into playing shape. I'm looking forward working out for some teams this summer and maybe going to a Pro Day next year if things don't work out."
For updates on the Diamond in the Rough, follow Maye on Twitter at bmaye9.