| | |
| --- | --- |
| Dan Brooks: Military paved the way for career success | |
---
| | |
| --- | --- |
| Thursday, September 24, 2015, 8:25 PM | |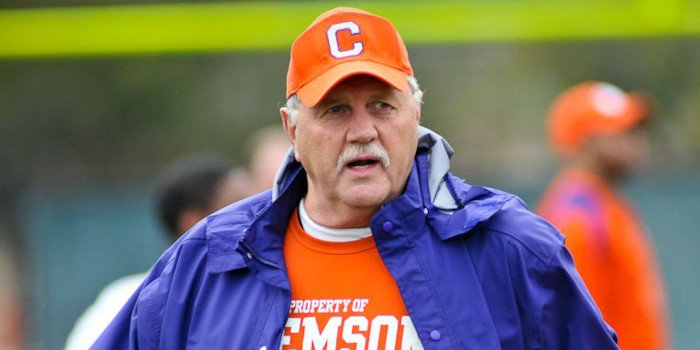 Clemson's defensive tackles have been among the nation's best for several seasons, and this year's group promises to keep the unit's reputation intact. The hallmark of a Brooks-coached player is discipline, something that Brooks learned while serving in the U.S. Army in the early 1970's.
Brooks is in his seventh season at Clemson after serving 15 years at the University of Tennessee. Brooks has coached a multitude of players that wound up in the NFL, and he told TigerNet recently that his military service set the tone for the rest of his life.
"Oh yeah, it was a life-changing deal for me. You grow up a little country boy and then I had a chance to serve for three years," Brooks said. "Obviously that is something I am proud of being able to do. It's really been strange to me - you don't really find a lot of people that do what we do that have ever served active duty. It was very life-changing to me, and I wouldn't take a million dollars for it, but I wanted out. Everybody talked about reenlisting I was like, no, I am going home. But it was a special time in my life."
Brooks said the things he learned in the service still shape how he lives his life today – including be an early riser.
"It does. Even in my day-to-day life. I am an early guy," he said. "I grew up that way, and in the service you are up early. I work out every morning. A lot of players are used to seeing me in the weight room at 5:30 or six in the morning. And then going through jump school, you are at there at 4:30 in the morning running six miles and learning how to jump out of an airplane. It's all part of it. And then the same thing with a team, you are a team in the service, and you have camaraderie and you learn a lot of things."
Football is sometimes compared to war, but Brooks said football and the military are similar in that you learn to care about the person beside you.
"There are things that are similar to our sport - it isn't war, but it is competition," he said. "A lot of coaches say football is war. It isn't war. But when you are involved and getting ready for war - Vietnam was going on and it was hot and heavy - you learn a lot of things. You care about that guy right beside you, just like that defensive tackle lines up beside the nose guard or defensive end and they have to count on each other. They have to count on that linebacker behind them. I don't try to beat my chest or anything, but it does help when they know you've been there and been a part of it. Every moment is a teaching moment and you learn from everything that you are involved in, and being in the military was a big part of my life."
Brooks served in the airborne, and he said that discipline and learning to face your fears are two of the bigger lessons he took from the experience.
"I had never been on an airplane. The first airplane I ever rode on I jumped out of," he said. "I hadn't ever been on an airplane, but I wanted to do it. The biggest thing was the discipline of it. A lot of it was just mental preparation, and it relates to what we do. A lot of times we push our kids to that mental point. What Coach Swinney has done here, we have won a lot of football games here in the fourth quarter because we are mentally tough. So I think it's the same thing - if you think you are in a fox hole with a guy it is the mental toughness to persevere. We aren't at war, but it relates."