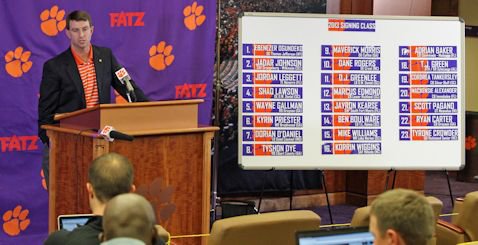 | | |
| --- | --- |
| Dabo says Tigers are better after stellar recruiting class | |
---
| | | |
| --- | --- | --- |
| Wednesday, February 6, 2013, 8:52 PM | | |
CLEMSON – Clemson head coach Dabo Swinney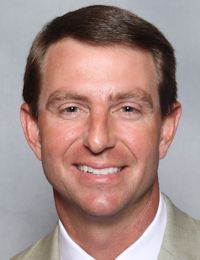 Dabo Swinney
Head Coach
View Full Profile said his Tigers – already a preseason Top 10 by many outlets – got even better on Wednesday.
Swinney spoke to the media shortly after the last faxed came through – 4-star offensive lineman Tyrone Crowder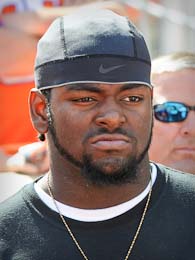 Tyrone Crowder
Offensive Guard
6-2, 315
Rockingham, NC
View Full Profile – and said that the Tigers' 13th-ranked recruiting class [ESPN] allowed his coaches and players to officially put an end to the 2012 season and start looking ahead to 2013.
"We got better today, that's for sure," Swinney said in the team room in the WestZone. "I really feel like today was another step toward being the consistent program that we want to be. It's all about personnel. We've got a really quality group of young men here that have chosen to come be a part of what we hope is going to be a special career for them."
Clemson had surprises – the addition of former UNC commit Korrin Wiggins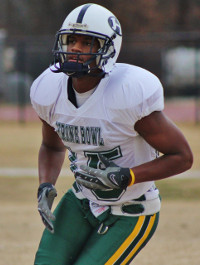 Korrin Wiggins
Safety
6-1, 190
Durham, NC
View Full Profile – and jubilation when 5-star corner MacKensie Alexander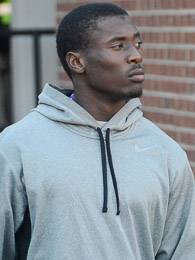 MacKensie Alexander
Defensive Back
5-11, 175
Immokalee, FL
View Full Profile announced he was headed for Clemson shortly before noon. In all, the Tigers signed 23 players, players that Swinney says could have gone anywhere.
"We've got a top 15 class in the country coming to join an already very, very talented football team, a group of guys that could have gone to Southern Cal to Florida and everywhere in between," Swinney said. "These kids had offers, but they chose Clemson, South Carolina. It's exciting to me when a young man chooses Clemson. All of these guys have many, many choices and many opportunities to go different places, and they chose Clemson."
Swinney then gave his thoughts on each of the signed players.
OL Tyrone Crowder and Maverick Morris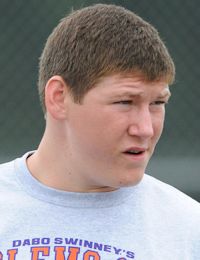 Maverick Morris
Offensive Tackle
6-5, 290
Douglas, GA
View Full Profile
"The offensive line was not a huge need in this class, but yet we felt like we needed to pick up a couple of guys. I think we hit a home run on both of these guys. Their Clemson guys, both bring different things to the table - very good students, very, very good students. I'm excited about what they'll bring to our guys up front."
TE Jordan Leggett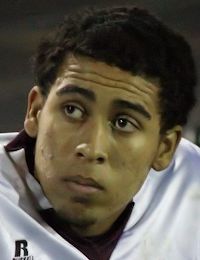 Jordan Leggett
Tight End
6-6, 235
Navarre, FL
View Full Profile
"He's here. Long, athletic, can run. He brings the combination of skill set that we want for that position. He's got the size, will be a big, strong guy that can give us a physical presence and create some mismatches in the passing game."
WR Mike Williams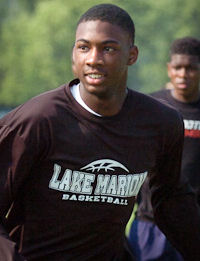 Mike Williams
Wide Receiver
6-5, 205
Holly Hill, SC
View Full Profile
"Mike Williams is easily the best guy in this state, a guy that we're very familiar with. That was a big recruiting get for us right there. We think that he brings great size, character, work ethic, intangibles, tremendous ball skills - he's kind of got a little bit of everything. He'll play big, just like he is. We lost Nuk Hopkins, who filled that role and we think Mike can do the same."
RB Wayne Gallman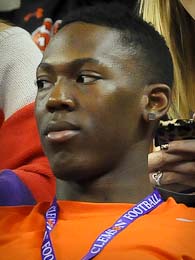 Wayne Gallman
Running Back
6-1, 195
Loganville, GA
View Full Profile and RB Tyshon Dye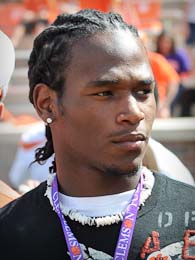 Tyshon Dye
Running Back
6-1, 210
Elberton, GA
View Full Profile
"I think they've got a chance to be really special players. They're tough. They're blue collar. They've got great work ethics. They want to be successful. Probably, the best thing is that they're already big, but they have the chance to, potentially, to be two of those big backs that we really have not had since Jamie Harper was here. We needed to get a little more size in the backfield. Both of these guys bring that."
WR Kyrin Priester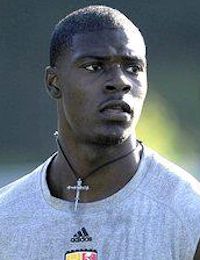 Kyrin Priester
Wide Receiver
6-2, 190
Snellville, GA
View Full Profile
"Kyrin Priester is a guy that we really liked in the beginning. We filled up very quickly at receiver and we were pretty much done, then things changed. He was the first guy we called. I'm just thankful that we were able to get him. This is a very, very talented player. He's got good size and can run. He can do things in the return game, also a very intelligent young man, very smart."
DE Dane Rogers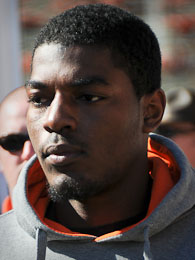 Dane Rogers
Defensive End
6-3, 245
Shelby, NC
View Full Profile
"Dane Rogers is an outstanding prospect. He was MVP up there at Shrine Bowl week for North Carolina. What a great family. A fine young man from an outstanding high school. Dane is one of those guys, he's been committed since day one. I think he has a great future."
DE Shaq Lawson
"Shaq Lawson, I think, is as good a prospect as there is out there. He's kind of like Nuk Hopkins was coming out of high school. Not a lot gets said about him, but he's as good a player as you're going to find. That's kind of how it proved out with Nuk. I don't think it will be any different with Shaq."
DE Ebenezer Ogundeko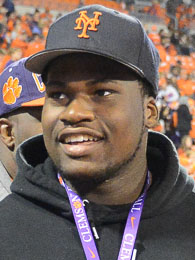 Ebenezer Ogundeko
Outside Linebacker
6-3, 240
Brooklyn, NY
View Full Profile
"This is a very special young man. As y'all get to know him, you're going to know what I'm talking about. He's different. He is a great player. He's raw. He's got a tremendous upside to him. Big motor, incredibly strong for a high school senior to come in here, I've been very impressed with what he's doing in the weight room. High character and just represents all the things we love. I think he's got a chance to be outstanding."
DT Scott Pagano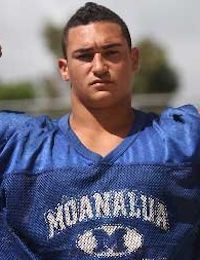 Scott Pagano
Defensive Tackle
6-4, 280
Honolulu, HI
View Full Profile
"The No. 1 player in Hawaii. This guy is the epitome of toughness. Look it up in the dictionary, this guy's picture is beside it. He's tough. He's relentless - great work ethic, wants to be a great player, is willing to do the things that he's got to do to be a great player. Football is important to him and his family. I don't have any doubt that Pagano is going to be one of those guys who's going to be a difference maker for us in this program for the next several years. He's going to be a natural leader. He'll come in here, easily, and be one of the strongest guys. I've never been around a high school guy that has the strength that Pagano has."
LB Ben Boulware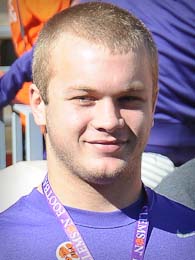 Ben Boulware
Outside Linebacker
6-1, 230
Anderson, SC
View Full Profile
"Ben Boulware is as good a prospect you're going to sign in any recruiting class. This kid is big-time special."
LB D.J. Greenlee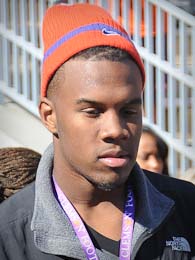 D.J. Greenlee
Linebacker
6-2, 210
Central, SC
View Full Profile
"D.J. Greenlee is a guy who we know an awful lot about. He could probably end up on either side of the ball, but we're going to start him out at linebacker. He's one of those guys I think is going to turn out to be a fine player for us."
DB Cordrea Tankersley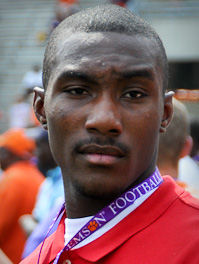 Cordrea Tankersley
Defensive Back
6-2, 195
Aiken, SC
View Full Profile
"You all know about him. Hopefully, he'll be able to join us by summer one. He's a guy that I think has a chance to be a really, really good player. He's got great size for the position."
DB Ryan Carter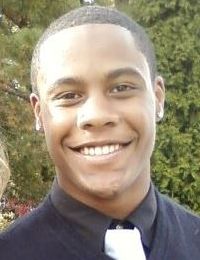 Ryan Carter
Cornerback
5-11, 175
Loganville, GA
View Full Profile
"Ryan Carter is a guy – and I hate to label him - I'd say he'll be the Adam [Humphries] of this class. I really feel like this guy… when we look back on this signing class four years from now everybody is going to say, 'Golly.' We wanted to, purposely, hold him. He was signed this morning, we, personally, wanted to hold him. Unfortunately, there were some things written in the recruiting process early that were not fair to this young man, not fair at all. This is a heck of a football player. We're fortunate to have him. I wanted to make sure that he was completely separate so that people wouldn't write with their own agendas. This is a young man that's earned his scholarship on his own merit."
CB Marcus Edmond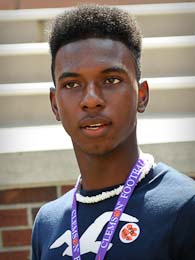 Marcus Edmond
Cornerback
6-1, 175
Hopkins, SC
View Full Profile
"A highly intelligent player, a guy that we were able to get late. He was committed to N.C. State. The situation changed up there. We were very fortunate to get back on him, as we evaluated him further, we really kind of fell in love with him. We got a chance to be around him – his character, his family. He can run. He's got good size and good length. It's really hard to find that when you're recruiting corners."
CB Mackensie Alexander
"He's a guy that is a rare combination at that position. With his size and speed and ball skills, ability to finish plays, tackle and all of that. He's going to bring a work ethic in here that I think is rare amongst young people. This is a guy that knows how to work. He is completely driven and focused on being the best that he can be. That's the kind of thing that can rub off on a team."
CB Adrian Baker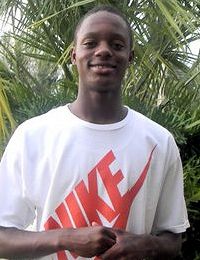 Adrian Baker
Cornerback
6-1, 170
Hollywood, FL
View Full Profile
"Prime Time. When you see him, he reminds me of Coty Sensabaugh. He's a little taller than Coty was, but the same frame and same type of speed that Coty had. I think that Adrian has got a chance to be a really special corner. I really do. We'll have to, physically, develop him a little bit, kind of like we did with Coty. But I think he has a great future in front of him, from a coverage standpoint. He is a tough, tough football player. I really like Adrian Baker."
S Jayron Kearse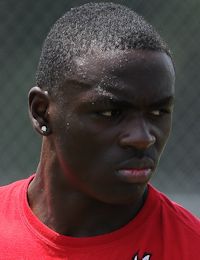 Jayron Kearse
Safety
6-4, 205
Fort Myers, FL
View Full Profile
"I have not seen many athletes like him in the recruiting process. This guy is 6-4, can play corner. He's going to play safety for us. I really have no idea how big he's going to be. He is a big framed. Is probably about 208 right now, can flat out run. There's not telling what he's, individually, going to be. Has great ball skills and explosiveness and great range. I'm excited about him joining us at the safety position."
DB Korrin Wiggins
"A huge, huge get for us today. Korrin is, I think, has a great combination, as far as he can play safety. He can play nickel. Heck, he could probably play corner. We really like him at the safety position. But another one of those guys that I think is physically developed, kind of ahead of himself for a high school senior. A very mature young man that comes from a great family up in North Carolina. One of those guys that I think has a chance to, hopefully, help us early."
DB Jadar Johnson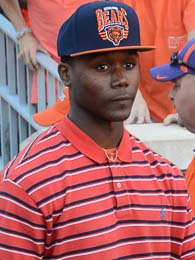 Jadar Johnson
Defensive Back
6-1, 180
Orangeburg, SC
View Full Profile
"He's another mid-year guy. Jadar is an athlete that can play a lot of positions. We think he has a chance to be special as well."
ATH T.J. Green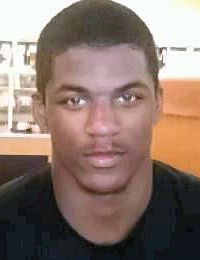 T.J. Green
Athlete
6-4, 200
Sylacauga, AL
View Full Profile
"He could easily play on either side of the ball. There will be a battle for him. We're trying to figure out what the best spot for him is as we get him in here and start coaching him. He is one of those guys we didn't know anything or saw tape about, and then when we did we knew he was special. We just tried to keep it a secret, because we knew as soon as we offered him, the in-state schools would be on him. We managed to keep him."

Tags: Clemson Football
,
Adrian Baker
,
Ben Boulware
,
Cordrea Tankersley
,
D.J. Greenlee
,
Dabo Swinney
,
Dane Rogers
,
Ebenezer Ogundeko
,
Jadar Johnson
,
Jayron Kearse
,
Jordan Leggett
,
Korrin Wiggins
,
Kyrin Priester
,
MacKensie Alexander
,
Marcus Edmond
,
Maverick Morris
,
Mike Williams
,
Ryan Carter
,
Scott Pagano
,
T.J. Green
,
Tyrone Crowder
,
Tyshon Dye
,
Wayne Gallman