| | |
| --- | --- |
| Clemson vs Wofford Prediction | |
---
| | | |
| --- | --- | --- |
| Friday, September 9, 2011, 6:43 PM | | |
Football season is finally in full swing, but there will be no shortage of sideshows in Death Valley on Saturday.
Not only are the Tigers are taking on the Wofford Terriers, but Clemson will celebrate Military Appreciation Day - honoring or service men and women before, during and after the game. Also, on hand will be former Clemson quarterback Tribble Reese
Tribble Reese
Quarterback
#11 6-4, 205
Mountain Brook, AL
View Full Profile -the bachelor on CMT's show Sweet Home Alabama- who will be hosting a date for one of the show's episodes.
Head Coach Mike Ayers and his Wofford Terriers make their first visit to Death Valley since 2001, when Woody Dantzler and J.J. McKelvey led the Tigers to a 38-14 victory.
Let's take a look at how the Terriers, the 9th-ranked team in the nation in the FCS polls and the defending Southern Conference Champions - match up with the Tigers.
WOFFORD (1-0) at CLEMSON (1-0)
WHEN WOFFORD HAS THE BALL
Think Georgia Tech, South Carolina, and Auburn all rolled into one and that's what you get when you face the Wofford Terriers, according to Clemson defensive coordinator Kevin Steele. The Terriers are led by junior fullback Eric Breitenstein, who set a school record rushing for 1,639 yards a year ago. Against Presbyterian a week ago, Breitenstein carried the ball 19 times for 107 yards and a touchdown. Wofford had 352 yards on the ground a week ago, but it was a 26-yard pass from quarterback Mitch Allen to receiver Jeff Ashley that provided the winning points in a 35-28 win over PC. Wofford will line up in the option most of the day, and Allen is gifted at hiding the ball until the last second. The Clemson defense – which gave up over 400 yards to Troy last week – will have to wrap up and tackle well, something they didn't do last week. The Terriers like to run, run, run, run, and then when the safeties or corners get sucked in on a play-action run, hit a big pass over the top. Last season, the Terriers scored 30 touchdowns of 20 yards or more. Clemson will probably start freshman Robert Smith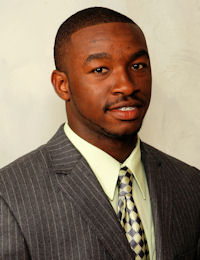 Robert Smith
Fr. Defensive Back
#27 5-11, 195
St. George, SC
View Full Profile at safety in place of the injured Rashard Hall
Rashard Hall
RS Jr. Safety
#31 6-2, 200
St. Augustine, FL
View Full Profile , and how well he and the rest of the young Clemson defenders can stay in position and tackle cleanly will tell the tale. If they let their eyes take them out of position, Wofford has the ability to control the clock. Still, the Tigers own a size and speed advantage, and are no strangers to the option because they have to play Georgia Tech every year.
ADVANTAGE- CLEMSON
WHEN CLEMSON HAS THE BALL
Chad Morris' offense finally came to life on the second drive of the third quarter when Tajh Boyd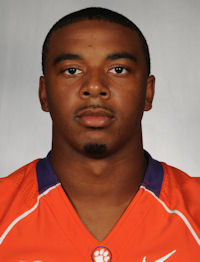 Tajh Boyd
RS So. Quarterback
#10 6-1, 230
Hampton, VA
View Full Profile found his confidence and his rhythm, hitting tight end Dwayne Allen
Dwayne Allen
RS Jr. Tight End
#83 6-3, 245
Fayetteville, NC
View Full Profile on a 54-yard touchdown pass. The goal of the offense this week will be to sustain that momentum gained in the second half a week ago. The Tigers had six three-and-outs against Troy, a stat that will be a killer if Wofford's offense is having any success. Wofford DL Ameet Pall (6-0, 245) and OLB Alvin Scioneaux (6-2, 215) will try to stop the Clemson running game, and look for the Terriers to take a page out of Troy's defensive playbook and twist and stunt in an effort to thwart the size advantage of the Clemson offensive line. In the end, however, the difference will be speed. Sammy Watkins
Sammy Watkins
Fr. Wide Receiver
#7 6-2, 200
Fort Myers, FL
View Full Profile , Martavis Bryant
Martavis Bryant
Fr. Wide Receiver
#1 6-4, 195
Anderson, SC
View Full Profile , Andre Ellington
Andre Ellington
RS Jr. Running Back
#23 5-10, 190
Moncks Corner, SC
View Full Profile , Nuk Hopkins and Mike Bellamy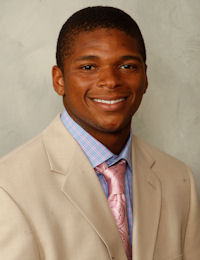 Mike Bellamy
Fr. Running Back
#5 5-10, 187
Nocatee, FL
View Full Profile will be too much for the Terriers to handle, something that Wofford's Ayers said this past week.
"They have tremendous overall team speed," Ayers said. "Their athletes are bigger, faster and stronger than we are used to. Their running backs are guys that, quite frankly, are difficult to tackle in space. We looked at all of their games from last year and the game this year against Troy, and if they get in space, they will just run away from you. We have our work cut out for us."
ADVANTAGE- CLEMSON
SPECIAL TEAMS - Stephone Shelton is returning kicks for the Terriers and averaged 19.7 yards per return on three tries against the Blue Hose. Sophomore punter Kasey Redfern punted the ball four times for 147 yards and an average punt of 36.8 yards. Wofford allowed 21 yards per return last season, and Clemson will look to get Watkins or Bellamy loose on a long return. Clemson kicker Chandler Catanzaro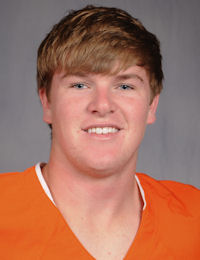 Chandler Catanzaro
RS So. Punter / Kicker
#39 6-2, 205
Greenville, SC
View Full Profile was 3-for-3 on field goals against Troy, and none were chip shots (46, 46, and 45 yards). However, he did miss an extra point. Punter Dawson Zimmerman
Dawson Zimmerman
Jr. Punter / Kicker
#96 6-2, 205
Lawrenceville, GA
View Full Profile had his usual performance and averaged 42.5 yards on six kicks, including one that was downed at the one-yard line.
ADVANTAGE- CLEMSON
BOTTOM LINE -Wofford is a good Southern Conference team that runs an offense that can be difficult to defend. If the Clemson defense can stop the running game and prevent big plays, the Terriers should have a difficult time scoring points. If Clemson doesn't tackle well, it could be a long day. On offense, Tajh Boyd simply has to continue what he started last week and get the ball to his playmakers. In the end, Clemson's size, strength, and speed will prevail.
FINAL SCORE
CLEMSON- 51, WOFFORD-13
GUEST PREDICTIONS FOR WOFFORD GAME
Mickey Plyler - 6AM-9M on WCCP 104.9FM - 48-17 Clemson
Dan Scott - 9AM-12PM on WCCP 104.9FM - 40-14 Clemson
El Swann - TigerNet Talk - 48-13 Clemson
Computer simulation – 38-0 Clemson (Boyd: 10-20 163yds 3 Tds, no ints, Ellington: 21-131 yds, 1 Td, Hopkins: 1 catch 67yds 1 Td, Dalton Freeman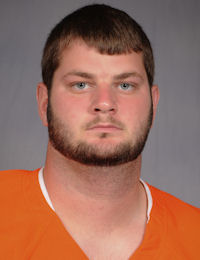 Dalton Freeman
RS Jr. Offensive Line
#55 6-5, 285
Pelion, SC
View Full Profile : 9 pancake blocks)
PREDICTION TRACKER
Troy Game (43-19 Clemson)
David Hood: 41-20 Clemson, Mickey Plyler: 37-7 Clemson, El Swann: 27-10 Clemson, Computer: 34-7 Clemson

Tags: Clemson Football
,
Andre Ellington
,
Chandler Catanzaro
,
Dalton Freeman
,
Dawson Zimmerman
,
Dwayne Allen
,
Martavis Bryant
,
Mike Bellamy
,
Rashard Hall
,
Robert Smith
,
Sammy Watkins
,
Tajh Boyd
,
Tribble Reese