| | |
| --- | --- |
| Clemson vs. Syracuse Prediction | |
---
| | |
| --- | --- |
| Friday, November 13, 2015, 2:01 PM | |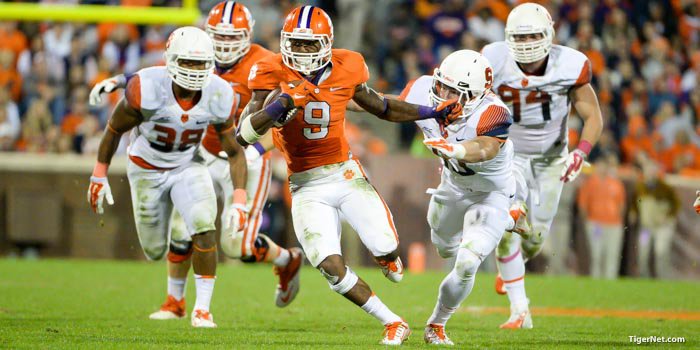 Can the top-ranked Tigers stay focused on a trip to central New York?
No. 1 Clemson travels to Syracuse to take on the Orange, a program mired in a six-game losing streak and a team that will be without its starting quarterback. Since the start of the Associated Press poll in 1936, the Orange has faced the AP's top-ranked team ten times before and is 1-9 in those games, the lone win coming against Nebraska in 1984.
Last season in Clemson, the Tigers' defense held SU to 170 yards of total offense while Clemson racked up 375 yards of offense and possessed the ball for nearly 35 minutes in a 16-6 victory.
NO. 1 CLEMSON (9-0, 6-0 ACC) AT SYRACUSE (3-6, 0-6)
WHEN: SATURDAY, NOVEMBER 14, 2015
WHERE: Carrier Dome (49,262) Syracuse, N.Y. Kickoff: 3:30 p.m.
TV: ABC/ESPN2 (Dave LaMont, Ray Bentley, Marty Smith)
CLEMSON RADIO NETWORK (Don Munson, Rodney Williams, Michael Palmer)
Satellite Radio: XM 84, Sirius 84
SERIES HISTORY
Overall Record: Clemson Leads 2-1
at Syracuse: Clemson Leads 1-0
at Clemson: Clemson leads 1-0
First Meeting: Syracuse, 41-0,1995 Gator Bowl
Last Meeting: Clemson 16-6, 2014
Streak: Clemson won 2 in row
NOTABLE
*Clemson has a 1-1-1 record in the state of New York. The contests have included a 21-6 loss at Army in 1937, a 12-12 tie against Fordham in 1952, and a 49-14 win at Syracuse in 2013.
*All-time Syracuse great Larry Czonka visited Clemson during his recruiting process in 1963 and had the Tigers in his final four schools. According to his Wikipedia page on the internet, Czonka considered Clemson, Vanderbilt, Iowa and Syracuse. Recruited by Clemson Coach Frank Howard, Czonka would have been a freshman at Clemson in 1964 and then played in 1965- 66 and 1967. Even without Czonka, that was a great era in Clemson football history as the Tigers won the ACC all three years. Czonka went on to a great career with the Miami Dolphins and New York Giants. He is a member of the Pro Football Hall of Fame and the College Football Hall of Fame.
WHEN CLEMSON HAS THE BALL
Clemson averages 488 yards of total offense per game this year, 20th in the nation and second in the ACC. The Tigers have reached these numbers against a schedule that includes four of the top 25 defenses in the nation. In Clemson's eight games against FBS opponents, the Tigers have gained 482.5 yards per game, 151.6 yards per game above what those teams have averaged so far this season.
A couple of Tigers are nearing milestones heading into the game: Wayne Gallman now has 977 yards for the season and obviously needs just 23 yards to become the 14th different Clemson player to have at least 1000 yards rushing in a season. It has been done 17 times by 13 different players so far. Raymond Priester, Andre Ellington, Woody Dantzler and Andre Ellington all did it twice. The Clemson record for rushing yards in a season is 1,345 yards by Priester in 1996. Priester had 1,322 in 1995. Gallman has at least five game left, so he would have to average just 74 yards a game to break the single season mark. He has averaged 109 yards a game so far this year. He needs 369 total rushing yards to break the season record entering the Syracuse game.
Quarterback Deshaun Watson needs just seven yards to reach 500 for the season.
Syracuse is 111th nationally in pass defense, giving up just under 275 yards per game, and don't get to the quarterback enough to mount much of a challenge. The last time the Tigers played in the Carrier Dome, Tajh Boyd had a field day throwing to Adam Humphries and Sammy Watkins against the Syracuse press man coverage. The Orange don't play near as much press man these days – they don't have the athletes – so look for the Tigers to run the ball and let Watson pick and choose his spots to throw. Junior defensive lineman Ron Thompson has six sacks, while linebacker Zaire Franklin leads the team with 58 tackles.
ADVANTAGE: CLEMSON
WHEN SYRACUSE HAS THE BALL
Clemson's defense has been better than expected. Brent Venables' group leads the nation in three categories, ranks in the top five in six areas and in the top 10 in 10 areas. Clemson has allowed just 13.11 first downs/game, .208 third down conversion percentage and 6.33 three-and-outs per game. Clemson has allowed just 47.1 completion percentage, second in the nation behind Michigan's 46.9. As far as the major areas, Clemson is fifth in the nation in total defense, allowing 287.3 yards per game. Clemson is seventh in pass defense (168 yards per game), 20th in rushing defense (allowing 119 yards per game) and ninth in scoring defense, allowing 17 points per game.
The Orange will be without starting quarterback Eric Dungey and will start sophomore Zack Mahoney. Mahoney is 25-for-50 this season for 217 yards, four touchdowns, and an interception. His main target will be wideout Steve Ishmael, who has 30 receptions for 458 yards and five scores. Jordan Fredericks is the leading rusher – he has 82 attempts for 426 yards.
The problem for Cuse has been protecting the quarterback in obvious passing situations, and they won't get much of a break Saturday. This matchup is lopsided in Clemson's favor.
ADVANTAGE: CLEMSON
SPECIAL TEAMS
Clemson kicker Greg Huegel has been perfect on field goals in ACC play, 13-13 and is 15-17 overall. Cole Murphy of Syracuse is 11-for-16 on field goals and has hit on all 30 of his extra point attempts. Riley Dixon is a solid punter (43.9 yards per boot) for the Orange, while Clemson's Andy Teasdall is hit or miss. Ryan Norton handles kickoffs for Cuse and has not allowed a return in 21 of 46 attempts. Brisley Estime of Syracuse is a dangerous punt returner – he has two touchdowns in 14 returns and is averaging almost 30 yards per return. Syracuse is decent (54th nationally) in kickoff coverage, while Clemson is abysmal.
ADVANTAGE: SYRACUSE
WHAT WILL HAPPEN
Sure, the Tigers are coming off an emotional win and it might be hard to get up for this game. Syracuse needs a win in the worst way, and they would love to knock off the nation's number one team at home and gain some positive momentum. Several former greats will be on hand, and Cuse just might have the edge in intangibles and in emotion.
It won't matter. Dabo Swinney has his team dialed in, and it would take a disaster of epic proportions for the Orange to pull the upset. The Tigers have too many playmakers on both sides of the ball, and Syracuse has just a few.
Tigers roll early and often.
FINAL SCORE: CLEMSON 45, SYRACUSE 13
---
GUEST PREDICTIONS
---
Mickey Plyler
- 6AM-9AM EST on WCCP 105.5FM -
52-17 Clemson
Tony Crumpton - Associate Editor - 55-20 Clemson
Nikki Hood - TigerNet Writer - 52-10 Clemson
Lawton Swann - Clemson Sports Talk / TigerNet Talk - 56-13 Clemson
Pigskin Prophet - 49-13 Clemson
| Game | Actual | David Hood | Mickey Plyler | Tony Crumpton | Nikki Steele | Lawton Swann | Pigskin Prophet |
| --- | --- | --- | --- | --- | --- | --- | --- |
| Wofford | 49-10 CU | 41-13 CU | 41-17 CU | 52-13 CU | 42-17 CU | 47-13 CU | 47-13 CU |
| App St | 41-10 CU | 37-17 CU | 42-17 CU | 41-14 CU | 45-13 CU | 45-17 CU | 42-17 CU |
| Lou | 20-17 CU | 28-20 CU | 34-24 CU | 31-20 CU | 28-17 CU | 35-20 CU | 34-21 CU |
| ND | 24-22 CU | 24-21 CU | 27-24 CU | 28-24 CU | 20-14 CU | 26-17 CU | 23-20 CU |
| GT | 43-24 CU | 30-21 CU | 35-17 CU | 31-17 CU | 38-17 CU | 31-17 CU | 33-21 CU |
| BC | 34-17 CU | 27-3 CU | 31-7 CU | 32-9 CU | 29-0 CU | 31-7 CU | 27-0 CU |
| Miami | 58-0 CU | 33-24 CU | 31-21 CU | 35-21 CU | 28-20 CU | 35-20 CU | 30-24 CU |
| NCSU | 56-41 CU | 30-13 CU | 31-17 CU | 45-17 CU | 35-10 CU | 41-13 CU | 38-17 CU |
| FSU | 23-13 CU | 41-24 CU | 34-24 CU | 38-28 CU | 35-24 CU | 35-20 CU | 37-24 CU |
| Points | - | 11 | 9 | 15 | 13 | 15 | 11 |
* Points: 3 pts for best prediction of the week (tiebreaker is Clemson score), 1pt for picking the correct winner

Tags: Clemson Football
,
Wayne Gallman
,
Andre Ellington
,
Michael Palmer
,
Tajh Boyd
,
Adam Humphries
,
Ryan Norton
,
Sammy Watkins
,
Andy Teasdall
,
Deshaun Watson
,
Greg Huegel
,
Brent Venables