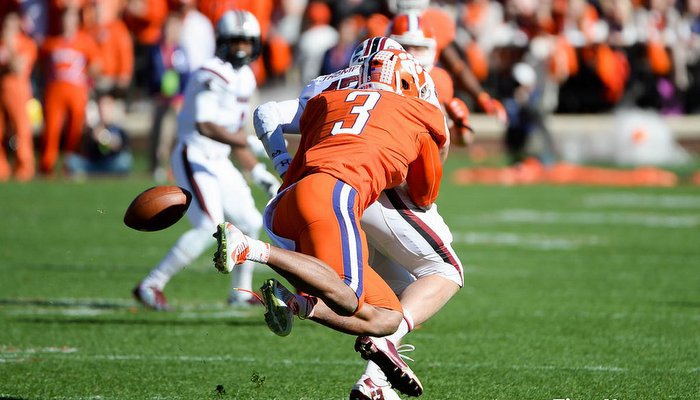 | | |
| --- | --- |
| Clemson vs. South Carolina Predictions: Recruits and former players speak out | |
---
| | | |
| --- | --- | --- |
| Friday, November 27, 2015, 11:26 AM | | |
No one knows the Clemson vs. South Carolina rivalry better than the football players who have taken snaps in the heated series, and with that in mind TigerNet reached out to former Clemson players, current recruits and even one head coach to get their take on this weekend's game.
Clemson and South Carolina kick it off for the 113th time in the rivalry Saturday at noon in Williams-Brice Stadium, with Clemson favored by 17 ½ points.
We'll start with the recruits and then go to the former players.
RECRUITS
*Diondre Overton, 2016 4-star wide receiver prospect, Greensboro (NC) Page – Clemson 43-21
*Nyles Pinckney, 2016 defensive tackle commit, Seabrook (SC) Whale Branch – Clemson 35-14
*Xavier Thomas, 2017 defensive end prospect, Florence (SC) West - "Clemson wins by over 30 points."
*Xavier Kelly, 2016 defensive end commit, Wichita (KS) East – "I predict Clemson winning 38-3. Watson is on fire and the defense will be too much for the Gamecocks!"
*Jamie Skalski, 2016 linebacker commit, Newnan (GA) Northgate – "I think Clemson 42-14."
*Sean Pollard, 2016 offensive line commit, Southern Pines (NC) – Clemson 31-14
*Cornell Powell, 2016 wide receiver commit, Greenville (NC) Rose – "Clemson will finish the regular season undefeated in convincing fashion and remain No. 1, winning 38-14."
*Tre Lamar, 2016 linebacker commit, Roswell (GA) – "I think Clemson will win 38-14."
*Baylon Spector, 2017 linebacker commit, Calhoun (GA) – "I think if we handle business early we shouldn't have a problem, but I say 35-14."
FORMER PLAYERS
*Marion Dukes - Clemson 28-10
*Reggie Merriweather - "I think a good score would be 55- 14 (Clemson). I think their offense will score, but it'll get ugly later on in the game."
*Yusef Kelly - Clemson 35-10
*Rashaad Jackson - Clemson 28-17
*Tye Hill - Clemson 42-14
*Rennie Moore - Clemson 45-0
*Michael Hamlin - "We are winning by 42."
*Tyler Shatley - "I'm thinking 31-10 Clemson."
*Chad Jasmin – Clemson 42-10.
*Levon Kirkland – "I think the Tigers are focused and know that Gamecocks will play hard. I think the Tigers will 35-7."
*Brandon Ford – "I think it's going to be 45-13, Clemson."
*David Beasley – "I predict Clemson to win 63 to maybe 17. If they (South Carolina) can even read that."
*Chris Chancellor –"I'm thinking Carolina will try to play this last game like no other. Trick plays, going for it on fourth down. Onside kicks and etc. Clemson will have to expect the unexpected. Carolina will play dirty being they have nothing to play for and Clemson has so much season left. If we stop Carolina top WR we will beat them pretty bad because they have no other weapons. On offense we must protect the ball because I'm pretty sure they are going to blitz and blitz and more blitz. I'm thinking Clemson will hit Carolina in the mouth early to silence the crowd who will try to affect the game. Final score 42-17 Clemson."
*Jock McKissic – Clemson 52-17.
*Airese Currie – Clemson 49-17.
*Chandler Catanzaro – "38-13, Go Tigers!"
*Spencer Shuey – Clemson 35-10
*Vic Beasley – Clemson 41-13
*Rashard Hall – Clemson 36-17
*Andre Ellington – Clemson 24-10
*Tyler Shatley – Clemson 31-10
*Sammy Watkins – "Clemson is going to kill them, of course."
*Bradley Pinion – "Clemson by at least 30."
*Quandon Christian – "Tigers come out firing on all cylinders and defense is very strong…38-10 Clemson wins."
*Roderick McDowell – Clemson 55-10
*Dalton Freeman – Clemson 34-20
*Robert Smith – Clemson 28-18
*Brandon Maye – Clemson 42-14
*Tony Steward – Clemson 28-10
*Brentson Buckner – Clemson 45-12
*Martin Jenkins – Clemson 45-10
*Adam Humphries – Clemson 45-17
HEAD BASEBALL COACH Monte Lee
"Clemson 35-14."

Tags: Clemson Football
,
Andre Ellington
,
Chris Chancellor
,
David Beasley
,
Vic Beasley
,
Quandon Christian
,
Chandler Catanzaro
,
Brandon Ford
,
Dalton Freeman
,
Rashard Hall
,
Martin Jenkins
,
Brandon Maye
,
Roderick McDowell
,
Tyler Shatley
,
Spencer Shuey
,
Adam Humphries
,
Robert Smith
,
Tony Steward
,
Levon Kirkland
,
Bradley Pinion
,
Sammy Watkins
,
Brentson Buckner
,
Monte Lee