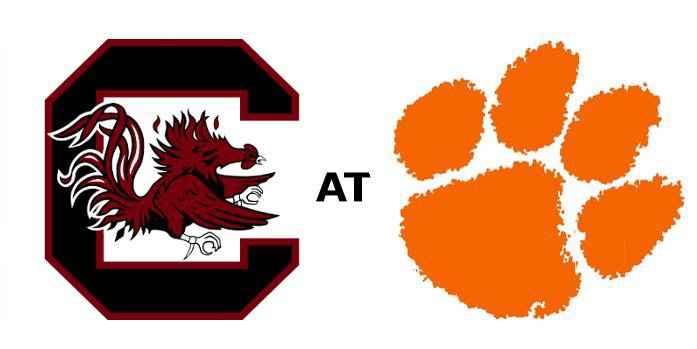 | | |
| --- | --- |
| Clemson vs. South Carolina prediction: State Championship on the line | |
---
| | | |
| --- | --- | --- |
| Friday, November 25, 2016, 12:48 PM | | |
Welcome to the state championship.
No. 4 Clemson plays host to arch-rival South Carolina Saturday evening in Death Valley. For the Gamecocks, who are already bowl eligible, it's about pulling the upset and winning bragging rights. For the Tigers, there is even more on the line. A loss to South Carolina crushes Clemson's College Football Playoff hopes.
This will be meeting number 114 between Clemson and South Carolina and the 108th consecutive year the two schools have met. That is the second-longest active streak of consecutive years played in a rivalry in the nation. The only rivalry longer is Minnesota vs. Wisconsin at 109 games. Those two teams also play on November 26.
The Clemson vs. South Carolina series dates to 1896 and the first year of football at Clemson, the fourth season for South Carolina. Clemson holds the advantage 67-42- 4 since that first meeting in Columbia, a game won by South Carolina, 12-6. Clemson's first win took place the following year, an 18-6 victory in Columbia.
SOUTH CAROLINA (6-5) AT NO. 4 CLEMSON (10-1)
WHEN: SATURDAY, NOVEMBER 26, 2016
WHERE: Memorial Stadium, Clemson, SC
Kickoff: 7:35 p.m. (possible 5 min slide)
TV: ESPN (Dave Pasch, Greg McElroy, Tom Luginbill)
CLEMSON RADIO NETWORK: (Don Munson, Rodney Williams, Michael Palmer)
Touchdown Radio: Taylor Zarzour, Gino Torretta
SERIES HISTORY
Overall: Clemson leads 67-42-4
at Clemson: Clemson leads 17-10-1
at Columbia: Clemson leads 50-32-3
First Meeting: USC 12-6 in 1896
Last Year: Clemson, 37-32, in Columbia
Last USC Win: 31-17 at USC, 2013
Last USC Win at Clemson: 27-17 in 2012
Current Streak: Clemson won 2 in row
SERIES NOTES
*Clemson has more wins (67) over South Carolina than any other school and those victories represent 9.4 percent of Clemson's all-time victory total (713). When Clemson won in 2004, it was Clemson's 600th all-time win.
*Clemson classes who have beaten South Carolina four consecutive years were the seniors of 1900, 1919, 1930, 1937, 1938, 1939, 1940, 1983, 1991, 2000 and 2005. In 2005, Charlie Whitehurst became the only quarterback for either team in the series to start four victories.
*Twenty-nine is an unusual number for a point total in football. Yet four times in the last 34 years the winner of the Clemson-South Carolina game has scored 29 points. That includes 2010 when South Carolina defeated Clemson 29-7. Clemson beat South Carolina by the same score in 2004. Clemson won 29-10 in 1988 and 29-13 in 1981.
*Willie Underwood had two interceptions to lead Clemson to victory over South Carolina in 1980. A starter for four years, the strong safety never had recorded an interception in any of his first 46 games as a Tiger, then had two against the Gamecocks in his 47th and final game. One of the thefts was a 37-yard return for a touchdown, the only touchdown of his career.
*In the 30 games that Frank Howard coached for Clemson against South Carolina, Clemson scored 411 points, and South Carolina scored 411 points.
WHEN SOUTH CAROLINA HAS THE BALL
Quarterback Jake Bentley helped turn around South Carolina's season. In five games, Bentley has completed 66 percent of his throws with six touchdowns and just one interception. But the Gamecocks' offensive staff has not asked him to do a lot, and many of his throws are either short or check-downs. He's also only played against one defense with any kind of pulse, and that was Florida. Against the Gators, he finished 18 of 33 with no touchdowns and one interception as he was sacked five times.
He has a solid running game with Rico Dowdle, who has 116 carries for 684 yards, an average of 5.90 yards per carry. Perhaps the best matchup South Carolina has against the Clemson defense is at tight end – the Tigers have had all kinds of issues covering the tight ends and the Gamecocks have two solid ones in Hayden Hurst (39 catches for 504 yards) and K.C. Crosby (21-197). The outstanding duo is second and fourth on the team in receiving.
But this matchup comes down to the Gamecock offensive line against Clemson's defensive line, and that isn't a fair fight. Clemson is third nationally in tackles for loss and fourth in sacks, while the Gamecocks are 114th nationally in sacks allowed and 121st nationally in tackles for loss allowed at almost eight per game. ADVANTAGE: CLEMSON.
WHEN CLEMSON HAS THE BALL
The Gamecock defense is led by junior linebacker Bryson Allen-Williams. He is their top tackler with 61, including eight tackles for loss, while D.J. Smith has 60. Darius English leads the team in tackles for loss with 11.5, including nine sacks. He has nine of the 20 South Carolina sacks. T.J. Holloman is another outstanding player with 59 tackles and three interceptions.
But this is a rather pedestrian South Carolina defense. They are 17th nationally against the pass – two spots below Clemson – but are 86th against the run in giving up 195 yards per game on the ground. They also haven't faced an offense with the types of playmakers the Tigers can bring to the table. This should be an easy call for Tony Elliott and Jeff Scott – run the football with Wayne Gallman, run the jet sweep for effect, bring in Tavien Feaster as a change-up. Promise Gallman, who had 161 yards last week against Wake Forest, that he will keep getting the ball until the Gamecocks load the box.
Another key for Clemson is turnovers – the Gamecocks have been excellent at creating turnovers this season while Clemson has been really good at turning the ball over and keeping the lesser opposition in ballgames. Run the ball. Protect the ball. Easy, right? ADVANTAGE: CLEMSON
SPECIAL TEAMS
Both teams have good kickers in Elliott Fry (12 of 16) and Greg Huegel (13 of 16). Punter Sean Kelly of South Carolina has averaged 42.37 yards per punt, while Clemson's Andy Teasdall is just over 38 yards per kick. A.J. Turner and Deebo Samuel are dangerous return men for the Gamecocks, but except for one or two plays the Tigers have been excellent in kick coverage. I expect Artavis Scott to return punts for the Tigers Saturday after Ray-Ray McCloud's issues last week at Wake. One difference is that Clemson has blocked four kicks this season, and special teams have played an important role in this rivalry. Can it happen again? ADVANTAGE: SLIGHT TO CLEMSON
WHAT WILL HAPPEN
South Carolina knows it has nothing to lose Saturday, and if the Tigers were playing against a coaching staff with a little more imagination it could be worrisome (see Pitt). The Gamecocks will try and control the clock with the running game, throw short to keep drives alive and then use play-action to go deep. It's what offensive coordinator Kurt Roper does. It's also why this offense doesn't score a ton of points, and that won't work against Clemson. Emotion keeps the Gamecocks in the game for a bit, but this Clemson offense is hitting its stride, and that isn't good news for a Gamecock defense that has to have its best game of the season. Gallman and Deshaun Watson roll, the defense hits Bentley enough to keep the Gamecock offense in check and the Tigers win number 11.
FINAL SCORE: CLEMSON 38, SOUTH CAROLINA 13
---
GUEST PREDICTIONS
---
Mickey Plyler - 6-9 AM on WCCP 105.5FM - 41-17 Clemson
Tony Crumpton - Associate Editor - 63-17 Clemson
Nikki Hood - Staff writer - 42-14 Clemson
Lawton Swann - 6-8 PM on Fox Sports Radio 1400 and iHeart Radio - 45-20 Clemson
Tom Meares - Staff writer - 52-13 Clemson
Pigskin Prophet - 49-17 Clemson
| Game | Actual | David Hood | Mickey Plyler | Tony Crumpton | Nikki Hood | Lawton Swann | Tom Meares | Pigskin Prophet |
| --- | --- | --- | --- | --- | --- | --- | --- | --- |
| Auburn | 19-13 CU | 37-20 CU | 31-17 CU | 31-21 CU | 35-24 CU | 38-17 CU | 38-13 CU | 44-17 CU |
| Troy | 30-24 CU | 47-13 CU | 41-17 CU | 44-10 CU | 51-17 CU | 45-14 CU | 55-10 CU | 55-13 CU |
| SCST | 59-0 CU | 52-10 CU | 48-0 CU | 45-10 CU | 49-3 CU | 52-10 CU | 48-10 CU | 55-13 CU |
| GT | 26-7 CU | 28-17 CU | 34-24 CU | 31-21 CU | 31-17 CU | 34-22 CU | 38-24 CU | 27-24 CU |
| LOU | 42-36 CU | 31-27 CU | 31-30 CU | 27-24 CU | 35-30 CU | 38-34 CU | 41-38 CU | 34-27 CU |
| BC | 56-10 CU | 30-14 CU | 31-14 CU | 35-21 CU | 38-10 CU | 34-10 CU | 38-13 CU | 27-9 CU |
| NCSU | 24-17 CU | 27-17 CU | 41-17 CU | 45-20 CU | 56-24 CU | 40-17 CU | 52-10 CU | 42-20 CU |
| FSU | 37-34 CU | 28-24 CU | 34-24 CU | 31-27 CU | 40-27 CU | 34-24 CU | 30-24 CU | 30-20 CU |
| Syr | 54-0 CU | 44-17 CU | 48-24 CU | 48-21 CU | 40-17 CU | 45-17 CU | 52-10 CU | 47-20 CU |
| Pitt | 43-42 PT | 48-20 CU | 38-17 CU | 45-21 CU | 48-17 CU | 42-13 CU | 42-13 CU | 42-22 CU |
| Wake | 35-13 CU | 34-13 CU | 31-17 CU | 42-21 CU | 38-17 CU | 48-19 CU | 38-21 CU | 44-20 CU |
| SC | 56-17 CU | 38-13 CU | 41-17 CU | 63-17 CU | 42-14 CU | 45-20 CU | 52-13 CU | 49-17 CU |
| Points | - | 17 | 17 | 11 | 15 | 11 | 17 | 11 |
* Points: 3 pts for best prediction of the week (tiebreaker is Clemson score), 1pt for picking the correct winner

Tags: Clemson Football
,
Michael Palmer
,
Charlie Whitehurst
,
Wayne Gallman
,
Andy Teasdall
,
Deshaun Watson
,
Artavis Scott
,
Ray-Ray McCloud
,
Greg Huegel
,
Tavien Feaster
,
Tony Elliott
,
Jeff Scott