| | |
| --- | --- |
| Clemson vs South Carolina prediction | |
---
| | | |
| --- | --- | --- |
| Friday, November 28, 2014, 5:09 PM | | |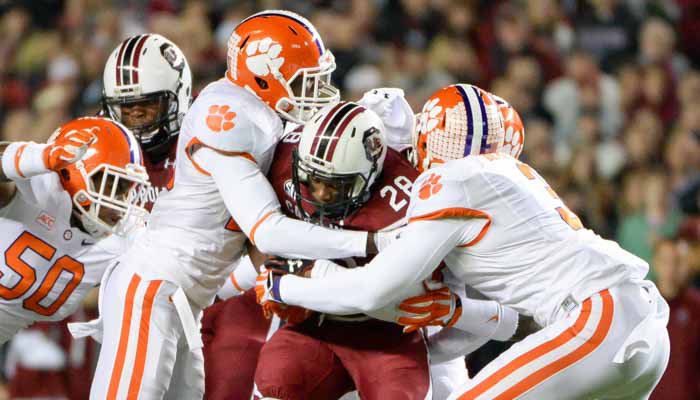 Saturday's game between Clemson and South Carolina is about more than the rivalry itself. The Gamecocks have fashioned a five-game winning streak in the rivalry, and while that isn't that big of deal when you consider the entire scope of the rivalry the five wins have come with the explosion of social media.
As a result, what used to be talk around the water cooler on Monday turned into trash talk on Facecbook, Twitter, Instagram and on the message boards of websites that cover the respective schools.
Clemson fans want the streak to end. South Carolina wants six in a row. What will happen in the 112th meeting between the two teams?
SOUTH CAROLINA AT CLEMSON
WHAT: South Carolina (6-5) at Clemson (8-3)
WHERE: Clemson Memorial Stadium – Clemson, SC (81500)
WHEN: Saturday, November 29th, Noon
SPREAD: Clemson by 4.5
TV: ESPN (Steve Levy, Kelly Stouffer, Dawn Davenport)
WHY SOUTH CAROLINA MIGHT WIN
*That offense can score on anybody when they are on……Dylan Thompson has completed 60.1 percent of his passes this season (227-for-378) for 3,031 yards with 23 touchdowns and 11 interceptions. He ranks first in the SEC and 17th in the country in passing yards per game (275.5), is third in the SEC and 30th in the country in total offense per game (272.6), and his 23 TD passes ranks first in the SEC and 23rd in the country. Running back Mike Davis needs 112 yards to gain a thousand this season, and wide receiver Pharoh Cooper is the Gamecocks' top pass catcher with 58 receptions (5.3/game, third in the SEC), for 921 receiving yards 83.7/game,
second in the SEC) and eight TDs. Cooper could be the wild card Saturday – he lines up in the wildcat and can throw or run the football out of that formation. When this group clicks, they are dangerous.
*All the pressure is on Clemson……….the Gamecocks aren't playing for a lofty national ranking or a big bowl game. They've won five in a row in the series, and there is no pressure in losing one this season. With nothing to lose this group can come out and play loose and fast – like they did at Auburn a few weeks back – and go for it on every fourth down and run every trick play in the book. Clemson head coach Dabo Swinney

Dabo Swinney
Head Coach
View Full Profile made a big deal out of this game by installing countdown clocks in the meeting rooms – if the Tigers win he looks like a genius. But until the Tigers win it smacks of desperation.
*Clemson is favored at home………Clemson has been favored to win the last two times the Gamecocks made the trip to Death Valley, and lost both of those games. The Tigers were favored by one point in 2010 at Clemson and South Carolina won 29-7. The Tigers were favored by three points in 2012 at Clemson and South Carolina won 27-17.That is a further example of South Carolina being in the heads of the Tigers – Vegas has thought the Tigers were the better team and Clemson still managed to turn it over and beat themselves.
WHY CLEMSON MIGHT WIN
*Throw out the record books? While there have been some upsets in this series, usually the team with the better record comes away with the victory. The team entering the game with the better overall record has a 19-9-1 record in the series since 1981. That computes to 67 percent over a 33-year period. Four times during that era both teams had the same record.
*That Clemson defense we talk about every week? It's still pretty dang good….Clemson is ranked number-one in the nation in total defense, allowing just 252.5 yards per game. Clemson also leads the nation in third-down conversion defense, allowing opponents to convert just .271 of the opportunities. Clemson also paces the country in tackles for loss per game at 9.9. Clemson led the nation in that category last year with 10 per game. Clemson ranks in the top 10 in the county in rushing defense, passing defense and scoring defense as well. The Tigers are limiting opponents to just 151.5 yards per game through the air, second in the nation, and allowing just 100.8 yards per game on the ground, seventh best nationally. The Tigers are allowing just 17.6 points per game, eighth best in the country.
How about these numbers? Clemson's defense at home is stingy – visitors have scored a grand total of seven touchdowns in Death Valley this season, and five came against North Carolina. The other two came against Louisville. That means four different teams – Syracuse, NC State, Georgia St. and SC State – all failed to score a touchdown against that defense. Those numbers are unreal.
*Clemson is the better team, and it's time....Clemson coaches have felt like they had the better team each of the last two seasons and lost. They once again feel like they have the better team – maybe better program would be a better comparison – and have put a lot of focus into this game. I've heard through the grapevine that even the players have been "more engaged" than normal. The Tigers beat themselves with turnovers each of the past two seasons, and didn't get a great effort out of their quarterback in either game. Can that trend be reversed?
WHAT WILL HAPPEN
I am not sure South Carolina can score at will on Clemson's defense. The success they've had this season through the air is based on the success they have on the ground with Davis and Brandon Wilds. Once teams start peeking into the backfield Cooper or Byrd get loose behind the secondary. Clemson won't let South Carolina run at will – nobody has really run the ball against Clemson since the opener at Georgia, and South Carolina's running attack isn't nearly as stout as the Bulldogs. That means the Gamecocks will have to throw to score points, and that means Clemson can turn Vic Beasley

Vic Beasley
RS Sr. Defensive End
#3 6-2, 236
Adairsville, GA
View Full Profile and Grady Jarrett

Grady Jarrett
Sr. Defensive Tackle
#50 6-1, 290
Conyers, GA
View Full Profile and Corey Crawford

Corey Crawford
Sr. Defensive End
#93 6-5, 276
Columbus, GA
View Full Profile and company loose. The Gamecocks will score points – they're too talented to keep off the board – but points will be at a premium.
For Clemson, the big question has been whether freshman quarterback Deshaun Watson

Deshaun Watson
Fr. Quarterback
#4 6-3, 204
Gainesville, GA
View Full Profile will play. He will play. How much and for how long? That remains to be seen, but whether it's Watson or Cole Stoudt

Cole Stoudt
Sr. Quarterback
#18 6-4, 231
Dublin, OH
View Full Profile at quarterback Clemson's game plan needs to be to run the football. South Carolina's run defense is pitiful – they've given up 213 yards per game on the ground this season, and opponents are averaging 5.41 yards per carry. That's atrocious. Even if Watson is healthy, the Tigers need to let Tyhson Dye and Wayne Gallman

Wayne Gallman
RS Fr. Running Back
#9 6-1, 209
Loganville, GA
View Full Profile carry the load on the ground. Chad Morris

Chad Morris
Offensive Coordinator / QBs
View Full Profile needs to stick to the game plan – no trick plays – and not get desperate if things aren't working early. The game film says the teams that have beaten South Carolina have stuck with the run game and won games late.
So how does this one shake out? Clemson's defense plays really well, and Watson helps Clemson's offense score early. But I'm not convinced Watson can go the whole game, and that doesn't bode well for Clemson scoring points. I'm a big fan of history, and unfortunately history tells me that Clemson will get out-coached – at least offensively – and will commit a turnover or two that will give the Gamecocks life. Can Clemson survive? With this defense, yes.
CLEMSON 20, SOUTH CAROLINA 17
---
GUEST PREDICTIONS
---
Mickey Plyler
- 6AM-9AM EST on WCCP 105.5FM -
31-17 Clemson

Tony Crumpton - TigerNet's Associate Editor - 27-24 Clemson

Nikki Steele - TigerNet Writer - 21-10 Clemson

Lawton Swann - Clemson Sports Talk / TigerNet Talk - 34-27 Clemson

Pigskin Prophet - 24-20 Clemson

Dutch Coleman - 9AM-12PM EST on WCCP 105.5FM - 24-20 Clemson
| Game | Actual | David Hood | Mickey Plyler | Tony Crumpton | Nikki Steele | Lawton Swann | Pigskin Prophet | Dutch Coleman |
| --- | --- | --- | --- | --- | --- | --- | --- | --- |
| UGA | 45-21 UGA | 27-24 CU | 27-23 CU | 28-27 CU | 24-21 UGA | 31-23 CU | 23-16 CU | 31-20 CU |
| SC St | 73-7 CU | 44-10 CU | 45-10 CU | 49-13 CU | 52-10 CU | 43-7 CU | 44-10 CU | 52-13 CU |
| FSU | 23-17 FSU | 27-23 FSU | 31-23 FSU | 31-21 FSU | 30-24 FSU | 35-31 CU | 31-28 CU | 27-24 CU |
| UNC | 50-35 CU | 45-17 CU | 48-20 CU | 42-24 CU | 42-17 CU | 51-27 CU | 41-21 CU | 49-17 CU |
| NCSU | 41-0 CU | 37-23 CU | 41-27 CU | 48-25 CU | 42-28 CU | 42-27 CU | 38-28 CU | 42-21 CU |
| LOU | 23-17 CU | 37-20 CU | 31-17 CU | 35-17 CU | 38-14 CU | 45-18 CU | 27-17 CU | 38-17 CU |
| BC | 17-13 CU | 27-21 CU | 24-23 CU | 24-17 CU | 28-10 CU | 34-20 CU | 27-23 CU | 24-20 CU |
| SYR | 16-6 CU | 27-10 CU | 31-13 CU | 34-14 CU | 30-7 CU | 34-13 CU | 30-13 CU | 31-9 CU |
| WF | 34-20 CU | 27-6 CU | 31-10 CU | 34-10 CU | 30-3 CU | 31-0 CU | 27-3 CU | 31-3 CU |
| GT | 28-6 GT | 30-23 CU | 38-27 CU | 28-21 CU | 35-24 CU | 30-21 CU | 33-24 CU | 38-20 CU |
| GA ST | 28-0 GT | 37-3 | 38-6 CU | 42-9 CU | 42-3 CU | 41-3 CU | 40-9 CU | 33-0 CU |
| Points | - | 13 | 9 | 13 | 14 | 10 | 10 | 12 |
* Points: 3 pts for best prediction of the week (tiebreaker is Clemson score), 1pt for picking the correct winner