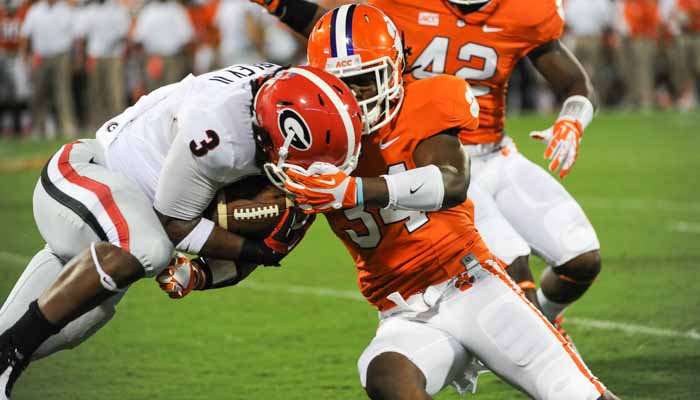 | | |
| --- | --- |
| Clemson vs. Georgia prediction | |
---
| | | |
| --- | --- | --- |
| Friday, August 29, 2014, 2:40 PM | | |
No more talk, no more guessing, no more chest-thumping and message board bad boys. It's time to play the game.
The Tigers and Bulldogs face off Saturday at Sanford Stadium in Athens, with bragging rights and recruiting on the line. The pundits and Las Vegas have the Bulldogs as the favorite despite Clemson's 38-35 win last season, and the general consensus around the country is that Georgia's running game and the addition of defensive coordinator Jeremy Pruitt will be too much for Clemson to handle..
My guess is they've never heard of Grady Jarrett

Grady Jarrett
Sr. Defensive Tackle
#50 6-1, 290
Conyers, GA
View Full Profile .
This one, however, should be fun to watch.
WHAT: No. 16 Clemson at No. 12 Georgia
WHERE: Sanford Stadium (92,746)
WHEN: Saturday, August 30 (5:37 p.m.)
SPREAD: Georgia by 7.5
TV:ESPN (Brad Nessler, Todd Blackledge)
THE BREAKDOWN
WHY GEORGIA MIGHT WIN THE GAME
*Home field advantage and special teams -One of the big advantages I gave Clemson last year was the Death Valley factor, and there was no doubt that Clemson's crowd made a difference, especially when Clemson was on defense. The reverse could be true Saturday, and with 92,000 fans screaming for revenge it could make it difficult for a lot of the young players on Clemson's offense. I also liked the fact that Clemson had Chandler Catanzaro

Chandler Catanzaro
Punter / Kicker (2009 - 2013)
#39 6-2, 195
Greenville, SC
View Full Profile on the sideline, a kicker you trusted to make the big kick. He's been there, done it and was almost automatic. This year, that's on the side of the Bulldogs with Marshall Morgan – if you had to have a kick late in the game, do you trust the experienced foot or the guy who has never done it under the big lights on the collegiate level?
*Pruitt's blitzes against Clemson's offensive line -I looked over Clemson's roster a little over a week ago, and saw three true tackles listed – Isaiah Battle

Isaiah Battle
Jr. Offensive Tackle
#79 6-7, 285
Brooklyn, NY
View Full Profile , Joe Gore

Joe Gore
RS Jr. Offensive Tackle
#73 6-5, 283
Lake Waccamaw, NC
View Full Profile and Shaq Anthony

Shaq Anthony
RS Jr. Offensive Tackle
#76 6-4, 276
Williamston, SC
View Full Profile . Anthony was already out for this game but has also transferred, and the Tigers might be having to mix and match if an injury occurs. Battle has seen game action, but Gore has played just 124 snaps over his career, and he will be responsible for picking up blitzers off the edge and containing the packages that Pruitt can throw at you. The Tigers will also have a new starter – either Eric Mac Lain

Eric Mac Lain
RS Jr. Offensive Tackle
#78 6-4, 306
Hope Mills, NC
View Full Profile or Reid Webster

Reid Webster
RS Sr. Offensive Tackle
#77 6-3, 300
Woodstock, GA
View Full Profile – at left guard. Clemson's offensive line is an unknown at this point, against a defensive coordinator who likes to confuse, that isn't a good recipe for success.
WHY CLEMSON MIGHT WIN THE GAME
Defense -Todd Gurley and Keith Marshall get a lot of praise and it's well-deserved. Gurley is probably the best running back in the country, and in my conversations with Clemson's defenders this week they all said that Gurley is an absolute load to bring down. However, Clemson's front seven has the potential to be nasty this year, and after the first quarter of last year's game the Tiger defensive line harassed Murray and affected Georgia's playcalling. They are all back, and Clemson has the added advantage of Tavaris Barnes

Tavaris Barnes
RS Sr. Defensive End
#9 6-4, 273
Jacksonville, FL
View Full Profile and Shaq Lawson

Shaq Lawson
So. Defensive End
#90 6-3, 269
Central, SC
View Full Profile lining up on the opposite side of Vic Beasley

Vic Beasley
RS Sr. Defensive End
#3 6-2, 236
Adairsville, GA
View Full Profile . If that isn't enough, Grady Jarrett just might be the best defensive tackle nobody has heard about – South Carolina and Ohio St. still haven't blocked him – and he has help in DeShawn Williams

DeShawn Williams
Sr. Defensive Tackle
#99 6-1, 292
Central, SC
View Full Profile , Josh Watson

Josh Watson
RS Sr. Defensive Tackle
#91 6-4, 292
Wilmington, DE
View Full Profile , D.J. Reader
D.J. Reader
Jr. Defensive Tackle
#48 6-2, 322
Greensboro, NC
View Full Profile , Carlos Watkins

Carlos Watkins
RS So. Defensive Tackle
#94 6-3, 294
Mooresboro, NC
View Full Profile , etc. Linebacker Stephone Anthony

Stephone Anthony
Sr. Linebacker
#42 6-2, 244
Polkton, NC
View Full Profile will be regarded as one of the nation's best by mid-season, and Clemson won't see a drop-off at the WILL with Tony Steward

Tony Steward
Sr. Linebacker
#7 6-1, 236
Hastings, FL
View Full Profile . Add in the talented youngsters on the back end, and Brent Venables

Brent Venables
Def. Coordinator / Linebackers
View Full Profile has a lot of dangerous weapons to play with. This might be the matchup that decides the game – if this group contains Gurley and Marshall enough to force quarterback Hutson Mason to throw, Venables will let his own dogs loose.
Cole Stoudt

Cole Stoudt
Sr. Quarterback
#18 6-4, 231
Dublin, OH
View Full Profile is the perfect player for this game -I had more than one offensive player tell me this week that quarterback Cole Stoudt is the perfect player for this type of game – making his first start on the road with a bevy of new faces. Stoudt is unflappable, and while you probably won't see him talking trash to the opposition or doing sideline dances, it also means you won't see him disintegrate after a mistake. Former quarterback Tajh Boyd

Tajh Boyd
Quarterback (2009 - 2013)
#10 6-1, 225
Hampton, VA
View Full Profile set every record in the book, but there were times when he would let the game cause him to lose focus. From everything we've heard, you won't see that with Stoudt. He will simply move on to the next play. He also won't try to make every throw down the field – he will go through his progressions and hit the check downs when necessary. There might be fewer big plays with Stoudt, but there might be longer drives. I will take the tradeoff.
Tight end Jordan Leggett

Jordan Leggett
So. Tight End
#16 6-5, 251
Navarre, FL
View Full Profile and company -All of the talk has been about replacing Sammy Watkins

Sammy Watkins
Wide Receiver (2011 - 2013)
#2 6-1, 205
Fort Myers, FL
View Full Profile and Martavis Bryant

Martavis Bryant
Wide Receiver (2011 - 2013)
#1 6-5, 200
Calhoun Falls, SC
View Full Profile and the playmakers in the wide receiver corps. I think Chad Morris

Chad Morris
Offensive Coordinator / QBs
View Full Profile overcomes those losses by making the tight end more of a weapon, and I'm not sure Georgia has a player that can cover Jordan Leggett. Less throws to the wideouts, more to the middle and perimeter with this matchup nightmare. And Stoudt is the perfect delivery system.
WHAT WILL HAPPEN
This one will be closer than the pundits think. I did a guest radio spot for an Atlanta radio show Thursday night, and their host was of the opinion that Georgia wins by three touchdowns. Scout says Georgia 34, Clemson 17. I read that and I think that certain SEC schools get 20 points for the conference affiliation and people don't actually look at the match-ups on the field. Quarterback is a push to me, running backs favor Georgia, receivers favor Clemson because of the tight ends and Georgia might have a slight edge on the offensive line. Defensive line favors Clemson, linebackers are push, secondary favors Clemson, special teams slight edge to Georgia.
This one – like all of the Clemson games in the past few years – will come down to turnovers. When the Tigers turn the ball over, they lose. When they protect the ball, they win. Plain and simple. Clemson's defense forces big turnovers on the Dawgs, and Stoudt does enough to manage the game. Just like Thursday night, the experts are wrong in picking the home team.
FINAL SCORE: CLEMSON 27, GEORGIA 24
---
GUEST PREDICTIONS
---
Mickey Plyler
- 6AM-9AM EST on WCCP 105.5FM -
27-23 Clemson
Dutch Coleman - 9AM-12PM EST on WCCP 105.5FM - 31-20 Clemson
Nikki Steele - TigerNet Writer - 24-21 Georgia
Tony Crumpton - TigerNet's Associate Editor - 28-27 Clemson
Lawton Swann - Clemson Sports Talk / TigerNet Talk - 31-23 Clemson
Pigskin Prophet - 23-16 Clemson

Tags: Clemson Football
,
Shaq Anthony
,
Tavaris Barnes
,
Vic Beasley
,
Tajh Boyd
,
Chandler Catanzaro
,
Josh Watson
,
Reid Webster
,
Joe Gore
,
Grady Jarrett
,
Eric Mac Lain
,
DeShawn Williams
,
Tony Steward
,
Stephone Anthony
,
Martavis Bryant
,
Cole Stoudt
,
Isaiah Battle
,
Carlos Watkins
,
Shaq Lawson
,
D.J. Reader
,
Sammy Watkins
,
Jordan Leggett
,
Chad Morris
,
Brent Venables