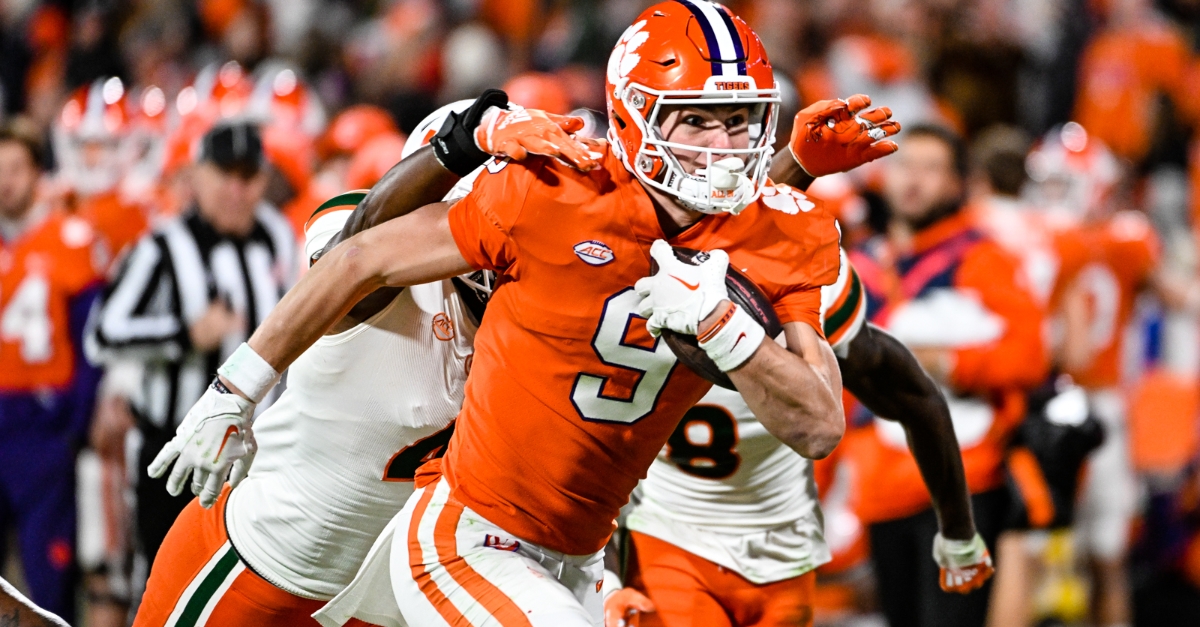 | | |
| --- | --- |
| Clemson tight ends move into new era without Davis Allen, with Garrett Riley | |
---
| | | |
| --- | --- | --- |
| Sunday, January 22, 2023, 7:00 AM | | |
The world of tight end at Clemson now belongs to Jake Briningstool and Sage Ennis, with Josh Sapp knocking on the door.
Gone is Davis Allen, who will get a chance at the next level, and his 88 career receptions. A career-high 39 of those receptions came last year, and 67 of those occurred over the last two seasons. An excellent receiver and blocker, Allen will be missed.
But it opens the door for Briningstool, who is also an excellent receiver.
Standing in at 6-6 and 230 pounds, Briningstool is comfortable lining up at both tight end and receiver and his height and stride cause matchup problems on either slower linebackers or outsized safeties. In new offensive coordinator Garrett Riley's system, the tight end wasn't used as a receiver as much as it was a blocker (TCU tight ends caught just 35 passes last season, four less than Allen by himself), so it will be interesting to see how Riley uses Briningstool.
Briningstool accrued 285 yards and four touchdowns on 25 receptions in 392 offensive snaps over 14 games (one start) last season. He was one half (along with Allen) of the first tight end duo in Clemson history to each record four touchdown receptions in a single season. For his career, Briningstool has caught 28 career passes for 352 yards and five touchdowns in 494 offensive snaps over 22 career games (one start).
Following Briningstool is Ennis, who is a solid 6-foot-4 and 235 pounds. Ennis is more than interesting to me – he is starting his fourth season with the Tigers but enters 2023 having caught just three passes for 25 yards in 278 offensive snaps over 31 games (one start) since 2020. However, he is a better-than-average blocker and I heard that his receiving skills took an upturn last season under Kyle Richardson. His issue is that he has missed a little time with injury, but he's simply been behind some older players and the talented Briningstool.
Ennis is one of those guys that could – and should – take a major step forward next season once he gets a consistent chance to play.
That brings us to Sapp, the son of Clemson's Patrick Sapp. Sapp played five offensive snaps over two games while redshirting last season. He made his collegiate debut vs. Louisiana Tech and also saw action in the ACC Championship Game vs. No. 24 North Carolina.
In talking to the people around the Greenville High School program recently – mostly about new Clemson signee and wide receiver Tyler Brown – I heard more than once that Sapp was simply someone who was overlooked because of his Clemson connection. He helped Greenville High to a 10-3 record and the final four of state playoffs, Greenville High's first appearance in the Upper State title game, and was a Shrine Bowl selection for South Carolina.
Sapp had a productive career at Greenville High, including a senior year when he had 50 receptions for 836 yards and 10 touchdowns and averaged 16.7 yards per catch. He also added six rushing touchdowns for a total of 16 touchdowns for the year and finished with 87 career receptions for 1,331 yards and 11 touchdowns, a 15.3 per reception average.
Most of the time, those types of numbers lead to big-time status (Briningstool had 39 receptions his senior season). It will be interesting to follow his development, but so far we've only heard good things.
Arriving over the summer are 2023 signees Olsen Patt Henry and Markus Dixon.