| | |
| --- | --- |
| Clemson preseason practice report: Day 6 | |
---
| | | |
| --- | --- | --- |
| Thursday, August 9, 2012, 9:32 PM | | |
CLEMSON – The news concerning right tackle Gifford Timothy
Gifford Timothy
RS So. Offensive Tackle
#70 6-6, 315
Middletown, DE
View Full Profile wasn't as bad as it could have been, but Timothy will be out for at least a little while.
Clemson head coach Dabo Swinney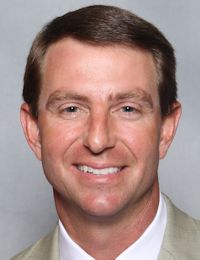 Dabo Swinney
Head Coach
View Full Profile told the media following Thursday's practice that Timothy has a torn meniscus in his left knee, and will have surgery Friday morning. Timothy suffered the injury when another player rolled up on his leg late in Wednesday's practice session.
Swinney that Timothy will have his knee scoped on Friday, and the team will re-evaluate him in three or four days to determine his status. At that point, we should know a little more about whether he will be ready to play against Auburn in three weeks.
"It wasn't the PCL or the ACL. I'm not doctor, but that sounds good to me," Swinney said. "He had a little bit of a meniscus. They'll do something called a lateral release, from the other side. It ooks good. For a hurt knee, it's a good prognosis."
In the meantime, Joe Gore
Joe Gore
RS So. Offensive Line
#73 6-6, 260
Lake Waccamaw, NC
View Full Profile will see a lot of practice snaps at right tackle, and Swinney said that center Dalton Freeman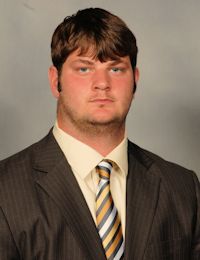 Dalton Freeman
RS Sr. Offensive Line
#55 6-5, 285
Pelion, SC
View Full Profile could even take snaps at the position. Swinney mentioned that Ryan Norton
Ryan Norton
RS So. Offensive Line
#58 6-3, 265
Mauldin, SC
View Full Profile has been getting a ton of snaps at center during practice, with freshman Jay Guillermo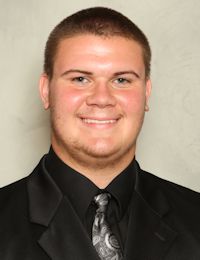 Jay Guillermo
Fr. Offensive Line
#57 6-2, 285
Maryville, TN
View Full Profile also getting into the mix.
* Jerome Maybank
Jerome Maybank
RS So. Defensive Tackle
#96 6-4, 345
Pawleys Island, SC
View Full Profile has moved from the defensive line to the offensive line. The Pawleys Island (SC) Waccamaw product was an all-state selection as an offensive lineman in high school, and Swinney said Maybank will get a look at both guard and tackle.
"I think that's a good move for him and a good move for us, long-term," Swinney said. "Obviously, he's behind, but in evaluating our personnel and everybody we have, you're always trying to get everybody in the right seat on the bus."
*Rains continue to hamper Clemson's practice schedule – the campus sirens sounded during the stretch session, prompting the team to move into the indoor track facility because of lightning. The team remained indoors for the remainder of practice.
Swinney said that hampers the team being able to use full-contact drills, something not allowed on that surface.
"What you lose is that little bit of that physical, smash mouth, live contact out there on the field," Swinney said. "We give that up, but we're able to stay on the course, from a teaching standpoint. There's nothing that we weren't able to install. We just weren't able to go live for a couple of our practice segments."
*Swinney mentioned the lack of cooperation from the weather, and then said that the new indoor practice facility should be named for outgoing athletic director Terry Don Phillips.
"I am happy for him and his wife Trish," Swinney said. "They will have an opportunity to do some things they have never been able to do. We talked about it a couple of times and he is at peace with the decision. I just love him. He is a great man, who is a man with class, integrity and he has vision. He is a man with some gut…. he had the guts to hire me four years ago for this position. It was a special moment last year when I was able to hand him that ACC Championship trophy in Charlotte.
"What he has done with the facilities in all our sports has been incredible. He has given us a chance to compete at the highest level and has changed the playing field here. We just moved into a new dining facility in the West Endzone and next year at this time we will be in a new Indoor Practice Facility. They ought to name it after him."
*We will have interviews later with several of the players, but I did get a few moments with defensive tackle Grady Jarrett
Grady Jarrett
So. Defensive Tackle
#50 6-0, 290
Conyers, GA
View Full Profile . Jarrett said that coming in last season and trying to compete against bigger players is nothing new for him – he started playing football when he was five, but had to play with kids three and four years older because the players were grouped by size.
*Defensive tackle DeShawn Williams
DeShawn Williams
So. Defensive Tackle
#99 6-1, 290
Central, SC
View Full Profile said that he and Jarrett – who both might be around six feet tall – are part of the "Six-footers forever" club, and that the duo is proud of using their height, or lack thereof, as a way to get leverage on taller players.
Williams also said that the defensive tackles also have an advantage because line coach Dan Brooks is the only coach they have had in college. Williams credited Brooks with teaching him more about the game of football, gap control and how to study.