| | |
| --- | --- |
| Clemson coaches visit Rashan Gary: Can Tigers nail down official visit? | |
---
| | |
| --- | --- |
| Wednesday, January 20, 2016, 2:36 PM | |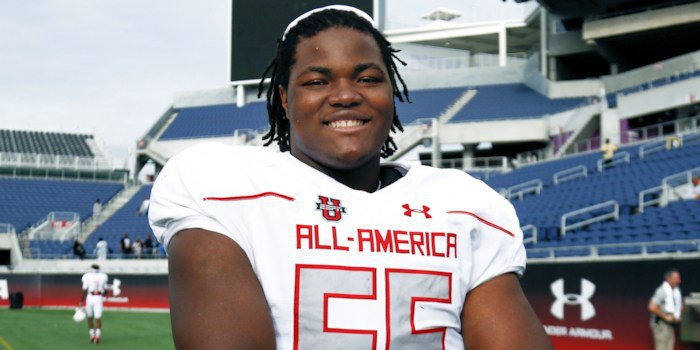 Members of Clemson's coaching staff conducted an in-home visit with the nation's top-rated defensive tackle and best player Tuesday night, and the visit made an impact. But was it enough to get a final visit from Gary later this month?
Rashan Gary is the 5-star defensive tackle out of Paramus (NJ) Paramus Catholic High School who is listed as the number one player regardless of position in the ESPN 300 and is rated as the number one player nationally by Rivals.
Defensive ends coach Marion Hobby, defensive coordinator Brent Venables and defensive tackles coach Dan Brooks were in New Jersey Tuesday night to speak with Gary and his mother, Jennifer Coney. Wednesday afternoon, Coney broke down the visit for TigerNet and talked about Clemson's chances of getting a final official visit in late January.
"I think all home visits are the same. They sit there and tell you the graduation rate - every college tells you they have the highest graduation rate. They tell you the need for Rashan because they have to emphasize how many people went to the NFL or are being drafted," Coney said. "We've been to Clemson. We were there over Easter weekend, so we didn't get the full Clemson because a lot of the kids weren't there. A lot of the staff had taken vacations. Coach Swinney wasn't even there. They Skyped him in. Going to Clemson last time was kind of like half of a visit. We've only got one more visit and we've narrowed it down to either Alabama or Clemson, and we'll figure that out this weekend."
Coney said she wanted Tuesday's visit to be about the football side of the school, not academics.
"I don't like it when football coaches tell me about academics. Tell me about football. I'll find out about academics on my own when I get there. I'll talk to the academic staff. I want to talk to a professor or two. Let me talk to your tutoring staff or your academic specialists," she said. "They can give me information that the football staff may have, but I like to get that on my own and ask my own questions directly. They basically talked about football and where they see Rashan playing - a dominant line with him and Dexter (Lawrence) and Christian (Wilkins). Shaq (linebacker Rahshaun Smith) is there and Dexter is there as early enrollees."
Clemson has remained a strong candidate for Smith's services because the Tigers have been there since the beginning.
"I think Clemson was a school that when this whole football thing started picking, Clemson was always a school of interest. My brother (who lives in nearby Anderson) always says great things about Clemson," Coney said. "My niece and nephew, even though they go to Anderson University, they're always on the Clemson campus. I always see pictures. My nephew is a graduate assistant coach at Anderson University and their athletic director used to be the assistant AD at Clemson. He works closely with my nephew. They went to Clemson and he takes pictures and talks about how great Clemson is, so it sparked my interest. I know my brother and my family wouldn't say great things if Clemson had a lot of issues. They would not do that. That right there sparked my interest. I just saw that it was so nice when we were there, but, again, there wasn't a lot of staff there. A lot of them came to the school because they knew we were coming on a visit. I'd like to see how it is."
TigerNet spoke with Gary earlier this month and he reiterated that Clemson is still among his top choices.
"That's a school that's in my top. I talk to Coach (Brent) Venables every chance I get," Gary said. "No doubt. Clemson is definitely in there. The way they play defense, and then I went down there for a non-official (visit) and I loved the family atmosphere. It was also the coaches' love for me. They care for me more as a student than as a player."
Gary said that he could see himself playing for Venables.
"That's a guy that's going to make you play better," Gary said of Venables. "He's going to try and get the best out of you. And (Dan Brooks), we had an in-home visit with him and I feel like we are building a great relationship with him. I feel really comfortable with him."
Many national recruiting analysts say Michigan is the team to beat for Gary's services, but Coney said all the schools are equal heading into the final days before National Signing Day.
"Is Michigan the team to beat? You can ask is Clemson the team to beat. You can ask is USC the team to beat. Right about now, we're all about equal," Coney said. "Ithink that maybe they say that Michigan is the team to beat because Rashan's former head coach is there. And? Why couldn't Clemson be the team to beat when my brother is 10 minutes down the road and I don't have to worry about anybody because I know Rashan would be okay at Clemson because if he wasn't okay my brother is 10 minutes down the road. Why wouldn't they say Clemson is the team to beat? I would say my brother has a stronger relationship with Rashan than his coach.
"I think it's what they want to think. Don't get me wrong, I loved Michigan. I actually did. I felt safe. I thought Rashan would be safe. The town of Ann Arbor is great. I met professors and I heard the academic plan for Rashan's success, so all things are great at Michigan. I haven't had that same opportunity at Clemson because when we went it wasn't a great time. I liked USC (Southern Cal) just as much as Michigan. At this point, there are no leaders. I love Michigan and I would not say that I didn't because I like the coaching staff. I like the situation. Rashan's friends are there - his good friends - and that may be a comfortability for Rashan, but I want Rashan to be comfortable and happy."
Coney then went on to say that the entire college experience is what she is looking for with her son.
"It's not all about football. For me, college is not all about football. College is not all about getting that degree," she said. "Going to college is going to set the pace and the tone for your life, so you better meet some great people. Those people you meet in college are going to be in your life for the rest of your life. When I went to school in the 80's, I'm still close friends with some of those people and we had great times there. I want Rashan to have that. It's not all football and academics and if it is that's not the school that Rashan is going to go to. He needs to be happy and have great memories. That's important for me and for Rahshan, too."
Now it comes down to Alabama and Clemson, with Alabama coaches in New Jersey for an in-home Wednesday night. Which team has the best shot?
"I would think Clemson has a better shot, but we'll see because Alabama is coming to the house tonight," Coney said.