| | |
| --- | --- |
| Clemson a top 15 recruiting mainstay? You bet. | |
---
| | | |
| --- | --- | --- |
| Saturday, February 16, 2013, 2:48 PM | | |
ESPN said last week that Clemson and head coach Dabo Swinney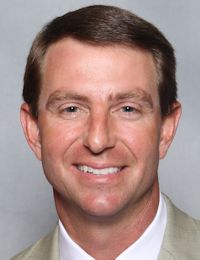 Dabo Swinney
Head Coach
View Full Profile have become fixtures in the Top 15 recruiting classes on National Signing Day each year, a trend that can and should continue as the coaches begin to build on a strong 2014 recruiting class.
Each of Swinney's five recruiting classes have been ranked in the top 20 by ESPN.com, including three consecutive top 13 rankings. The 2009 and 2010 classes ranked No. 19; the 2011 class ranked No. 8; the 2012 class ranked No. 10; and the recent 2013 class finished No. 13.
Clemson is one of ten that have been ranked in the top 20 of the ESPN.com recruiting rankings five years in a row, joining LSU, Alabama, Texas, USC, Florida, Georgia, Florida State, Ohio State and Oklahoma.
The Tigers already have five commitments for the 2014 recruiting cycle, and the recent Elite Junior Day featured 12 prospects that were either 4-stars or 5-stars, and next year's recruiting class has the potential to be Swinney's best.
A brief look at each position.
QB – The Tigers have DeShaun Watson
DeShaun Watson
Quarterback
6-3, 190
Gainesville, GA
View Full Profile already on board, and his meeting with Swinney at the end of Junior Day further solidified his status as a Tiger even though he hears from all of the big-name programs. Even better news for Clemson is that Watson is looked up to by many of the state of Georgia's top players, and he could lead a recruiting haul from the Peach St. As a junior Watson put up staggering numbers he hit on 305-of-434 passes for 4,011 yards, 50 touchdowns and eight interceptions. He also rushed for 1,430 yards and 24 touchdowns leading his team to the AAAAA State Championship.
RB – Clemson has had two 4-star backs pledged since last June – Daniel's Jae'lon Oglesby and Miami (FL) Central's Dalvin Cook
Dalvin Cook
Running Back
5-11, 190
Miami, FL
View Full Profile . Cook's junior highlight tape is eye-popping, and he has breakaway speed reminiscent of his idol, C.J. Spiller. Clemson is also in the running for Easley's C.J. Fuller
C.J. Fuller
Running Back
5-10, 180
Easley, SC
View Full Profile , Stanley Williams
Stanley Williams
Running Back
5-8, 185
Bethlehem, GA
View Full Profile , Myles Autry, Donte Thomas-Williams and Adam Choice. Clemson's coaches want to take only two running backs in this cycle, but all of the above have multi-position potential.
WR – Clemson lost Jaron Brown and Nuk Hopkins to graduation and the NFL since last season ended, and will likely lose Sammy Watkins after this season. That means the Clemson coaches could take as many as four wideouts this cycle. They have the lead for former FSU commit Jacob McCrary
Jacob McCrary
Wide Receiver
6-0, 182
Miami, FL
View Full Profile , and also lead with Watson's good friend, Demarre Kitt

Demarre Kitt
Wide Receiver
6-1, 185
Tyrone, GA
View Full Profile . Trevion Thompson

Trevion Thompson
Wide Receiver
6-2, 170
Durham, NC
View Full Profile also has the Tigers at the top of his list. Others in the running include prospects like Artavis Scott

Artavis Scott
Wide Receiver
6-0, 180
Tarpon Springs, FL
View Full Profile , J.C. Jackson and Jamil Kamara.
TE – Already in the fold is Cannon Smith
Cannon Smith
Tight End
6-5, 235
Columbia, SC
View Full Profile , whose dad Bill Smith played on Clemson's National Championship team. The Tigers hold a slight lead for 4-star prospect Jeb Blazevich
Jeb Blazevich
Tight End
6-5, 240
Charlotte, NC
View Full Profile , whose older brother attends Clemson. Blazevich plans to announce June 1st, so the Tigers will know early on if they have their man. The Tigers are also in good shape with Milan Richard

Milan Richard
Tight End
6-3, 230
Savannah, GA
View Full Profile , the nephew of former Georgia great Herschel Walker. Bamberg's Kevin Crosby also has Clemson in his lead group.
OL – With 19 offensive linemen on scholarship for the 2013 season, the Tigers plan to take just two offensive linemen in 2014, and have one of those in place with Williston-Elko's Taylor Hearn
Taylor Hearn
Offensive Line
6-5, 305
Williston, SC
View Full Profile , who pledged two weeks ago. Mason Cole

Mason Cole
Offensive Tackle
6-5, 270
Tarpon Springs, FL
View Full Profile of Tarpon Springs (FL) East Lake has the Tigers out front. Clemson is also tracking in-state lineman Donell Stanley (a South Carolina lean right now), Sam Mustipher (the teammate of Dorian O'Daniel) . This group will become more focused once the next round of visits are complete.
DT – The Tigers will look to add one tackle and one end in this cycle. Saluda DT Dexter Wideman

Dexter Wideman
Defensive Tackle
6-4, 275
Saluda, SC
View Full Profile has the Tigers at the top of his list, along with South Carolina, as does Naquez Pringle
Naquez Pringle
Defensive Tackle
6-3, 275
Hemingway,
View Full Profile of Carvers Bay. Both players will more than likely stay in-state. Also getting a look are Khairi Clark

Khairi Clark
Defensive Tackle
6-3, 311
Hollywood, FL
View Full Profile , Travonte Valentine and Andre Brown. At defensive end, Greensboro (NC) Page standout Lorenzo Featherstron and Goose Creek's Kalan Ritchie
Kalan Ritchie
Tight End
6-5, 215
Goose Creek, SC
View Full Profile both have the Tigers in their lead groups, while Greenville (NC) Rose end Kentavious Street is also giving Clemson a hard look. He visits next month.
LB – Clemson is battling Ohio St. for 5-star LB Raekown McMillan, who has been on Clemson's campus five times. Also in on Elite Junior Day was Shaun Dion Hamilton, who has Clemson and Auburn at the top of his list. North Carolina's Chris Register
Chris Register
Outside Linebacker
6-4, 210
Greensboro, NC
View Full Profile , one of the top players out of the Tar Heel state regardless of postion, has been to Dabo's camp and has the Tigers out front. Clemson is also tracking Korie Rogers

Korie Rogers
Outside Linebacker
6-2, 200
Buford, GA
View Full Profile of Buford (GA) and Christian Miller

Christian Miller
Outside Linebacker
6-3, 200
Columbia, SC
View Full Profile of Spring Valley. Clemson could take two or three linebackers next February.
DB – The state of South Carolina's top corner prospect is Summerville's Darin Smalls, but he favors South Carolina right now. Out of North Carolina, Clemson co-leads, along with North Carolina State, for safety Jefferie Gibson
Jefferie Gibson
Safety
6-4, 185
Hope Mills, NC
View Full Profile , who visited for Junior Dar. Out of Georgia, 4-star prospects D.J. Smith
D.J. Smith
Cornerback
6-0, 180
Marietta, GA
View Full Profile and Wesley Green have Clemson in their early lead group. The Tigers are still after former commit Dylan Sumner-Gardner
Dylan Sumner-Gardner
Safety
6-1, 190
Mesquite, TX
View Full Profile . Quin Blanding
Quin Blanding
Safety
6-2, 200
Virginia Beach, VA
View Full Profile , one of the nation's top safeties, is strongly considering Clemson even though FSU is the early leader.

Tags: Clemson Football
,
Artavis Scott
,
C.J. Fuller
,
Cannon Smith
,
Chris Register
,
Christian Miller
,
D.J. Smith
,
Dabo Swinney
,
Dalvin Cook
,
Deshaun Watson
,
Demarre Kitt
,
Dexter Wideman
,
Dylan Sumner-Gardner
,
Jacob McCrary
,
Jeb Blazevich
,
Jefferie Gibson
,
Kalan Ritchie
,
Khairi Clark
,
Korie Rogers
,
Mason Cole
,
Milan Richard
,
Naquez Pringle
,
Quin Blanding
,
Stanley Williams
,
Taylor Hearn
,
Trevion Thompson