| | |
| --- | --- |
| Clelin Ferrell details reasons behind Clemson commitment | |
---
| | | |
| --- | --- | --- |
| Wednesday, June 4, 2014, 3:24 PM | | |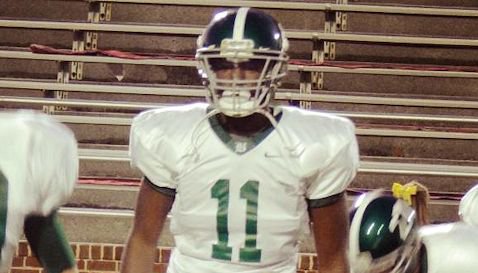 Clemson's lines of scrimmage have been a major focal point of the 2015 recruiting class, and with Clelin Ferrell

Clelin Ferrell
Defensive End
6-5, 220
Richmond, VA
ESPN:


View Full Profile 's commitment to the Tigers Wednesday afternoon, the defensive line got a lot stronger.
In a ceremony at his school, the 4-star defensive end out Richmond (VA) Benedictine announced his commitment, becoming the 18th member of the 2015 class and the fourth defensive lineman – joining Sterling Johnson

Sterling Johnson
Defensive Tackle
6-4, 265
Clayton, NC
ESPN:


View Full Profile of Clayton (NC) Cleveland, Gage Cervenka

Gage Cervenka
Defensive Tackle
6-3, 280
Greenwood, SC
View Full Profile of Greenwood (SC) Emerald, and LaSamuel Davis

LaSamuel Davis
Defensive End
6-4, 215
Bamberg, SC
ESPN:


View Full Profile of Bamberg (SC) Bamberg-Ehrhardt.
The 6-4, 235 pounder visited universities all over the country, but it was his relationship with the Clemson coaching staff that ultimately put the Tigers over the top.
"It was more of just the people there," Ferrell told TigerNet shortly before making his commitment official. "The atmosphere there when I went up for the spring game. The live, actual regular season game and I liked that. Basically, my relationship with the coaching staff is just great. I really like the coaches. They are great guys - Coach [Brent] Venables, Coach [Marion] Hobby and Coach [Dabo] Swinney and all of the guys I talk to a lot. That was the biggest reason. And, then academic wise, they have great academics. I want to study either sports nutrition, sports management or kinesiology."
After spending time with the Clemson coaches, Ferrell realized that the relationship between coach and player extended beyond the field.
"I just knew that they weren't just thinking about football with me," Ferrell said. "It's not all about winning with those guys. They really focused on making me a better man and a better person and making sure I get my degree there. They are going to look out and take care of me even when the season is finished. They won't just stop talking to me when it's not football season. They actually care about their players."
Ferrell also knew Clemson's track record of producing big-time defensive ends.
"It really just shows how Coach Hobby helps his players get to their full potential," Ferrell said. "Guys like Da'Quan Bowers, Andre Branch, Vic Beasley. That's another great thing, too, but at the end of the day I know that if I come in and work hard I can get to my full potential and do the things that I want to do and I can reach my goals."
The decision for the No. 6 defensive end in the country according to Rivals came down to Michigan St., Virginia Tech, Tennessee, LSU, South Carolina and Michigan, but Ferrell said that he has known for well over a month that he would end up at Clemson.
"Basically, I have known for about a month where I wanted to go," Ferrell said. "I was trying to hold out as long as I felt like I could, to just to see if any other schools were going to change my mind. That's basically what it was. I told people that I'm not the type of person that's going to hold off until National Signing Day. When I was ready to make it, I decided I was going to make it, so that's why I pushed it to this day."
Ferrell said that he's looking forward to joining an already impressive 2015 class.
"It goes with the saying, 'We too deep.' We are just too deep," Ferrell said. "It's going to be a great class. I'm happy. It's great to know that we are only getting better and not on the downfall. 11-2 last year and a win in the Orange Bowl, it's only getting better."
As a junior, Ferrell recorded 60 tackles, 26 tackles for loss, and 11.5 sacks. However, many original saw him as just a basketball player.
"I was never really a real basketball player," Ferrell said. "I just played it because it was fun. I was always a football player. I guess when I really started growing people saw me as a basketball player. When i started getting taller, people just assumed I was a basketball player. I've always played football. I started kind of late - when I was nine - because I started out playing soccer and I've loved it ever since. I knew I was going to have to give up one, so basketball had to go because football is so important to me."
TigerNet also conducted an in-depth interview with Ferrell's head coach Greg Lilly and will run that story Thursday morning.
2014-2015 DE @Cle_Missile Committing To University Of Clemson: Go Tigers, Goodluck Bro ???? pic.twitter.com/rkQc08pT5E

— Lil Breezy #?7????? (@EricJunior34) June 4, 2014
It's Official, I'm Official Committed To The University Of Clemson, #WeTooDeep????

— Panthero (@Cle_Missile) June 4, 2014
Watch Ferrell's junior HUDL highlights here